Marking 20 Years with Director Mark Guthier
Twenty years ago, we welcomed Mark Guthier to the Wisconsin Union team as our third director in our organization's more than 110-year history.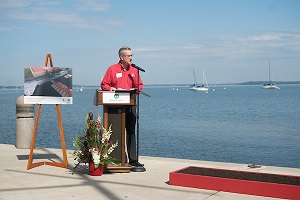 Mark has led us through many milestones, beginning with the 75th anniversary of the Wisconsin Union and continuing with the rebuilding of our south campus destination Union South and renovations to our historic building the Memorial Union. He also held the helm as we reimagined our piers into the Tong Family Marina, celebrated the 5th anniversary of the opening of the rebuilt Union South, and started the tradition of holding Veterans Day celebrations (an idea that he brought to our team).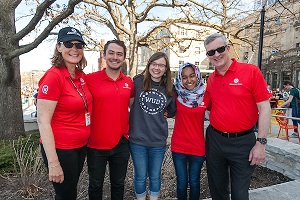 The humble leader that he is, he is quick to remind anyone who praises him for efforts at the Union for the contributions of his colleagues. Mark is a leader who knows his team members' names, who takes time to ask people how their days are and really mean it, and who frequently sends thank you emails to our team to ensure we know how appreciated we are. He is a thoughtful listener and a collaborative, forward-thinking leader, who always has the interests of our team and guests in mind as he makes decisions.
He said this of his work at the Union: "Throughout my time here, I have always started every major initiative by listening. I hope to continue to listen, remove obstacles for students and staff, and find resources they need to be successful."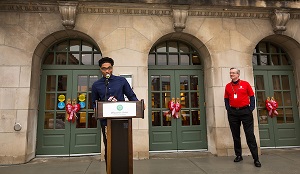 Before his time at the Union, Mark served as the assistant director for program services at the Indiana Memorial Union. Having overseen indoor and outdoor recreation and helped coordinate 250 special events each year, including events featuring Spike Lee, Bob Dylan, Mikhail Gorbachev, John Mellencamp, and Maya Angelou and the Smashing Pumpkins, it's no surprise that Mark was perfectly positioned to lead the Union into its next chapter.
In joining the Union, Mark said, "For me, this is an opportunity to work at one of the premier college unions in the country."
Under Mark's leadership, our ability to serve our campus community has grown thanks in part to listening to what our community needs, from made-to-order, customizable food options to more meeting spaces.
Through it all, Mark has remained the consummate gracious, courageous leader, who believes in the difference that the Union makes in the lives of campus community members, Wisconsin Union members, and visitors. We could not be more grateful for Mark's leadership at the Wisconsin Union.
Happy 20th work anniversary, Mark! Thank you for all you do!