Working at the Wisconsin Union: Real-World Experiences for Students' Next Big Steps
Real-world experiences for students' next big career step start at our buildings Memorial Union and Union South as well as our Wisconsin Union-run markets and cafes at the University of Wisconsin–Madison. We're hiring for many positions. At the Wisconsin Union, many things make our employees' experience different from other student jobs, including taking intentional time to nurture their professional skills, putting them first and creating valuable and unique benefits to student employment.
Skills for a Lifetime
Our organization coaches students through their employment experiences by taking time to learn about their professional joys and challenges. Additionally, we help student employees identify the transferable skills they gain on the job. From software to sales expertise, we know that our students leave the Union with real-world skills and know how to leverage their unique strengths on their resumes. With more than 1,200 student jobs and 60+ kinds of positions across campus, we can often match a student with a schedule, work duties and a location that works for them.
Check out what former student Building Manager Maggie Gau '09 and now chief of staff for Governor Tony Evers had to say about her Wisconsin Union job experience.
Putting People First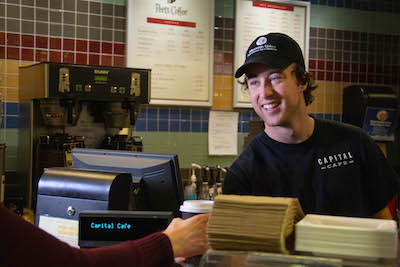 For us, at the Wisconsin Union, the best employment experience in Madison starts with respecting the whole person and matching people to the right employment experience with everything that person needs in mind. When a family emergency comes up or a midterm is stressing a student out, the last thing they should have to worry about is work. We empower our supervisors to be responsive to students' needs, whether those needs are more or less hours and to invest additional individualized time in a student's professional development.
"There's a sense of family," Emily Sykora, former Wisconsin Union catering staff member and wedding intern, said. "Before I started working here, I was like, 'Oh, it's a job with a lot of people, and they're all older than me and scary.' But it really is like a family, and you go through all the tough times together."
Benefits and Pay
We appreciate our student employees, and we want to ensure they know that. We could not provide experiences, facilities or activities with the talent and hard work of these incredible individuals. Saying thank you is simply not enough to express our gratitude and appreciation for them, so student employees enjoy:
30 percent off of many food items and beverages, including ice cream from the Daily Scoop at Memorial Union and Union South
Award programs
A minimum starting wage for student team member roles of $15
Representation on the Student Employee Advisory Group (SEAG)

Student employees from all areas can lead in SEAG, which meets frequently to discuss employment at the Union, including what is going well and potential improvements.

SEAG hosts student employee receptions and forums as well as creates ways to acknowledge our student team members' hard work, such as through coupons for free meals.
Joining Our Team
We welcome all students 16 and over to apply for student employment positions at the Wisconsin Union. Students that attend area high schools and colleges are welcome to join our team, no affiliation with UW-Madison needed! We are also happy to work with students who are interested in short-term employment and with international students on opportunities that meet their needs. We encourage anyone with questions about working at the Union to reach out to us at hr@union.wisc.edu.
We understand every person's situation is unique, and we welcome the opportunity to work with each student to find an employment experience that they'll enjoy, works for their specific wants and needs, and from which they'll gain real-world experience for their next career steps. From working as a sound and light technician to serving up deliciousness at our dining locations, there's a fun job waiting for a student who is ready to join our team.
Students can click here to learn more about joining the Wisconsin Union team and to apply.