Recognition and Visibility: Introducing the National Pan-Hellenic Council and Multicultural Greek Council Rooms at Memorial Union
Memorial Union may have opened its doors for the first time in 1928 – almost a century ago – but its historic halls have been a space for change since their creation. This decade is no exception.
As the social center and living room of the University of Wisconsin–Madison campus that hosts thousands of student and community groups' events each year, Memorial Union serves as a space for learning and important gatherings. In July 2021, two integral campus organizations – the National Pan-Hellenic Council (NPHC) and the Multicultural Greek Council (MGC) – finally found a campus home when rooms in Memorial Union were named in their honor.
NPHC governs the historically Black fraternities and sororities, also known as Divine Nine, of which seven chapters are currently active at UW–Madison, and MGC oversees multiethnic and multicultural fraternities and sororities, 12 of which are currently active at UW–Madison.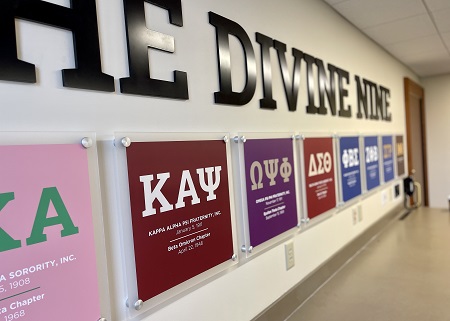 Many campus groups have physical spaces of their own, such as fraternity or sorority houses, office spaces, or other exclusive gathering locations. However, neither NPHC nor MGC previously had a dedicated area to hold council or chapter proceedings, or to commemorate their work and achievements.
"Having these designated spaces has been removing barriers for these councils to thrive, and has been benefiting them heavily when it comes to meetings and events," said Cristian McGough, MGC and NPHC advisor at UW–Madison. "It's a step in the right direction for visibility and acknowledgment of their presence on campus."
The National Pan-Hellenic Council Room, previously known as the Inn Wisconsin Room, is located on the second floor of Memorial Union and can hold up to 50 occupants. Formerly the State Room, the Multicultural Greek Council Room can be found on Memorial Union's fourth floor, and has a capacity of 100.
Both spaces have been redecorated to showcase the various chapters' letters and colors, as well as their values and tenets. NPHC and MGC councils and chapters have first priority over reserving both rooms, but any individual or group looking for Memorial Union event space can select either of the two rooms, should they be available for that date and time.
In the future, the rooms will also feature photos, statements of purposes, and display cases with archival photos and memorabilia to highlight the history of both councils and represent their accomplishments. With these additions, both MGC and NPHC hope to increase awareness of their chapters in the greater community while encouraging current members in their work.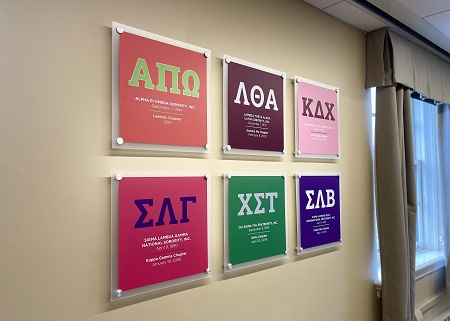 The rededication of the rooms was the result of student advocacy and desire to increase visibility on campus, and was approved in a unanimous decision in April 2021 by the Union Council, the Wisconsin Union's governing board.
This desire for enhanced diversity representation at UW–Madison has also been mirrored in efforts by the Student Inclusion Coalition (SIC), which worked with UW–Madison Student Affairs to raise funds for the Divine Nine Garden Plaza. The East Campus Mall monuments, which celebrate the presence of NPHC chapters, were unveiled May 7.
The Memorial Union rooms not only provide a functional space for NPHC and MGC students, but they are an important way of emphasizing their existence, value, and achievements on campus.
"It increased the morale among council members to see that there's a physical space that represents some of the hard work that our previous members have set forth on this campus," said Zee Akanni, 2021-2022 NPHC president and UW–Madison alumna. "It feels amazing to have these spaces, including the Plaza, but I believe that there's always more work to be done. We hope that these spaces are the first step in increasing diversity, equity, inclusion, and belonging and helping Black students feel more comfortable on this campus."
Interested in reserving a room for your meeting or event at Memorial Union or Union South? Visit union.wisc.edu/host-your-event or email events@union.wisc.edu for more information.