Two Spaces Renamed at Memorial Union in Recognition of National Pan-Hellenic Council and the Multicultural Greek Council
The Wisconsin Union is renaming two spaces in Memorial Union in recognition of the National Pan-Hellenic Council (NPHC) and the Multicultural Greek Council (MGC). This comes after a unanimous decision by the Wisconsin Union's governing board, called Union Council, in April 2021 to rename two spaces for these Councils. The State Room is now the Multicultural Greek Council Room, and Inn Wisconsin is now named the National Pan-Hellenic Council Room.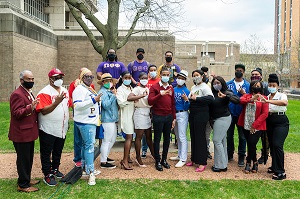 NPHC and MGC have priority reservations for their respective rooms. Wisconsin Union team members are working to create new signage and to update other mentions of these spaces to reflect the new names. The Union team will also install display cases in the rooms that celebrate the history and contributions of NPHC and MGC.
NPHC and MGC are two of four Office of Fraternity & Sorority Life's governing councils, which include nearly 60 organizations supporting more than 4,000 members at UW–Madison. NPHC and MGC support 18 of those organizations, which represent various cultural and ethnic backgrounds. These councils and organizations provide an outlet for underrepresented students on campuses and an avenue of recognition, representation, and advocacy of their identities.
The Wisconsin Union team looks forward to hosting the Councils' future programs, meetings and events and to helping increase visibility of NPHC and MGC as well as helping raise awareness of their work and history.