Legacy, Fellowship, and Recognition: Supporting Continued Efforts of the National Pan-Hellenic Council
There is no greater feeling than the sense of home and strength that comes from being a part of a community in which one feels seen and connected.
Across campus, many clubs and organizations help University of Wisconsin–Madison students find the spaces or people that bring this sense of togetherness – such as the historically Black sororities and fraternities that make up the National Pan-Hellenic Council (NPHC).
A community-driven dream became a reality on May 7, when members of the NPHC gathered to witness the unveiling of nine monuments that make up NPHC's Divine Nine Garden Plaza at the University of Wisconsin–Madison. The plaza celebrates the presence and contributions of NPHC fraternities and sororities on campus.
Seven of the nine organizations – Alpha Phi Alpha Fraternity, Inc.; Alpha Kappa Alpha Sorority, Inc.; Kappa Alpha Psi Fraternity, Inc.; Omega Psi Phi Fraternity, Inc.; Delta Sigma Theta Sorority, Inc.; Phi Beta Sigma Fraternity, Inc.; and Zeta Phi Beta Sorority, Inc. – are currently active at UW–Madison.
The monuments began as an initiative by the Student Inclusion Coalition (SIC), a student advocacy group that advocates for representation of and support for students of color at UW–Madison.
Candace McDowell, a UW–Madison alumna who was initiated as a member of the UW–Madison Zeta Xi Chapter of Delta Sigma Theta Sorority, Inc., was one of 250 individual donors who contributed to the more than $275,000 raised for the plaza project. She not only made her own donation but also introduced family, friends, and fellow alumni to the cause, helping raise even more for the historic plaza.
"I was overjoyed with the thought of being able to leave a legacy on the UW–Madison campus," McDowell said. "I wanted our history and work on the campus to be recognized and highlighted and have our NPHC legacy noted for all to see."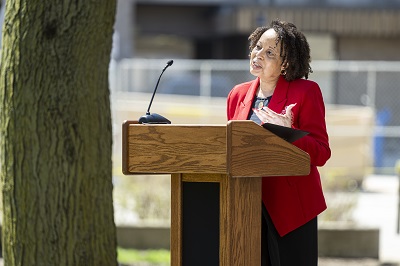 Coming to UW–Madison as a first-generation college student, McDowell attributes the NPHC and Delta Sigma Theta as the places that provided her with a network of support and sense of belonging, as well as a sisterhood that she has held onto in the years since.
Her love of the organization is shared by others in her family – her son, daughter, daughter-in-law, granddaughter, brother, and sister-in-law were also initiated as members of NPHC chapters through various college and alumni chapters, including UW–Madison. "When our family was approached about donating to the Divine Nine Project, we jumped at the opportunity because of our strong support for NPHC organizations, knowledge of its worth to the campus, and because of our desire and opportunity to showcase our legacy on the UW–Madison campus for years to come," McDowell said. 
It was such an exciting day for students, alumni, and donors as the plaza was officially unveiled. With speeches, cheers, and crowds of NPHC members and their families, the occasion marked an important milestone for the UW–Madison campus.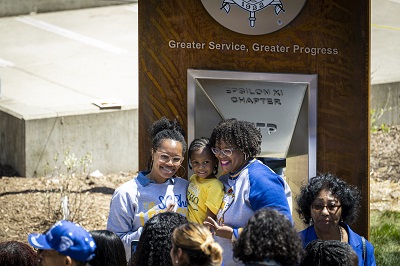 "It was an exhilarating feeling to see something move from a vision to reality," McDowell said. "We can now physically celebrate who we are and where we all came from! I would hope that this project will encourage other institutions of higher learning to take note and recognize the importance and contributions of their campus NPHC organizations in a similar way."
The monuments are a testament to community, physically marking the contributions of historically Black fraternities and sororities to build and enrich UW–Madison, as well as their dedication to public service, advocacy and fellowship.
"The Divine Nine Garden Plaza is a place where students will feel included and welcomed and feel proud to say that they are a Badger," McDowell said.
While the plaza is completed, there is still ongoing work to ensure the monuments' maintenance and support of NPHC organizations. UW–Madison's new National Pan-Hellenic Council Fund continues to collect donations for the various needs of NPHC fraternities and sororities, including programming, events, student travel to conferences, and ongoing representation efforts at UW–Madison.
Thanks to amazing supporters like McDowell, work to showcase and support NPHC will continue for years to come.
Interested in supporting NPHC organizations at UW–Madison? Visit www.supportuw.org/giveto/nphcfund to make your tax-deductible gift.