(Virtual) Experiences for a Lifetime 
We are still here for you. We continue to create experiences, provide classic Wisconsin Union culinary options for pick-up, and find new ways to gather Badgers and Badgers-at-heart together.
While we can't be together in-person right now, we can join together in other ways. No matter where we all are, we are a community. We invite you to take part in the activities and events our student leaders and staff have created for you. Below are some of the activities in which you can participate right now. You can also click here for a full list of current Wisconsin Union events and activities.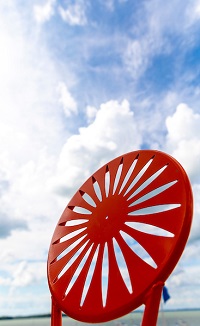 Do-It-Yourself Terrace Chair Contest
Bring your creativity and love of the Memorial Union Terrace together to create your Do-It-Yourself Terrace Chair Contest entry! Here's how it works:
Create your own Terrace chair using, well, anything! Paint? Sure! Graphic design? Absolutely! Food? Okay, try it! Just make sure to include our sunburst logo.
Message or tag us (the Wisconsin Union) on Instagram or Facebook or send your entry to marketing@union.wisc.edu. Include your first name, the materials you used in your chair, and photos and/or videos of your design.

Submit your entry (or entries) by April 22 at 5 p.m. CST to be considered for a prize. For full contest details, click here.
Spread Hope through Art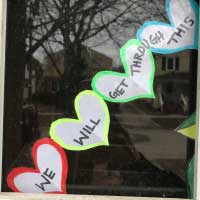 Please join us in an effort to spread hope throughout our communities by brightening up your windows and door with words of encouragement. Our Wheelhouse Studios team created step-by-step instructions to help you take part in sharing messages of compassion with supplies you likely already have in your home. Click here for more information, including the helpful how-to guide from Wheelhouse.
Cooking and Learning about Cuisine
The student-led Wisconsin Union Directorate (WUD) Cuisine Committee has released many delicious takes on loved cuisine and culinary learning opportunities on its social media accounts.
For example, learn about Chinese tea ceremonies with WUD Cuisine's video collection covering different varieties of tea, an introduction to Chinese tea sets, and more. The Committee will continue to post videos on its social media accounts throughout April.
Looking for a quick snack or a yummy breakfast? Try this peanut buttery, sweet granola. For more recipes from WUD Cuisine, visit instagram.com/wudcuisine.