Unique Jobs: From a Climbing Wall to Yoga on the Terrace
With everything from live concerts to kayak rentals, it's probably no surprise to you that there are more than a few unique student employee positions at the Wisconsin Union. Two of our talented team members serving in this unique roles gave us an inside look into their not-so-typical days.
Sarah Calvert, yoga instructor with Outdoor UW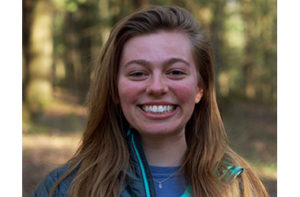 University of Wisconsin-Madison graduate student Sarah Calvert is dedicated to finding time each day to be active. And, in her role as yoga instructor at Outdoor UW, she helps others do that, too. What began as a source of stress relief while she pursued bachelor's degrees in English literature and economics is now also an occupation at the Wisconsin Union.
Today, Sarah teaches yoga indoors throughout Wisconsin's cold months and outdoors on the Terrace during the summer. She also teaches standup paddleboard yoga on Lake Mendota through her role at Outdoor UW. For Sarah, making a difference in people's lives is critical in her work.
"The driving force of my career path right now is that I really love helping people figure out how to move their bodies and work with their bodies," Sarah said.
While most people's work days may not be spent, in part, on Lake Mendota, for Sarah, it's another (awesome) day in the office at the Wisconsin Union's Outdoor UW.
"I don't think there is a typical day with Outdoor UW. It's always different and always fun," Sarah said.
Zoe Jackson, climbing instructor with Sett Recreation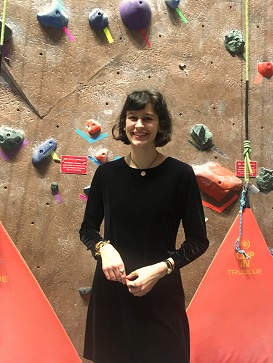 A love of teaching is one of the many reasons that led UW-Madison student Zoe Jackson to join the Wisconsin Union's Sett Recreation team as a climbing instructor.
One of the first things you see when you walk into Sett Recreation is the prominent, two-story climbing and one-story bouldering wall. This is a place where you'll often find Zoe putting her love of teaching to work.
"I love to teach," she said. "I love seeing people get excited about climbing and overcoming their doubts."
The Sett Recreation climbing wall debuted in 2011 with the opening of Union South, one of the Wisconsin Union's two buildings. Since then, climbers, from beginners to professionals, have made use of the indoor climbing wall.
Prior to becoming a climbing instructor, Zoe used the climbing wall as a customer looking to get rid of her fear of heights. At Sett Recreation, she lost her fear and found a love for climbing. But she also found something else; she said she found a community that became important to her.
"Everyone at Sett Recreation is kind and supportive," Zoe said. "There's a great energy here."
Zoe is currently double majoring in fine arts and English literature and hopes to continue teaching after she graduates but, undoubtedly, will never forget her experiences working at Sett Recreation.
"I've made all of my closest friends here at Sett Recreation," Zoe said. "I know I can be 100 percent myself here and be accepted for exactly who I am."
We're Hiring
Don't worry. If you prefer to keep two feet on the ground or prefer to serve coffee over teaching yoga, we have plenty of jobs for you to choose from (as of today, 48, to be specific). Visit union.wisc.edu/jobs to check out all the ways you can be part of the Union team.