Hoofers President's Top 3 Outdoor Program Picks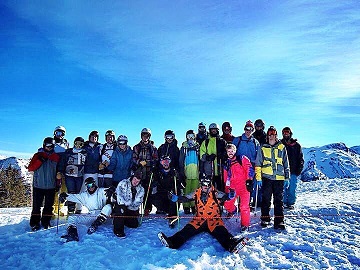 The boats that dot Lake Mendota throughout summer are stored for winter. The Terrace's sunburst chairs are hibernating. But the Wisconsin Hoofers are still hoofin'. The Hoofers, the largest student organization at the University of Wisconsin-Madison, has been building community year-round since 1931, including the months when the snow flies and the temperature drops. Hoofers President Forrest Koslowski shared his top three picks for upcoming outdoor activities that will have even the most winter-hating among us putting on their coats, sliding on their boots and getting outside.
Hoofer Ski And Snowboard Trips – "Ski and Snowboard take two big trips during winter and spring breaks. Both are open to all Ski and Snowboard members. Alumni, students, staff, faculty, community members…as long as they're club members, they can go."
Hoofer Outing Club Trips – "Twenty to 40 students, staff, faculty, and community members go to northern Wisconsin and stay in a lodge for a weekend. Everyone goes cross-country skiing and snowshoeing and visits 'ma and pa' restaurants."
Winter Carnival, Feb. 3-11 – "Even if you've never done winter sports, you can still have fun and experience winter at the Winter Carnival. It's been going on since 1922. It's our way of getting the community outside for events for a week and really celebrating Wisconsin weather."
Forrest had this to add about enjoying the outdoors during Wisconsin's cold months: "Just like any other season, winter is a season that should be celebrated. Bundle up, and get outside."
Click here to learn more about Hoofers and ways to enjoy the winter season.
Forrest Koslowski is a senior at UW-Madison majoring in strategic communications with certificates in business and entrepreneurship. He is currently serving as the 2017-18 academic year Hoofer Council president. He began his leadership experience at Hoofers as the Hoofer Outing Club president during his junior year.