6 Fun Facts about the Terrace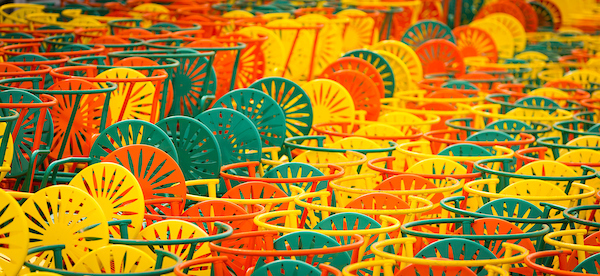 The time we've all been waiting for is here… Terrace season is here! You know that the Memorial Union Terrace is a great place to study, eat or simply relax, but what else do you know about everyone's favorite Madison patio? We, at the Wisconsin Union, have collected some fun facts about our favorite place on Earth. Check them out below.

In 2019 we certainly indulged at the Terrace… Memorial Union-goers enjoyed more than 10,000 pounds of popcorn, 40,000 burgers, 20,000 gallons of ice cream and frozen yogurt, and 1 million cups of coffee. Your support means the world to us! Here's more information about what your purchases support.
While Memorial Union was designed by Arthur Peabody, his daughter, Charlotte Peabody, designed the Terrace. Charlotte graduated from UW-Madison in 1921 and worked in landscape architecture. Check out more Terrace history here.
The Terrace doubled as an ice rink during the 1940s when it was blocked off and flooded for ice skating, sculpting and other fun-filled winter activities. These events' legacy continues on in a 21st century form with the Union's Winter Carnival.
Last Terrace season, alone, we had 17,000 ice cream sales outside at the Terrace Ice Cream Kiosk. From a scoop of Badger Blast to the infamous Freshman 15 sundae, our delectable Babcock Ice Cream is sure to provide a welcome wave of coolness in the summer heat.
Our Terrace chairs' colors have deep Wisconsin roots. They feature John Deere green, as well as Allis Chalmers orange and sunshine yellow. Wisconsin's agricultural roots shine through each and every day during Terrace season. More information about chairs' history is available here.
Prime Minister of India Jawaharlal Nehru spoke at the Terrace in November 1949 to a crowd of nearly 4,000 people. Throughout our history, we have welcomed many well-known artists and thought leaders, such as Martin Luther King Jr. and cellist Yo-Yo Ma.
While we missed you at Union South and Memorial Union this spring, we are excited to have reopened the Terrace and are continuing to plan for the rest of our summer and fall operations. To learn more about the 2020 Terrace season, visit TerraceSummer.com.