Terrace 2021 Events for a Lifetime
Events. Are. Coming. Back. To. The Terrace.
Adding the Terrace's symphony of laughter and conversation will be free film showings, music performances and art activities. These in-person events took a hiatus in 2020 due to COVID-19, but we are bringing them back, making Terrace season more like the decades of Terrace seasons we all love and remember.
Art on the Terrace
Get in the creative zone with the Terrace Art Zone right on the Terrace. You can weave on June 23, make mobiles on Aug. 4, and have fun object marbling on Aug. 18 from 5-7 p.m. or while supplies last. While we think it's always beautiful on the Terrace, rain and other inclement weather will not make for a great art environment; so, when Mother Nature tries to rain on our art experience, we'll be moving these activities to the lower level of Memorial Union by Wheelhouse Studios. These events are free! We'll provide the supplies and instruction for a fun-filled, free afternoon. Tip: You can bring food and beverages from our dining options to your Terrace art activity. Check out our shareable deep fried cheese curds at der Rathskeller and locally made (as in right in downtown Madison) Babcock Ice Cream from the Daily Scoop.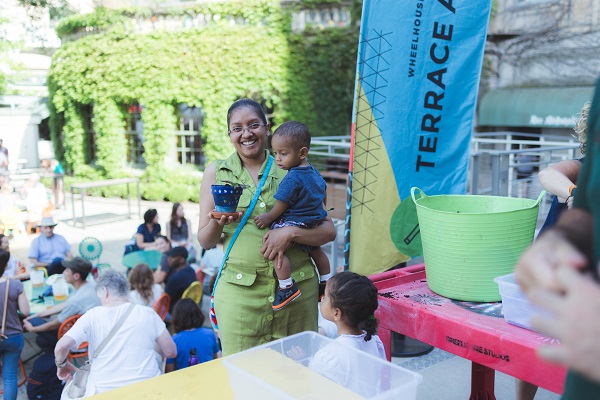 Free art on the Terrace gets even more spectacular on Sept. 6 from 3-5 p.m. or while supplies last during Madison's largest group paint night, called Paintacular. Our artists will guide in the creation of a Terrace-themed masterpiece that you can bring home that day. Just like with the Art Zone, we'll provide the supplies, and you just get to enjoy your day making art on the Terrace!
A Music-Filled Summer
The sound of laughter and conversation on the Terrace is music to our ears, but we're going to make the sounds of the Terrace even more beautiful with free, live music. Here's the full lineup, so far:
Beo String Quartet, June 11 at noon
Pat McCurdy, June 11 at 7 p.m.
Donna Woodall and Marquis Hill, June 19 at 7 p.m.
Cork 'n Bottle String Band, June 24 at 7 p.m.
Don't Mess with Cupid, July 2 at 7 p.m.
Bear in the Forest, Deryk G. and Sylvie Lou, July 10 at 7 p.m.
Handphibians, July 15 at 7 p.m.
Steely Dane, July 23 at 7 p.m.
Telethon and Half Catholic, July 31 at 7 p.m.
To be announced artists with performances presented as part of the Sugar Maple Music Festival, Aug. 5 at 7 p.m.
Sing along, dance and let the worries and cares of the day slip away at the Terrace.
A Seriously Summer Film Lineup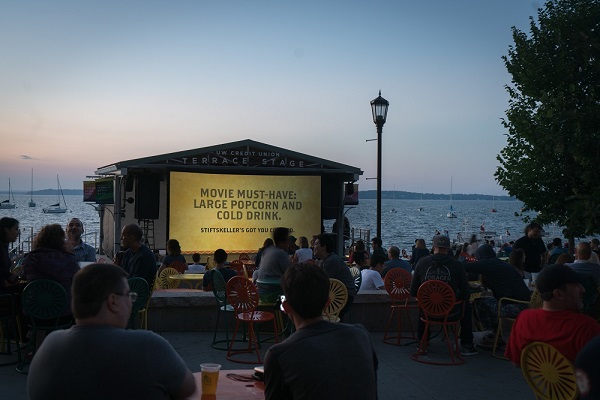 We're also inviting you to go to the movies at the Memorial Union Terrace! Film showings are a long-running Terrace tradition that our student-run Wisconsin Union Directorate (WUD) Film Committee creates for you to enjoy. They work collaboratively to select the films, negotiate the showing contracts and ultimately present them to you at the Memorial Union Terrace. Here's the lineup for which you've been waiting:
"Dazed and Confused," June 14
"Finding Nemo," June 28
"Raiders of the Lost Ark," July 12
"Do the Right Thing," July 26
"Lilo and Stitch," Aug. 9
"Wet Hot American Summer," Aug. 23
Student Leadership that You Make Possible
As is true throughout the year, University of Wisconsin-Madison students plan most of our events, including the film showings and most of our music programming. Some of these students receive academic stipends for up to 80 percent of in-state tuition.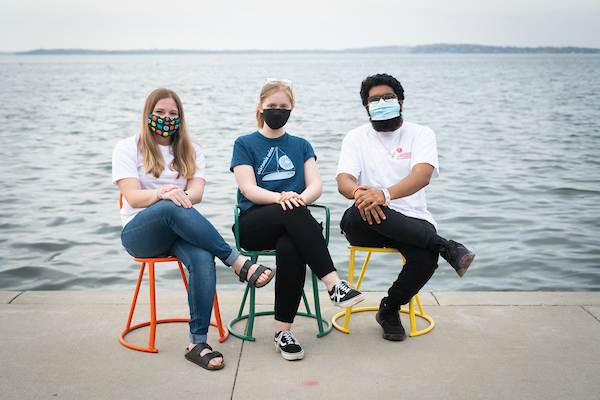 And it's all because of you. Our free and low-cost events, these student leadership opportunities and our buildings…none of it's possible without your support. We do not receive tax dollars. It's your purchases at our dining options, your membership and your gifts that continue our more than 100-year tradition. We've said it before, and we will never stop saying it and meaning it: thank you. The difference you make is immeasurable.
Planning your Summer at the Terrace
While the Art Zone will move indoors during inclement, when bad weather strikes on a film showing or live music event date, the performance or film showing on that date will, unfortunately, be canceled. There's still plenty to enjoy inside, with our beautiful spaces and plentiful dining options. If a show is canceled, please stay, and enjoy everything else we have to offer.
Make sure to make our limited time dining options part of your summer plans, such as the Lakeview Lounge, Brat Stand, BBQ Stand (opens in July), and limited-time, reservations-only Sunset Lounge & Restaurant (debuts June 17). 
For the most up-to-date events list and other things to know about Terrace season 2021, visit TerraceSummer.com.