Souper Bowl Brings Super Artists Together to Make a Difference
A chance to make a difference and bring home a one-of-a-kind art piece comes to Madison, Wis., March 26 at a food and entertainment charity event called Souper Bowl XXVI. At the Bowl, visitors can support the building of affordable housing in Dane County in many ways, including purchasing bowls of soup and the bowls in which the soup is served. Many of the bowls at the event will have had their starts at the Wisconsin Union's Wheelhouse Studios at Memorial Union. 
Artists joined together to make a difference on Dec. 11 at Wheelhouse Studios in Memorial Union. From University of Wisconsin–Madison students to Madison area artists with decades of experience, they gathered gray, unformed clay and sat down at Wheelhouse's pottery wheels, gently and carefully guiding the clay into soft ridges that would form clay bowls. They worked continuously for two hours, intent on making as many bowls as possible. Each bowl took about 10 minutes to make.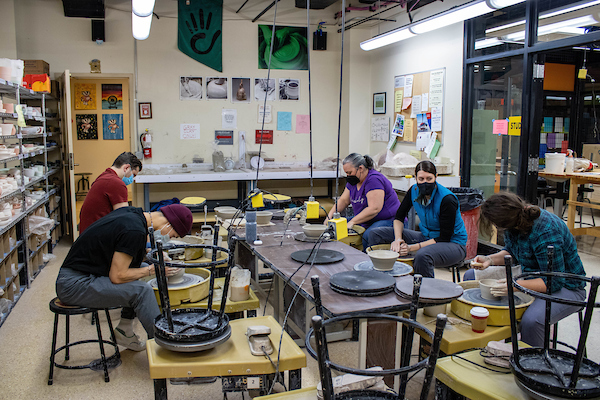 By the end of the two hours, dry splotches of clay decorated their once clean outfits, but smiles stayed across their faces. Their art, created with clay donated by Wheelhouse, covered the expanses of multiple tables, ready for the Wheelhouse team to fire the bowls on-site.
Artists that have donated their time to create bowls this year include Crystal McParland, Robert Spitz, Elsa Nekola, Wheelhouse Head Ceramist Gloria K. Van Dixhorn, Christine Konen, UW-Madison Lucas Ho, Ena Langendijk, Wheelhouse Director Tony Wise, UW-Madison student Anna Heinen, Bibianna Lightfoot and Mark Lemon.
For years, the Wheelhouse team has partnered with the University of Wisconsin–Madison Chapter of Habitat for Humanity to create dozens of bowls for the Chapter's Souper Bowl event. Each year, the donated bowls include art created in Wheelhouse's studio as well as bowls artists create in their own studios and bring to Wheelhouse for glazing and firing.
So far, this year, 11 artists have created more than 123 bowls for the 2022 event, and Wheelhouse team member Gloria anticipates that the final bowls total will be close to 180.
Souper Bowl Coordinator and current UW-Madison student Hunter Downey took on a hands-on role in supporting this effort both in the planning with Gloria and in helping with the bowls' glaze on Dec. 11. He smiled as he talked about his excitement for the upcoming Bowl and the difference it makes while Gloria taught him about glazing. He stayed until the last bowl made its way to long tables in front of Wheelhouse covered in the artists' creations. He stayed until the last bowl made its way to long tables in front of Wheelhouse covered in the artists' creations.
Years ago, the effort began with a box outside of Wheelhouse Studios on the lower level of Memorial Union where artists could bring bowls and open studio time for artists to craft the bowls. Gloria took on a leadership role in the bowls' creation a couple years ago, set on the goal of increasing the number that volunteer artists could create. Gloria inquired with artists she knew through her time at and away from Wheelhouse Studios, inviting them to scheduled bowl creation sessions at Wheelhouse and to bring bowls created off-site, using donated Wheelhouse clay, to Memorial Union. As an artist, herself, she combed through her personal and professional contacts to help this event succeed.
Each artist is generously donating time and expertise to this effort expecting nothing in return; they are doing good simply to do good.
Last year, Wheelhouse gave dozens of pounds of clay to artists for their at-home donation creations, and the artists brought back more than 150 bowls to Wheelhouse, a number that the Wheelhouse team looks forward to surpassing this year.
This year's bowls will soon make their way to Madison West High School where the 2022 Souper Bowl XXVI will take place. The event will occur on March 26 from noon to 6 p.m. at 30 N. Ash Street in Madison, Wis. 
Each bowl costs $15 and includes soup, salad, and bread. Customers can purchase a family meal for $35, which includes two bowls and four meals. The organization will also offer raffle tickets for $1 per ticket or 6 tickets for $5 for chances to win prizes. The Souper Bowl will also feature local entertainment and a silent auction. Those interested in learning more about the event can visit https://habitatdane.org/event/souper-bowl-xxvi/.
All purchases will help support the building of affordable housing in Dane County. The Habitat for Humanity UW-Madison Campus Chapter works to provide Dane County families with safe, affordable housing that ultimately strengthens the families' lives and the community.
The Wheelhouse team is grateful for the opportunity to support this effort, for its continued partnership with the dedicated students of the Habitat for Humanity UW-Madison Campus Chapter, and for the generosity of the Wisconsin artists who so kindly donate their time and skills to the event.
____________________________________________________________________________
People of all skill levels can enjoy the Wheelhouse facilities mentioned in this story, from pottery wheels to jewelry-making. The Wheelhouse team offers classes and workshops as well as open studio time for those 18 and over. The team also sometimes offers events for people of all ages. Wheelhouse visitors do not need to have any affiliation with UW-Madison to enjoy the art studio. To learn more about your on-campus creativity outlet, visit union.wisc.edu/wheelhouse.