Wisconsin Union Team Launches Social Awareness Effort
The Wisconsin Union Engagement, Inclusion and Diversity (E.I.D.) Council has launched a new social awareness effort that aims to inspire conversations and learning around topics impacting our campus community.
"We felt there was a need for the Union to play a role in bringing forth issues that are part of the fabric of our community," said Jacob Hahn, E.I.D. Council member and the Union strategic projects and organizational assessment director.
This latest effort by the E.I.D. Council, Hahn said, is an extension of the Wisconsin Union's foundation of social education and the Union's role as a community-builder on campus for more than 100 years.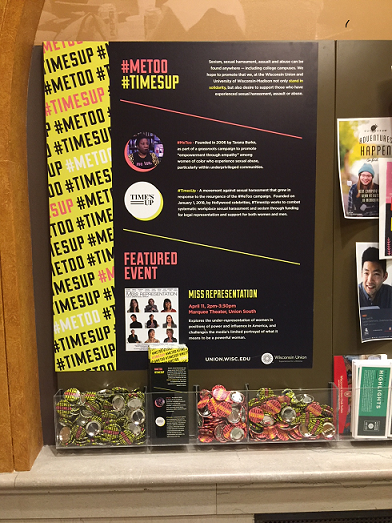 "As a community center, one of our primary goals is to ensure that everyone who wants to use our spaces feels comfortable and included," Hahn said.
The first initiative within the Union's current social awareness effort includes a social awareness webpage and a display in Memorial Union through which the E.I.D. team hopes to broaden awareness of the #MeToo and #TimesUp movements and of events that explore aspects of these movements.
"Council members selected #MeToo and #TimesUp to coincide with Sexual Assault Awareness Month in April," said Susan Dibbell, E.I.D. Council member and Union deputy director. "These movements are getting a lot of attention, and we wanted to provide some history and context on the issues."
Founded in 2006 by Tarana Burke, the #MeToo movement aims to break the silence surrounding sexual violence and harassment and to help survivors find safe spaces along with a community of people who believe and support survivors. The initiative, called #TimesUp, grew from Burke's #MeToo movement. #TimesUp launched in January 2018 with 300 actresses and other women in film, television and theater. The participants are striving to fight systemic sexual harassment in workplaces and sexism.
The future efforts of the E.I.D. team's social awareness campaign will center around additional timely social awareness topics and will include displays at Memorial Union and Union South on each topic along with other awareness-raising initiatives. For these social equity issues, the team will seek to include relevant information and events on campaign materials, including programs led by the Wisconsin Union Directorate (WUD) and campus and community partners.
"This is a passive campaign that allows people to participate by choice and at their comfort level," Dibbell said.
This campaign is the most recent effort by the Union's E.I.D. Council. Formed in February 2016, the Council meets bimonthly and includes representatives from all Union areas, including Facilities, External Relations, Program and Leadership, Administration, and Dining and Hospitality. Each representative has participated in training related to inclusion and diversity, including the Leadership Institute. Managed by the Learning Communities for Institutional Change and Excellence, the Institute is an immersive, year-long experience that helps participants better understand and internalize social identity work and issues of equity and inclusion.
"E.I.D. Council members are committed to our work and to making systemic change in our organization," Dibbell said. "We continue to evolve, and no two years are the same, except our commitment to making the Union a more inclusive work environment."
During each meeting, the team addresses ways the Union team can serve as the curators of and catalysts for creating a more diverse and inclusive culture at the Wisconsin Union. All of the team's endeavors center around the values of commitment to furthering E.I.D. initiatives, understanding, respect, transparency and being people-centered.
Past efforts have included facilitating book groups, hosting listening sessions following the 2016 presidential election, offering a free screening of Netflix's documentary "13TH", and many other programs and efforts.
"Issues of diversity, inclusion and social equity are important to us as an organization," Hahn said. "Another aspect of this campaign is ensuring that, as the Division of Social Education, we do our part to make visitors and members aware of relevant and timely topics affecting our community."
As part of their current campaign, this June, the E.I.D. team will debut events and information regarding LGBTQ+ awareness in partnership with the LGBTQ Campus Center and WUD leaders. In addition, the campaign will continue in fall 2018 during which the Council will raise awareness of the importance of making one's voice heard through voting.
Throughout this month's and future engagement, inclusion and diversity topics, the team encourages the campus community to take time to learn about issues by attending related events, talking to others, and listening to individuals' stories. The team expects to highlight about three social equity issues per year.
For more information E.I.D. Council and their efforts, please click here.