Onstage at the Wisconsin Union: Skerryvore Coming to Madison for Free Concert Aug. 17
Terrace-goers will hear bagpipes and other traditional Scottish instruments in ways they have never heard before during a free concert featuring Award-winning Scottish band Skerryvore on Aug. 17 at our outdoor space, called the Memorial Union Terrace. Skerryvore always gets people dancing and singing along with its modern, pop-infused take on Scottish music traditions. This event is hosted by the student led-Wisconsin Union Directorate (WUD) Music Committee with support from the UW Credit Union.
"We have had numerous visits to Madison over the years, and it's always a place that we look forward to as we have always had a great time both performing and partying in town," said band member Daniel Gillespie, who plays the accordion in Skerryvore. "Last year was particularly memorable as it was a stunning night and sunset at the Terrace, and the audience made it a real party atmosphere – so we are hoping for another night like that again!"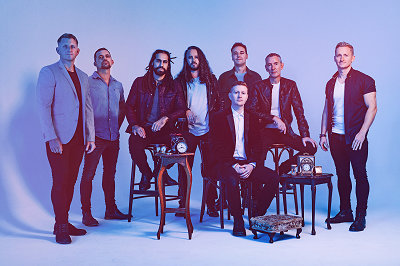 The band has released a new album, called "tempus," some of which Terrace-goers will experience at the Aug. 17 performance. While forging a sound all its own, if you like Mumford & Sons, the Grateful Dead, or Coldplay, you will love discovering or re-discovering this band and exploring its newest album. 
One of this writer's favorite songs on the new album is, "Everything You Need." It has a backdrop of energetic '80s-esque music with a timeless pop-folk approach to vocals. Matching the beauty of the music is the encouraging message in the song. Here's the chorus with a message we all need sometimes:
"You know it's hard sometimes just to get what you need
And there's something in the darkness
Even when you don't believe it
Time will bring you everything you need"
Gillespie and lead vocalist and guitarist Alec Dalglish tell us about the band's music, music-making process, performing live and more in a recent interview. Read on to get to know the band and its music before the Aug. 17 event.
Tell us about the decision to contemporize and incorporate Scottish traditional music in your work?
Gillespie: Our formation as a band was predominantly focused around traditional Scottish music, so this will always be at the heart of our music despite it evolving a lot over the last 18 years. It is a really exciting time to be part of the Scottish folk/trad music scene as there are so many emerging acts showcasing the music in their own contemporary style.
What does it mean to you to be called Scotland's leading musical ambassadors by the media?
Gillespie: I think we are all very proud to be Scottish, so it is humbling to be acknowledged in that way. We feel privileged to be able to travel 'round the world to perform and share our music and culture.
How do you incorporate your many musical influences and artists' creative voices in your album-making process?
Dalglish: Each band member has their own forte within the group, and, when we rehearse together, this comes into play. New material is brought to the table, and people then add their own voices and help guide the arrangement. With so many different musical tastes within the band, I think it's something that adds to the unique sound.
You've been praised for being fresh, different, and out of the ordinary in your approach to music; how do you keep that originality going?
Dalglish: It's difficult to say. I suppose we're quite open-minded and like to embrace lots of new things that we hear. We are often pigeonholed as a 'folk-tradition' band, but we don't necessarily see ourselves that way. We're happy to go with our gut and do whatever we think sounds great.
What elements of musical change will fans note in your newest album?
Dalglish: I think that this new album is still stylistically very Skerryvore. Perhaps there's a leaning toward more pop sensibilities, but that is in part due to the progression of the album's production style. The album is still made up of instrumentals as well as songs that marry the two together.
Of all of your songs, which would you say holds the most meaning for your band, and why?
Dalglish: I think I'd probably say that 'Take My Hand' holds the most meaning for us, because it's a song that seems to resonate so much with our audience. It's always a big moment at a gig where the audience goes especially mad for it. It's also been used many times as a first dance for weddings and it's a real honour that one of our songs means so much to people.
Tell us about what the opportunity to perform in front of a live audience means to you and what makes it different from a live-streamed or studio performance?
Dalglish: We love to feed off the energy you get from a live audience. Seeing everyone enjoying themselves really sets the tone and gets us even more hyped up. We've always been a band who is most comfortable in front of an audience as opposed to recording in the studio and a big part of our sound has developed from the feedback from a live audience.
Will audience members hear music from your newest album "tempus" during the Aug. 17 performance at the Terrace?
Gillespie: Yes, we'll be performing about seven or eight tracks from our new album as well as some tracks from past albums.
____
Don't miss anything when you plan your music experiences with our online calendar at TerraceSummer.com, which includes a full schedule of Terrace music, activities and more. And don't forget, the student-led WUD Music Committee holds free concerts most of the year, and you can find its music lineup year-round at union.wisc.edu/music.
You can connect with Skerryvore on social media or streaming platforms ahead of the show, where the band is sharing its music. The band invites you to message it on social media or comment on its posts with where the band should go during its time in Madison!