The Scoop on New and Returning Terrace Memorial Union Menu Items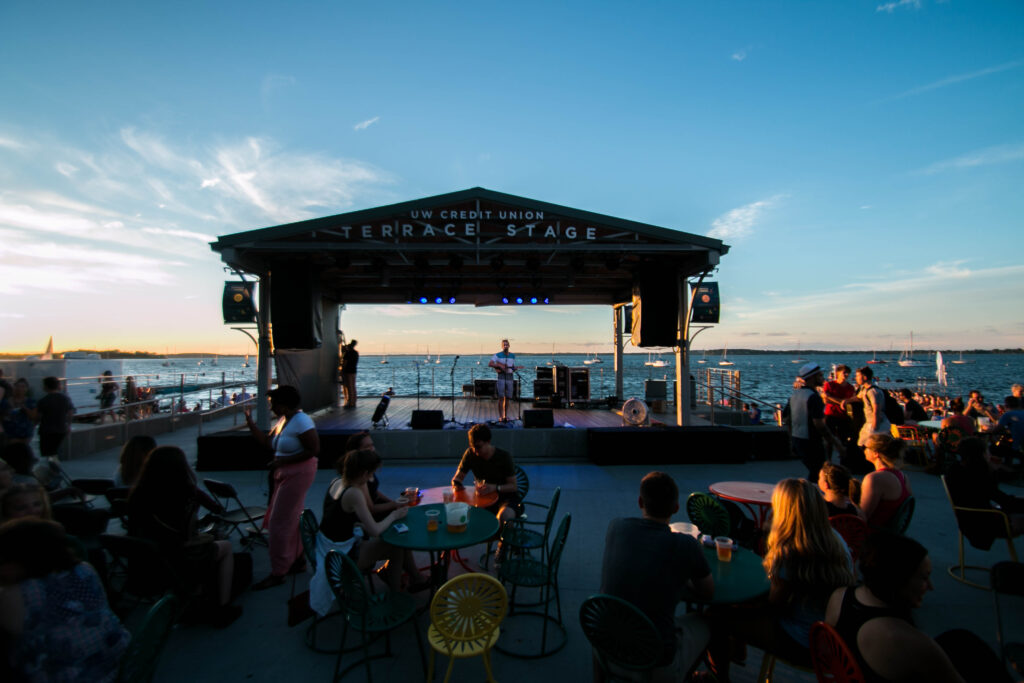 Caution, this story will make you hungry. Ready? Let's dive into the deliciousness of Terrace season 2023.
What's New
Let's start with a Wisconsin-made Terrace classic: brats! There's a big change this summer, as we're now serving Johnsonville brats at the outdoor Brat Stand! These brats DELIVER on flavor with a secret blend of herbs and spices, and our team sears in its kaleidoscope of tastiness. The smoke from the grill billows across the Terrace each day, beckoning you; why not listen to its siren call? You deserve it. We also have vegetarian and vegan patrons covered with a Beyond Sausage. The Beyond Sausage balances sweet and savory with notes of apple and paprika.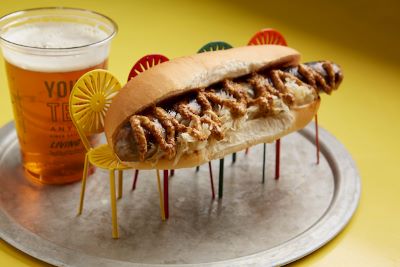 East of the Brat stand inside Memorial Union, walls of glass encase a seasonal delight that's can't-miss: Lakeview Lounge. There's a new menu item there for you to try, called the Terrace pretzel. Built like a mini charcuterie board, the curving, soft-on-the-inside and slightly crispy-on-the-outside large pretzel is surrounded by capicola ham, prosciutto, peppadew peppers, marinated olives, grapes, and dill Havarti, smoked cheddar and Colby cheese. Dusseldorf and honey mustard accompany this smorgasbord of yum.
Now, back to the outdoor Terrace, down toward nearby Lake Mendota, you'll find another seasonal treasure: the BBQ Stand. Your destination for summertime house-made BBQ got even more delicious this season with mac and cheese bowls! Creamy, rich mac and cheese marries with sweet, house-made BBQ sauces. Choose from the proteins Beyond BBQ (vegetarian), chicken, pork or burnt ends, and then pick your delectable sauce, with KC BBQ, Memphis BBQ, St. Louis BBQ or Carolina BBQ from which to choose.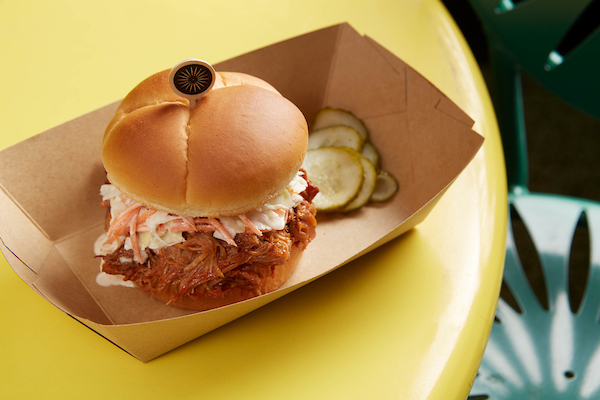 We didn't stop there with our BBQ fare; we've also introduced for the first time BBQ nachos to the BBQ Stand! Tortilla chips and BBQ are a perfect marriage with some meat options so tender they practically melt in your mouth and crispy chips. Picture it: Queso cascading across your chips with healthy spoonfuls of paprika and cumin-spiced charro beans, a showering of your choice of salsa roja or salsa verde, a scattering of pickled jalapeno, your choice of meat or vegetarian Beyond BBQ, and your choice of BBQ sauce. Yeah, it's really good.
Returning Favorite
Drumroll please…the fantastic 15 sundae has returned! It left the menu at the Daily Scoop inside Memorial Union in 2019. This visitor favorite features 15 scoops of locally made ice cream of your choice, five toppings of your choice, whipped cream and a cherry. Bring this sweet treat to a table of friends or family, and the whole table will erupt into smiles, maybe even some cheers that you totally deserve.
Our Terrace Season Crew is Ready to Serve You
Eleven dining options to make your experience delicious and more than 2,000 crew members ready to make your visit an experience for a lifetime…all we're missing is you.
As always, your purchases during Terrace season and at our buildings Memorial Union and Union South and other Wisconsin Union-run dining options support student leadership. Where else can you eat burnt ends and ice cream while simultaneously supporting academic stipends and student leadership experiences? Probably only when you dine with us. And we will work every day to earn your support. We look forward to serving you.