5 Things You (Probably) Didn't Know about 'the People's Diva' Renée Fleming
Known as America's favorite soprano, Renée Fleming brings seemingly effortless elegance and stage presence as she spans octaves and captivates audiences around the world.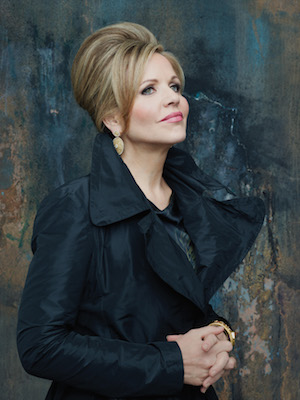 The chance to witness the four-time Grammy winner's talent in-person will come to the Wisconsin Union Theater's Shannon Hall in Memorial Union on Oct. 24 as part of the Theater's Concert Series.

While Renée's list of accomplishments, from performing at a presidential inauguration to earning a Tony nomination, can feel endless, we will share five things you will not find in her resume.

Renée describes her younger self as "painfully shy." She found composing music as a teenager served as a way to pursue solitary pursuits in which she found comfort while also expressing herself. She describes the gregariousness she portrays on stage as a learned skill.
She has shared that she struggles with the same self-doubt that we all do. She expressed feeling pressure to perform even better than expected at each appearance. With opera, she says there is a historic yardstick by which her performances can be measured. (No pressure, right?) Rather than shrink in fear, Renée uses this fear as a driving force behind her excellence.
Her nickname in high school was, "Miss Perfect." And she hated it. Early in life, she struggled with feeling constrained and wanting to please others.
She never made the conscious decision to be an opera singer. She says singing is a longtime passion of hers but that her early career aspiration was to be a jazz singer. In pursuing jazz singing, she says she honed her performance skills that she continues to use today.
Her favorite leisure activity (other than spending time with family) is enjoying culture. In her little spare time, Renée can be found enjoying various cultural activities, such as museums, and describes herself as a constant theater-goer.
Renée was previously scheduled to perform on May 2 as part of the 2019-20 season. Due to public health guidelines, her performance was rescheduled to take place Oct. 24. Tickets purchased for Renée's May 2 performance are valid for the Oct. 24 performance.
Renée recorded a special message for our Wisconsin Union Theater patrons:
Stay tuned to the Wisconsin Union Theater's Facebook page for more Concert Series information and other 2020-21 Wisconsin Union Theater events .