A Partnership to Reduce Homelessness in the Madison Community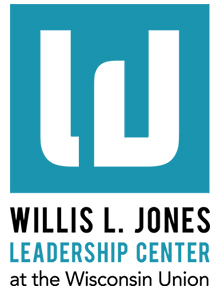 The Willis L. Jones Leadership Center (JLC) team aims to inspire and prepare students to work in partnership with others to positively transform themselves, their peers and their communities. While learning about leadership, the Center's team and student leaders often find themselves inspired by heroic change-makers and brave community members with whom they come into contact.
This can certainly be said of those the team and leaders have met through the Center's partnership with Porchlight, a Madison-based, nonprofit agency that strives to reduce homelessness in Dane County. This partnership began in 2017, with our team, at the Wisconsin Union, hiring a JLC communications and special events intern, who works with the Porchlight team on communications strategies and special events.

Today, that partnership has expanded to touch many areas of the Wisconsin Union through a workforce collaboration, inclusion of Porchlight's products in our dining operations, and special events.
Skills for a Lifetime
One of the ways in which Porchlight assists homeless community members is by providing employment services, including building job skills that lead to employment. We, at the Wisconsin, worked with Porchlight and an area employment agency to help Porchlight residents apply their knowledge and capabilities in jobs at Memorial Union and Union South.
"Over the past year, we have had 25 Porchlight program participants working for us at the Wisconsin Union," said Carl Korz, associate director of dining and hospitality. "We find the positions that fit their skillsets."

These team members have contributed to our ability to provide fast, quality dining services and maintain clean, functional facilities for our members and guests.
The Porchlight team said this of our employment partnership, "The Wisconsin Union staff has done an incredible job of accommodating the individual needs of each of our residents in the hopes that they will be able to maintain their employment!"
A Sweet Sauerkraut Collaboration
Did you enjoy a brat or hot dog with sauerkraut this past Terrace season? If so, you have had a product produced by Porchlight Products. Through the Porchlight Products program, individuals with disabilities have the opportunity to gain work experience and job skills as they produce high-quality food products made with locally sourced ingredients.
The program's sauerkraut made its Terrace debut in 2018, with Terrace-goers enjoying approximately 50 pounds of sauerkraut each week during Terrace season. By the end of the season, the Wisconsin Union team had purchased 838 pounds of this locally-sourced, locally-made product.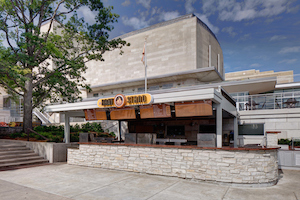 Other products created by the Porchlight Products team include apple sauce, strawberry jam, dilly beans, pancake mix, scone mix and more. The Union team has also made some of these food items available in Union retail outlets and at the Union's Campus Farmers Market.
Community Learning
In an effort to cause a ripple of education and action, we also have shared our and Porchlight's efforts to address homelessness with the community through a JLC event on Nov. 27, 2018. At the event, called "Homelessness and Food Insecurity around Campus," JLC team members described the ways in which our organization partners with Porchlight before Porchlight Executive Director Karla Thennes shared information about her team's mission and work.
More than 100 attendees heard about Karla's own first memorable experience with the homeless community as a senior in high school. That year, she journeyed to Washington, D.C., on a school fieldtrip, and, there, a homeless man approached her, asking for a dollar. She initially responded by avoiding and ignoring him. She described how many people react to homeless individuals in this way and what it represents: how easily we can ignore this type of human suffering.
Today, she works to ensure that homeless men and women receive help and that Porchlight provides access to shelter, affordable housing and supportive services.
Also, during this recent event, one man, named Mark, generously shared his own experience with homelessness, including his journey, fears, challenges and hope for the future. He shared a candid view into his struggle with addiction and its role in him ultimately finding himself homeless.
"I didn't feel good," Mark said. "I was drinking every day."
His father and stepmother helped him receive treatment in a Milwaukee rehabilitation facility. But, initial efforts to seek treatment resulted in short-lived success before Mark would resume a pattern of drug and alcohol abuse. This struggle contributed greatly to him ultimately becoming homeless.
"Being homeless felt like being on the outside, looking in," Mark said.
Today, with hard work, determination, and assistance from local resources, including Porchlight, Mark has climbed his way out of homelessness. He has earned an associate's degree in marketing from Madison College and aims to acquire a bachelor's degree in the future. He has now been sober for 20 years.
"It [Porchlight] gave me an opportunity to work on myself," he said.
Helping Our Community Together
More than 3,500 people experience homelessness each year in Madison. These 3,500 people are individuals with unique stories, needs and, in some cases, barriers to independence and housing access.
We, at the Union, share in Porchlight's vision of a community without homelessness and will continue to seek new ways to realize that vision.
For more information about Porchlight, visit porchlightinc.org, and for more information about the JLC and its work to positively transform the community and inspire students to do the same visit union.wisc.edu/jlc.