5 Reasons Why You Won't Want To Miss the Wisconsin Union Pop-Up Holiday Sale Dec. 10-12
We, at the Wisconsin Union, will offer a 30 percent discount on University of Wisconsin-Madison and Memorial Union Terrace merchandise and apparel at a pop-up holiday sale in Memorial Union's Paul Bunyan Room Dec. 10-12, 10 a.m.-6 p.m. And we're giving you five reasons why you're going to want to check it out. Seriously cute merch and apparel.
1. Seriously cute merch and apparel
"Oh my gosh, how cute," is an excited declaration we hear often when people peruse our stores. From Terrace image-adored hoodies for the cold days ahead to the water bottles to keep you hydrated with Terrace style, this sale is cuteness overload.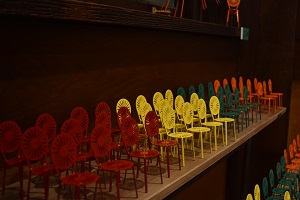 2. Discounted mini Terrace chairs
Speaking of cute, you know those famous sunburst chairs you enjoy on the Terrace each year, we're selling the mini versions at a 30 percent discount in the store! (Hey, if you don't know about 'em, check out the history of these Madison icons here.) No one on our team can recall a time when we offered these chairs at a discount. In other words, now is the perfect time to buy these adorable keepsakes of joy. Bonus: included among our discounted mini chairs will be limited edition cow-print chairs! Purchases of these extremely adorable Holstein-inspired help support UW School of Veterinary Medicine and its work to improve the lives of animals and people all over the world. These are only available while supplies last. When they're gone, they're likely gone forever. So, don't miss your chance at this collector's item. Learn more here.
3. Smart shopping
Who doesn't love a bargain? Who knows when an opportunity like this will come around again? (We certainly don't.) This is your chance to save some dough and buy that Terrace and UW merch and apparel you've been pining for.
4. Buying for that hard-to-shop-for friend or family member
What do you get the people who are hard to shop for? (Mom, Dad and significant other, we're talking about you.) That person in your life, who says, "Oh, you don't need to get me anything," will still love receiving a mini Terrace chair or super comfy hoodie. And, hey smart shopper, when the person says, "Oh no, you shouldn't have," you can say, "I got a great deal," with confidence.
5. Shopping with a purpose
We're going to get a little corny with you now, but everything you're about to read is true: your purchases support campus leaders and inspires students' dreams. Purchases made at the holiday store and all year long at Memorial Union and Union South help support the more than 2,000 events we hold each year as well as the hands-on learning opportunities students experience behind-the-scenes. Thanks to you, not only do we have incredible programming, but students receive unmatched leadership experiences while earning up to 80 percent off in-state tuition. Learn more about these talented UW-Madison students and all they do here.
For these reasons and more, we hope you stop by the pop-up holiday sale in Memorial Union Dec. 10-12. After your shopping experience, grab some food and beverages at on our dining options, find yourself a cozy place in front of one of der Rath's fireplaces, and celebrate being a few gifts closer to being done with your holiday shopping or just being a really smart shopper. More information about this can't-miss event is available here.