Mornings on Mendota Bring Family Fun and Science to the Terrace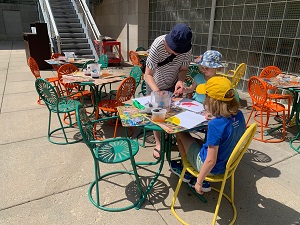 The Wisconsin Union, in partnership with the Clean Lakes Alliance and the Nelson Institute for Environmental Studies, invite you to Mornings on Mendota.
Mornings on Mendota will bring family-friendly lake activities and education to the Memorial Union Terrace 10:30 a.m.-noon July 20 and July 27.
Taking place right on the shore of Lake Mendota, this brand new, free event series kicked off July 13. During this first event, University of Wisconsin-Madison Chemistry Professor Bassam Z. Shakhashiri led guests through hands-on learning that included dry ice experiments, which fascinated guests of all ages. The July 13 morning of fun also included art projects with Wheelhouse Studios, pontoon and sailboat rides, and paddling.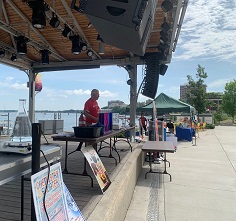 "Saturday mornings on the Terrace are the perfect time to invite families down for lake-related education and fun," Union Internal, Strategic Consultant Jacob Hahn said.
The upcoming July 20 event will focus on fish of the Yahara Lakes, and the July 27 event will feature activities related to invasive species. The common thread running through the series is the opportunity to explore the Lake Mendota ecosystem, learn how to be good lake stewards, and enjoy lake activities.
Fun and education have gone hand-in-hand for the Wisconsin Union since the organization began more than 110 years ago, and the team's commitment to lake health is as old as its building the Memorial Union on Lake Mendota.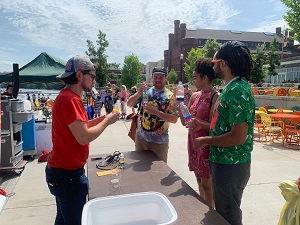 "The health of our lakes is important to the Wisconsin Union as Lake Mendota is in our backyard," Hahn said. "We hope, with this series, that families take time to enjoy one another's company and learn and that we inspire others to love and care for our Madison's incredible lakes."
Click here to learn more about Mornings on Mendota.