Student Leader Liam Granlund Shares a Look at a Programming Committee's Inaugural Year and Wisconsin Union Directorate Leadership
Applications now open for student leadership officers and directors positions
Wisconsin Union Directorate (WUD) truly is a leadership experience like no other, as you will soon find out from University of Wisconsin-Madison senior Liam Granlund. Liam currently serves as the director of one of WUD's 11 committees and six outdoor recreation clubs, called the WUD Games Committee.
WUD operates as the programming board of our non-profit organization on campus, called the Wisconsin Union. Student leaders in WUD plan, promote and implement more than 1,000 events each year. Even during this year's unusual and ever-changing circumstances, our dedicated leaders persevered to create online versions and small-scale in-person reimaginings of many kinds of events, from outdoor recreation to live music. 
Liam took the helm of the Games Committee this year, which is also the inaugural year of the Committee. He started the year with the goal of 10 active committee members but far surpassed that with an online community of more than 300 members. He and his fellow WUD Games leaders successfully navigated the pilot period of the Committee to become the 11th confirmed WUD committee. Games Committee student leaders also started a game rental program for members and look forward to expanding this to game consoles soon.
In this story, we will share an interview with Liam about his experiences in WUD and the WUD Games Committee.
Those UW-Madison students endeavoring to make a difference on campus, lead and gain hands-on learning experiences like Liam can apply now to serve as WUD officers or directors and can soon apply for assistant director and editor-in-chief positions. Students can also join committees and clubs year-round. Learn more about applying for WUD leadership roles here.
What can people look forward to from the WUD Games Committee during the spring 2021 semester?
We want to continue to expand on the excellent base of events that we had last semester while responding to all the feedback we received. That means more board game-centered events, hopefully more workshops and interviews, and certainly more virtual group game nights. The continuation of our book club, which are online discussions about games that the committee selects, and the expansion on our streaming schedule on Twitch are some of my favorite goals for spring 2021.
We understand you led the effort to create the Games Committee. Why was this Committee important to establish, and what inspired you to initiate its creation?
Gaming has always been a tough hobby to get into, whether that be on the side of lack of finances or lack of a safe and friendly community with which to explore this interest. WUD Games first and foremost was created to make sure that everyone, no matter their identity, resources, or experiences, could safely game with others. Also, most gaming organizations on campus are either very hyper focused on one game or are extremely competitive. I wanted a space to find other people like me, who were interested in playing games casually, and wanted to discuss everything to do with gaming with others who were similarly interested. All are welcome to take part in WUD Games events.
If you are interested in WUD Games, follow us on Instagram at wud_games, or join our Discord. I wouldn't be able to talk of WUD Games' success without the support of my assistant directors and advisor. They are as much a part of the founding DNA of WUD Games as I am. So, for that, Wisconsin Union Advisor Courtney Byelich, WUD Games Associated Director of Marketing Shivani Konda, and WUD Games Associate Director of Events Taylor Draheim, I am forever grateful. 
What are your top three favorite games?
What an EVIL question! Only three?! "Danganronpa" (Specifically "Danganronpa V3: Killing Harmony") is a fantastic murder mystery game; "Outer Wilds," which is a space exploration game that ignites your thirst for knowledge; and "InFAMOUS 2," a game about saving the world with electric superpowers. Honestly, you'll get different answers depending on the given day!
What games would you recommend to beginners?
There is a game for everybody no matter the experience level, but I think it comes down to personal interests. I think the best games to start with may be calm game experiences that help you get used to controlling and management. These include "Animal Crossing," "Stardew Valley," "Minecraft" or "Spiritfarer." Don't be afraid to ask for help! It takes time to learn the language of video games, but it is easier than you think.
What is one game that few people know about but that you think everyone should try?
I will recommend "Sayonara Wild Hearts" until my voice gives out. It is a colorful, explosive, and emotional game that has you playing through what is essentially a pop album narrated by Queen Latifah. It explores the aftermath of a destructive heartbreak and how to grow from it through song, and honestly it is just a gorgeous looking game. It does have a lot of flashing imagery though, so be cautious if that is something that would concern you.
How did your love of games begin?
I grew up with a Sega Genesis in my house, and fell in love playing a lot of "Sonic 2 on it." We also had an original PlayStation in my house and would often play "Crash Team Racing" and "Spyro the Dragon" with my parents growing up. Can you tell I was a bit of an indoor kid?
What has been your favorite experience as a WUD student leader so far?
I oversaw the running of the "Rocky Horror Picture Show" when I was the WUD Film Committee director. Getting up in front of a crowd of hundreds of people and leading them in cheers was one of the most emotionally moving and amazing moments of my college experience. All of that, and I was in a dress. I rocked that dress. 
Currently, University of Wisconsin-Madison students can apply for some WUD leadership positions. In your words, why should students apply?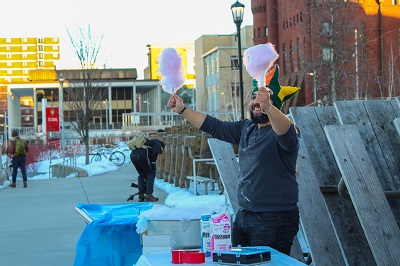 The experiences with WUD are like no other on campus. It ignites creativity by allowing you to explore your passions and helping you meet people in the same places of interest. Not only that, but WUD's capacity to effect change and make a difference on campus allows for what seems impossible for a college student to experience to become possible.
How has your WUD participation been different from other leadership roles you've held or other organizations in which you have participated?
So much more control with WUD. I feel like no matter what our ideas were, staff helped support them because they knew that's what we wanted to do. Other organizations, I think, helped me learn how to lead in a structure while WUD helped me learn how to lead outside of the box. It taught me to dream bigger.
What is your advice to current and future WUD leaders?
Don't be afraid to share your impossible or out there ideas, odds are they aren't as impossible as you think. If you want to do something, there will be people who want to do that as well, and there will be people who want to support it.
Liam Granlund is currently pursuing bachelor's degrees in biomedical engineering and communication arts. He is an alumnus of Greenfield High School in Greenfield, Wis. In addition to his WUD Games leadership, he is active in the National Society of Black Engineers, the WUD Film Committee, Leaders in Engineering Excellence and Diversity, and the Chancellor's Scholars Program. When not serving as a student leader, Liam enjoys watching movies, writing Dungeons & Dragons campaigns, and going for walks with his dogs.