Sparkle Coming to Wisconsin Union Dining Options with Collab Lemonades
Our dining options are sweeter and sunnier with the additions of brand-new menu items: Terrace Lemonade and Terrace Strawberry Lemonade.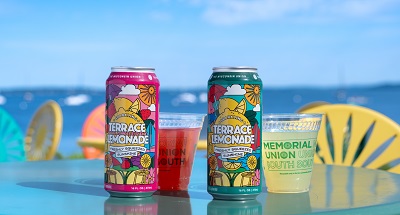 The bright, light flavors swirling in these sparkling, non-alcoholic beverages were inspired by our outdoor dining and entertainment destination, the Memorial Union Terrace. And, while the Terrace is only open seasonally during warmer months of the year, these bubbly beverages are available year-round.
Available first at Memorial Union Aug. 10 through early fall and then at all Wisconsin Union dining locations starting this fall, this lemonade duo is the collaborative creation of our team at the Wisconsin Union and the innovative minds at Madison-based company Karben4.
Why lemonade?
"Lemonade was the natural choice for the beverage collaboration, based on sunny day Terrace summer vibes and memories of our childhood experiences with lemonade," said Carl Korz, Wisconsin Union associate director for dining and hospitality services. "We had a couple of different lemonade offerings that we had served previously, but we just didn't feel like they hit the mark. In essence, it was something we felt we could do better, so we created this opportunity."
Gluten-free diet followers, vegans, alcohol abstainers, vegetarians and all of our guests can rejoice with these merry-making drinks as they are gluten-free, non-alcoholic and vegan.
These lemony delights were made with care and a great deal of thought during a more-than-six-month process. The Karben4 and Wisconsin Union teams spent hours formulating and testing, working to create a beverage with high-quality ingredients, including agave syrup, real lemon juice, and real strawberry juice. From crafting the drinks to pouring the freshly squeezed lemonade sunshine into cans for you to enjoy, it all happens right in Madison, Wisconsin.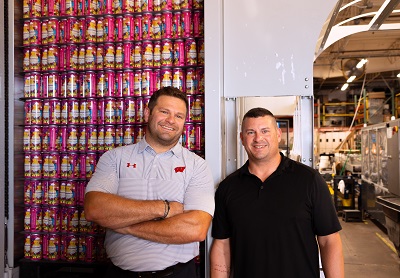 We say "sunshine" right on the cans of lemonade, and it truly served as a source of flavor composition inspiration.
It began with an emotion," Korz said. "It had to taste like summer in a can. Karben4 Co-owners and Co-founders Zak and Ryan Koga liked the challenge of translating this into a beverage, and boy did they do it. We told them we wanted to create something unique and delicious, and don't skimp on the quality. Obviously, there were 100 different variables to consider when making lemonade, but they are experts at developing a profile and walked us through the considerations before we developed some options for taste testing."
Fun fact: We, in part, have Martha Stewart to thank for the final formulation.
We'll let Karben4 Brewmaster, Co-owner and Co-founder Ryan Koga explain: "After trying to mix up recipes from scratch I got wise and went to the experts: Martha Stewart, Food Network, Betty Crocker, foodie bloggers, lemon enthusiasts, etc. All of their recipes agreed that the best lemonade uses fresh squeezed lemon juice, sugar, and water but in varying ratios. I extracted the recipes and normalized the batch size, so I could calculate the internet's greatest lemonade recipe. It still took a bit of fine-tuning (at least 200 samples worth) to get it just right. The biggest breakthrough was using a combination of organic cane sugar and agave syrup for the sweetening component."
How can you not try lemonades that went through at least 200 iterations before being canned up for you to enjoy?
Enjoy it in our indoor or outdoor spaces or take your liquid sunshine to-go. This delicious taste of summer would make a great souvenir gift for friends and family and is the perfect way to bring Terrace vibes home with you. Every time you hear the psssh and pop of that can opening, no matter where you are, allow yourself to be mentally transported to summer and to the Terrace.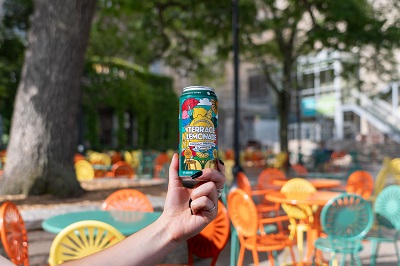 For Zak, this project was professional and personal.
"This project means a lot to me, personally," Zak said. "I bought my lifetime Wisconsin Union membership before I graduated from UW–Madison and have been a regular over the years. My wife and I took engagement and wedding day photos on the Terrace, and we bring our four daughters there for orange custard chocolate chip ice cream multiple times throughout each year. We simply love it! It is such a special place for us! And the Union, as a whole, is one of our very best customers for Karben4. This is a perfect match of businesses, neighbors, alums, and fans!"
That passion shows in the collab lemonades you can now enjoy.
Need ideas for a food pairing with your lemonade?
Culinary expert Korz said that a good lemonade can go with anything due to the sweet-tart balance. He suggested anything grilled (Check out the Rathskeller and the seasonal Brat Stand.), our Strada pizzas and seasonal Lakeview Lounge pizzas, and our seasonal BBQ options as "fantastic choices." The talented brewmaster Ryan said that the lemonades go perfectly with everything he's combined it with so far, including burgers, brats, nachos, and tacos.
"If you don't try these lemonades, you're missing out on something truly special," Ryan said.