For Kari Fischer, making a difference matters
In June, we introduced you to our three 2020-21 student officers. This month, we will share more about one of those officers: Kary May Fischer, the Wisconsin Union vice president of internal relations. Kari is pursuing a double major in political science and English, and she has a TESOL (Teaching English to Speakers of Other Languages) certificate. Learn not only about her but also how Wisconsin Union student leaders are pivoting in light of COVID-19. We will also share a way you can support her work to make a difference and help another student on campus, at the same time.
Coming from Argyle, a small town in southern Wisconsin, community always meant a great deal to senior Kari. She recalls how volunteering as a waitress every year at the town's annual Norwegian Supper Church Fundraiser allowed her to give back to the community that provided her with so much. In choosing to come to UW-Madison, though, Kari faced a huge culture shock. In contrast to Argyle's population of 823, UW-Madison's student population, alone, exceeds 43,000. Still, Kari was determined to serve her new community however she could. She says that she was "lucky enough" to find the opportunity to do so in the form of the Wisconsin Union Directorate (WUD).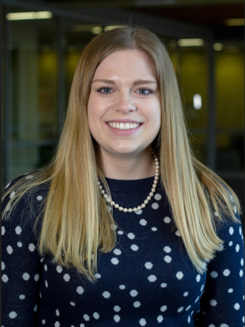 WUD is the student programming and leadership board for the Wisconsin Union. WUD student leaders organize, promote and execute some of the best campus experiences and events outside the classroom.
Kari worked her way up within WUD to where she is today. First, she served as the Distinguished Lecture Series committee chair. As a result of her excellent committee work, Kari was so well-respected that she earned a bigger leadership role. Today, Kari leads as one of three student officers at the Wisconsin Union. Kari mainly serves as the liaison between the Wisconsin Union and WUD and working on multiple advisory boards to oversee policy change within the Union.
Kari also oversees the WUD budget, which in this unprecedented COVID-19 time could be considered a task unto itself. Kari spent countless hours whittling down the Directorate budget by over 45% with the goal of advancing the WUD mission while working creatively within a reduced budget. Undeterred by the limitations brought on by COVID-19 this year, Kari and the other WUD students modified programs and events to fit public health guidelines and university events guidance. She spends many hours every week helping execute numerous Union events, including live, virtual concerts and art exhibitions.
Due to the extensive work that Kari and her colleagues put in, really what can equate to a full-time job, the Union provides them with a stipend that covers up to 80 percent of their in-state tuition and provides food subsidies. As such, Kari can focus solely on providing the best membership experience to Union members, without having to carry the additional stress of juggling multiple jobs to pay for tuition, housing, food, and countless other necessities.
Kari says that this aid "is a huge reason why I'm able to get more involved on campus." She mentions that having the financial support has allowed her more time to learn about campus issues, has brought awareness to her about community happenings, and has provided her with the time and opportunity to serve the UW campus and community.
Kari's work, along with that of the other WUD student leaders, is crucial in providing the famous Union experiences that members cherish. In fact, she was quite surprised to learn that the Wisconsin Union does not receive tax dollars. Instead, funds to support WUD come from the Wisconsin Union operating income. In addition, a large portion of support, approximately $100,000 in 2020, comes from the donations to bolster the great work of the Directorate. This is the reason we need the help of our generous supporters.
Kari faced a tremendous challenge in learning how to serve a community of thousands when she was used to only a couple hundred. Still, she rose to the occasion and has spent the last two years doing exactly that as part of the Wisconsin Union Directorate.
To support Kari and student leaders like her, you are welcome to donate to the Student Leadership Support fund, which goes directly to the WUD student leaders in the form of tuition stipends and food subsidies. For the first 150 donations of $75 or more, the Union, in partnership with Associated Students of Madison, will give a cloth face mask to the donor as well as to a student in need.  Those masks for students will be distributed via the student food pantry on campus. To donate, go to supportuw.org/giveto/wunstudentsupport