Ed Janairo Brings Dedication to Students and Education to Role of Chief Business Officer
Ed Janairo's dedication to working with students, belief in the importance of education, and wish to use his expertise to make a difference took him on a professional journey of more than 15 years of higher education leadership roles. That journey led him to the Wisconsin Union, and, as of June 1, he now serves as our chief business officer.

"Education is always ongoing. There will always be new questions to ask and answers to seek, and it's important to recognize that we'll never have all the answers. What's vital is asking questions and knowing what questions to ask," Ed said. "In our quest for truth and knowledge, we're shaping a better world, and we become better in the process."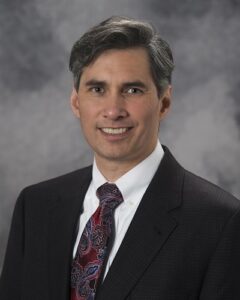 Ed looks to shape a better world in his work at the Union. Some of his immediate goals as he begins his time at the Union are to gain a fuller understanding of the current state of Union finances during this difficult time; quickly learn about Union departments and their needs; and explore how to best move forward based on multiple possible operations scenarios.

Most recently, Ed served as the interim campus dean at the University of Wisconsin-Platteville Baraboo Sauk County. Other positions he has held include campus administrator and associate dean for administration and finance at University of Wisconsin Colleges; business and technology dean for Lakeshore Technical College; and assistant campus dean for administrative services for UW-Sheboygan.

Ed joins our team during an unprecedented time in the history of both our country and the Wisconsin Union. Currently, both Memorial Union and Union South are closed due to COVID-19. We closed their doors temporarily on March 18.

Behind those doors, our team continues to serve our community members and visitors by providing services such as Meals To-Go and Wiscard office hours. Work also continues throughout Southern Wisconsin as dozens of Union team members work from home to plan virtual experiences and the eventual reopening of our spaces. Ed looks forward to supporting the Union team as we navigate planning for the future.

"There are so many interesting and creative people on the Wisconsin Union team," Ed said. "I am ready to support our dynamic team's ideas to help ensure we can continue to help guests and serve as the social heart of campus."

When not working, Ed enjoys spending time with his family, running in the Pheasant Branch Conservancy, and learning how to cook. In fact, Ed spent time with his family at Memorial Union before joining the Wisconsin Union team. He recalls that while visiting, he had an interesting discussion with his young son that reflected the uniqueness of the Wisconsin Union.

He remembers sitting in Gekas Commons with his wife and son in 2017 as they awaited a performance of Man of La Mancha. As his family observed the many goings-on and people in the building, from studying to dining to live music and visitors of all ages, his son asked, "What is this place?" Ed happily shared with his son that the many things going on and the visitors of many ages are part of what make the Wisconsin Union special.

He explained that the Union's buildings, Memorial Union and Union South, are not your typical campus unions; they are places for out-of-classroom learning, world-class music performances, art-making, informal gatherings, incredible dining experiences, outdoor recreation and countless other events, services and activities. He shared that the Wisconsin Union is not one thing; it's many things to many people and welcomes all. Now, just a few years later, Ed has the opportunity to help make what we do possible.

We look forward to continuing to make a difference and to working with Ed to ensure we can do so for many years to come.
To learn more about the Wisconsin Union, visit union.wisc.edu.