Deputy Director Reflects on 30 Years with the Wisconsin Union
This year marks Deputy Director Susan Dibbell's 30th year on the Wisconsin Union team. I recently sat down with Susan to learn more about her time at the Union.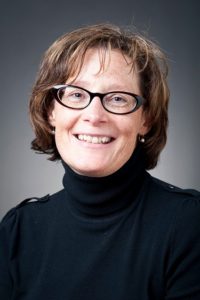 The photos and mementos in her office tell a story of service leadership that began far before being named the Union's deputy director in 2016. Susan has held multiple positions within the Union, including assistant director of program and leadership development, director of the Morgridge Center for Public Service and Union South program director.
However, her Union journey truly began her freshman year at the University of Wisconsin-Madison. That year, Susan worked in the Union's director's office. Through this position, Susan learned about the history of the Union, Union membership and the Wisconsin Union Directorate, the organization's student programming and leadership board.
"My experiences freshman year really changed my life," she said. "After my first job at the Union, I knew I wanted to pursue this as a profession."
Susan went on to earn a bachelor's degree in secondary education and master's degree in educational administration from UW-Madison. And, while her career took her away from Wisconsin for four years, Susan was drawn back to UW-Madison and the Wisconsin Union.
For Susan, one of the strongest pulls towards working at the Union is a desire to make a difference in her work.
"Service is part of my background and is a value of my family," she said. "I need to feel like I'm contributing and making a difference."
Some of the work at the Union of which she is most proud is her time spent directing the Morgridge Center for Public Service. As the Center's director, Susan worked collaboratively with UW-Madison staff, faculty and students to develop the Center's mission, vision, programs and services.
Today, the Morgridge Center for Public Service helps connect campus community members to local and global communities in an effort to build partnerships and solve issues through service and learning. While the Center is no longer a Wisconsin Union department, both the Center and the Union share a dedication to service.
"Community service has always been part of the Union," Susan said. "That's one of the reasons I enjoy the work we do."
Susan also recognizes the importance of the Union's facilities on campus as not only places where service learning occurs, but also as places that host student organizations' meetings, theater performances, live concerts, outdoor recreation, art classes and so much more.
"There's always something going on at Union South and Memorial Union, but there's no expectation that our members and guests do anything," Susan said. "You can come to our buildings and just be. That's what makes us so unique."
During her time with the Union, one of the Union's buildings, Union South, was rebuilt and the organization's iconic Memorial Union was preserved and renovated in a multi-year construction project. Much has changed at the Union but, for Susan, the organization's dedication to social education and to serving as the living room of campus have remained constant.
"The core elements of what we're about remain the same," Susan said. "Who we are and what we're about has not changed."
Susan is looking forward to celebrating that legacy during the Memorial Union's 90th anniversary in October 2018.
"Memorial Union's 90th anniversary is an opportunity to tell members and guests about our history and story of student leadership and community engagement," Susan said. "In many ways, the Union's story is the community's story and a story of how social education makes a difference."
Susan acknowledges the Union's story of social education is far from over. In fact, she emphasizes that, with the recent reopening of Memorial Union, the Wisconsin Union is beginning a new chapter in its story that is full of possibilities. Core to these possibilities, Susan said, is listening to this generation of students and members and determining how the Union can best serve them.
It is this flexibility and adaptability found with the Union's services and programs that Susan also believes are important traits for those looking to pursue careers as college union professionals.
"As a college union professional, you have to be open-minded, adaptive and flexible," Susan said. "Change at a college union is inevitable and important in every union's story. And I'm honored to be part of the Wisconsin Union's continuing story."
Memorial Union: Celebrating 90 Years
Memorial Union opened in 1928. With the completion in 2017 of the first comprehensive building renovation, we're celebrating the impact the people and programs have made on the living room of campus for the past 90 years. With a strong tradition of student-led programming and governance, the events and activities that develop within these walls remain relevant to the ever-changing expectations of our diverse student body.
The Wisconsin Union, the organization behind the union buildings, has connected students, faculty, staff, members and visitors through shared cultural, social and recreational experiences since it formed in 1907. Learn more: union.wisc.edu.