Deliciousness On-the-Go
You don't need to choose between fast and delicious at many Wisconsin Union-run markets, cafes and restaurants at the University of Wisconsin-Madison.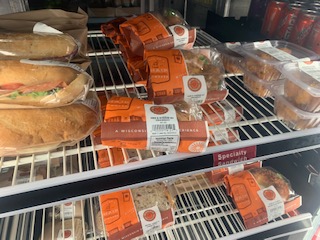 While we work to quickly serve you food and beverages at all of our dining options, we get it; sometimes, you don't have five to 10 minutes to wait for a custom-made pizza, salad or burger. We have plenty of ways to quickly quench your thirst and quiet a growling tummy through our grab-n-go food and beverage options at many dining options on campus. Expect the deliciously unexpected both in variety and the scrumptiousness of your on-the-go options. Here are some of this writer's favorites: 
Vegan breakfast sandwich, Peet's Coffee at Memorial Union and Prairie Fire at Union South: Check out this savory, filling sandwich for a toasty, protein and energy-packed way to start your day (great for any time of day, though). It will have you wondering if it's actually vegan. (It absolutely is.) Halves of a generously sized, flaky biscuit are the delicious bookends to rich, vegan cheddar cheese and peppery vegan sausage. Our team is happy to toast the sandwich for you and take your sandwich up another level with the resulting smokiness on the edges of the biscuit and melty fabulousness of the cheese. Whether you're vegan or not, once you have the sandwich, it will become something you crave. Trust me on that one.

Sesame ginger chicken bites – available at multiple Union markets and cafes: Sweet, crunchy and packed with protein to fuel your day, these sesame-specked morsels are enveloped in a rich, savory tempura batter and have hints of garlic and onion. The sweet sesame sauce perfectly complements the batter. The sauce, alone, is a symphony of balanced sweetness and saltiness.

Pita and house-made hummus – available at multiple Union markets and cafes: Looking for a snack between meetings or classes? We have you covered with thick pita, boasting layers upon layers of sweet, spongy goodness. Our pita gets even better when you dive the pita into our smooth, sweet, perfectly spiced hummus. The paprika is the star of the hummus show, bringing just the right amount of savory flare to the natural nutty sweetness of the chickpea dish.

Pesto cheese tortellini salad – available at multiple Union markets and cafes: Energy for your day is at your fingertips with our house-made pesto cheese tortellini. Perfectly cooked tortellini encase ricotta, Romano, provolone and parmesan cheeses. The curved pasta of cheesy goodness also has sprinklings of paprika, pepper and spinach powder that give this hearty dish a lovely complexity. It is married with a cheesy pesto sauce. Plus, the tortellini are joined by fire-roasted red peppers, yellow squash, broccoli, and peas with an herby lemon vinaigrette. 
Greek salad – Carte at Memorial Union: A Greek salad is the perfect lunch. Made by our team, including a house-made dressing, the salad features plump, juicy cherry tomatoes; sweet yet sharp, thinly cut red onions; creamy feta cheese; lightly sweet and refreshing cucumber; nutty chickpeas and fruity kalamata olives. These fresh ingredients sit on a bed of lettuce grown by aquaponics right in Wisconsin.
Turkey, bacon and cheddar on cranberry bread – available at multiple Union markets and cafes, such as Revive and Badger Market in Ingraham: Juicy slices of applegate turkey bring salty and sweet to this Wisconsin Union-made sandwich perfection. Its partners in deliciousness are mild cheddar cheese and salty, sweet bacon. It's all hugged and held together by slices of cranberry bread that bring an extra sweet surprise for your taste buds. Take it cold to-go from our coolers, or, where available, have your sandwich heated by our team (a warm, house-made meal in just a couple minutes).
Ready for a list of dining options with grab-n-go options? Here you go:
When you have the time, we would love to make you something to-order in our kitchens or on our grills. Some of the previously mentioned dining destinations have made-to-order options, and so do these restaurants:
Whether you stop by for five minutes for deliciousness on-the-go or have time to linger in our spaces and savor your meal, we hope you enjoy your Wisconsin Union food and beverages and are honored to help fuel your day.