A (Campus) Staycation to Remember
Planning your next vacation? How about saving some traveling money, logistical headaches and time, and enjoy a campus staycation right here at the University of Wisconsin-Madison?
With your staycation, there's no need to check your luggage. No need to worry about how much conditioner you can bring on the plane. (3.4 ounces is just not enough. Seriously.) No need to plan how to entertain your family on a thousand-mile road trip.
Your staycation is waiting in your campus backyard.
Memorial Union Terrace
Synonymous with summer, the Wisconsin Union's Memorial Union Terrace is a gigantic, lakefront outdoor space that offers fun for everyone. We're not kidding; this place offers everything from standup paddleboard rentals to live concerts.
Are you a foodie? Welcome to your favorite lakeside dining location. The Memorial Union has more than 10 dining options. Does your family have a mixture of self-described carnivores (Did we mention the Union has a dish with five types of meat?), vegetarians and vegans? The Union team has the options to satisfy many dietary needs and preferences.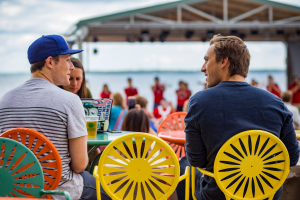 And, if you start to need a vacation from your vacation, the Terrace has plenty of ways to destress, including yoga. Your cares will melt away in the summer sun as you "downward dog" your way to bliss.
If you're looking to get away from the dishes that have been sitting in your sink for maybe a day too long and the carpet that is begging to be vacuumed, you can escape to Memorial Union's on-site hotel, called the Wisconsin Union Club Suites. The Suites' elegant rooms boast 1920s charm and modern amenities. Plus, the Club Suites team will do the cleaning.
Ready to come away to the Terrace? Learn more about this iconic destination here.
Sett Recreation at Union South
Ready. Set. Go to Sett Recreation! If you have a group that wants an activity-filled afternoon, Sett Rec will be one of the highlights of your staycation.
Practically everywhere you look in the Wisconsin Union's Sett Rec at Union South, there's something to do. Let's start with the indoor climbing wall. This recreation destination offers one of the few indoor climbing walls in town. It's two stories tall with routes that change frequently, so, even if you've been to the wall before, you'll likely experience a new climbing challenge during your next visit.
From climbing the walls to rolling balls: let's talk bowling. Sett Rec offers an eight-lane bowling center. The Sett Rec team has everything you'll need, including shoes and socks.
And, if you're a Wisconsin Union member (UW-Madison students, you are Union members while you're students!), you can receive a 10 percent discount on climbing, bowling or Sett Rec's billiards. Plus, not far from the bowling center are five full-size Brunswick Gold Grown billiards tables.
Are you set to have fun at the Sett? Learn more about some of Sett Rec's offerings here.
Allen Centennial Garden
From dusk to dawn, an artful, living laboratory and botanical garden await you at UW-Madison's Allen Centennial Garden. When you arrive at the garden, you will feel as though you've discovered a secret garden all your own as smells envelope you, including lavender, jasmine, primrose and lilac. It's a place where doing nothing is everything you need to do.
But, if you'd like to experience the Allen Centennial Garden through an event, a team of talented individuals can provide you with unforgettable programs, such as meditation classes and healthy eating sessions.
This year marks the garden's 30th year providing an on-campus retreat into the natural world and learning opportunities. The Wisconsin Union team frequently partners with the garden team to provide special arts and crafts classes and live music experiences.
Learn more about the Allen Centennial Garden and ways to make the garden part of your staycation here.
Wheelhouse Studios at Memorial Union
Your artistic side will flourish at the Wisconsin Union's Wheelhouse Studios! Located in the lower level of Memorial Union, Wheelhouse is your creativity outlet in the heart of campus, offering everything from drop-in art opportunities to classes for all skill levels.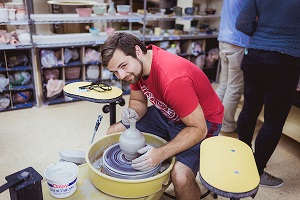 When we say Wheelhouse offers everything in art, well, we mean everything; in the next couple months, alone, Wisconsin Union members and guests can paint, make ceramic tile, learn about stop-motion animation, explore block printing on fabric, make Sgraffito enamel pendants, learn to sew, engrave using a laser cutter, forge a cuff bracelet and cut and fuse glass into a custom nightlight.
What better way to remember your time in Madison than by creating art or learning a new skill that you can take with you?
Begin your campus art journey by clicking here.
Chazen Museum of Art
After you've explored your inner Picasso at Wheelhouse, head down the street from Memorial Union to the nearby Chazen Museum of Art. You need not be an art connoisseur to appreciate the exquisite beauty, talent and emotions in the Chazen's exhibitions.
This summer, art-seekers will have the opportunity to view work by artist
Sanford Biggers. From June 28 to Sept. 22, this exhibition will take Chazen guests on an art journey that includes a wide range of media, including sculpture, video, and performance.
Explore the Chazen's exhibitions on your own, or join a drop-in guided tour on Sundays at 2 p.m. or Thursdays at 12:30 p.m.
Click here for more information about the Chazen Museum of Art.
Pro tip: If you purchase an annual Wisconsin Union membership between now and June 30, you will also receive an annual Chazen Museum membership. Becoming a Wisconsin Union member gives you access to special members-only discounts on Union arts events and activities, outdoor equipment rentals and more. Your membership to the Museum also includes many benefits, including but not limited to a monthly events enewsletter, mailed invitations to special events, and a discount at the Chazen's new café in summer 2019. Click here to learn more.
Kayaking on Lake Mendota
It's finally sunny and warm, and we're all emerging from our layers of scarves, wool caps and jackets into the sunshine! Part of that excitement for community members and visitors includes getting back out on Lake Mendota.
One of the ways you can make the most of this natural recreation opportunity is by renting kayak equipment from Outdoor UW, right alongside Lake Mendota. We get it; storage space in our homes is limited and so are funds. That's where Outdoor UW comes in with low-cost outdoor equipment rentals. And, if you're a Wisconsin Union member (That includes you, UW-Madison students!), your equipment rentals are even less expensive with a member-exclusive discount.
You can rent a single or tandem kayak, and the wonderful folks at Outdoor UW will help you get fitted for a lifejacket and send you out on your Lake Mendota kayaking adventure!
Click here for more information about paddling your way into living your best Isthmus life.
Fitness Trail
Looking to incorporate nature and exercise into your campus staycation? We've got the answer with the Fitness Trail along Lakeshore Path. Take a journey along this workout path, which features nine stations to help you target specific muscle groups. Try one, all or none of them! This is your fitness experience; make it your own. And, if you need assistance along the way, videos and descriptions here will help you make the most of your outdoor exercise.
This trail is your chance to play on monkey bars again, bond with your fellow vacationers and get a full body workout.
All of this comes with a lakeside view. And it's all free. Head out on the trail, and make sure you share it all on Instagram. (If it's not on social media, did it even happen?)
Badger Bash
Don't let your UW-Madison campus fun end as fall approaches. Have one last summer hurrah at the Wisconsin Union's Badger Bash at Union South!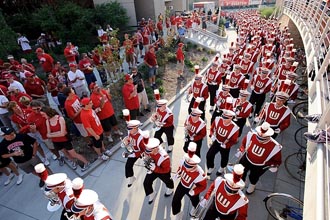 What is Badger Bash, you ask? It's the tailgate you've been looking for. You can bring your whole family for this party, which kicks off 2 ½ hours before each home football game kickoff. It's free. There are plenty of indoor, clean restrooms. There are tons of food options, including freshly grilled brats. (We're not kidding. The Union has more than 100 food and beverage items. So bring your pickiest eater!) And the Union has activities to keep every family member in Badger spirit until it's time to go to Camp Randall right across the street! Also, did we mention attending the event is free?
Plus, at the Bash, enjoy live performances by the UW Marching Band and Spirit Squad and a visit from Bucky! The first Badger Bash in 2019 will be held Sept. 7.
For more information about Badger Bash, including the currently scheduled tailgates, click here.
Your Campus Staycation Awaits
Your next getaway is right here on the UW-Madison campus. You may have experienced campus before through classes, a conference or a lunch with friends or colleagues. But there's so much more to this beautiful, adventure-filled campus that you have yet to discover.
Come experience the UW-Madison campus for yourself. Memories for a lifetime are waiting.