Welcome, Guest Vendor Buraka, to Union South
Please join us in welcoming temporary guest vendor Buraka to Union South!
Oct. 23, 2019, through the end of the spring 2020 semester, the Williamson Street-based, Ethiopian restaurant will serve a limited menu of customer favorites, including coconut curry chicken, dorowot, chicken peanut stew, vegetarian peanut stew and misirwot.
"We think customers will really enjoy Buraka's cuisine," Associate Director for Dining and Hospitality Carl Korz said. "Buraka's dishes are flavorful, filling and prepared at a speed our customers will appreciate if they don't have much time between events, meetings or classes."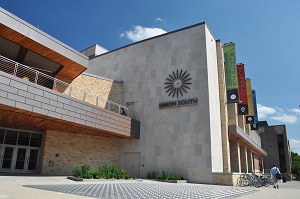 The Buraka team serve Union South customers Monday through Friday, 11 a.m. through 2:30 p.m. or while supplies last each day.
The local restaurant will serve from the storefront of Harvest Grains, which we anticipate will be closed through the spring semester.
Buraka, a long-time fixture of the Madison dining scene, is owned and operated by University of Wisconsin-Madison alumnus Markos Regassa, who also serves as the restaurant's chef.
"A storefront became available, and we knew Buraka had a desire to serve the campus community," Korz said. "We are glad to offer this incredible dining option to Union South-goers and to be able to partner with a member of the Madison business community."
Buraka accepts Wiscard, and all applicable Wiscard discounts are being honored.
The best place to work is hiring. We continue to accept applications for Harvest Grains team members in preparation for the restaurant's expected reopening later this year. For more information about joining the Harvest Grains team or other Wisconsin Union student employment opportunities, visit union.wisc.edu/get-involved/jobs.