10 Reasons the Wisconsin Union is the Best Place for Students to Work
Student employment life is better at the Wisconsin Union. And we hire all year long, always looking for student team members to join us at the best place to work. There are so many reasons why student employment at the Union is different. We've heard countless student team members say that they feel seen and heard and that their supervisors respect them. Those intangible things…we can't put on a flier, but they are real and felt, and they are difference-makers.
We work continuously throughout the year to make the Wisconsin Union student employment experience even better and to show our team members how much we appreciate their skills, time and who they are as individuals.
Here are some of the ways we are the place(s) to work:
Food and beverage discount – Our student employees receive 30% off of most food and beverages at Wisconsin Union dining options. We have dining locations throughout downtown Madison, making saving money convenient and delicious. 
Locations all over campus – No matter where a student lives in Madison or which campus buildings they frequent, we likely have a location convenient to their routine. We have more than 25 locations. 
Flexibility – We know things come up. People get sick. Tests are announced with little time to prepare. That's why we prioritize flexibility in our student employees' schedule. You're a person first. 
Representation – Uniquely at the Wisconsin Union, as a student member, you have representation through the Union's Student Employee Advisory Group (SEAG). SEAG is made up of student employees across all areas of the Union. The group is dedicated to opening, fostering and maintaining communication among the Union's employees and volunteers. SEAG was established to make sure that student employees have a voice.  SEAg hosts open forums and student employee-exclusive celebrations as well as facilitates our employee of the month program. Students are paid for their time participating in SEAG and attending SEAG events. 
Variety of roles – We have more than 70 kinds of jobs at the Wisconsin Union. We're talking about theater usher roles, outdoor recreation rental desk positions, administrative jobs, dining roles, and so, so much more. Rather than list the 70 kinds of ways students can be part of our team, students can just email us at hr@union.wisc.edu, and we'll help them find the role that they would enjoy and that works with their schedule. 
Acknowledging hard work – Wisconsin Union student employees can receive increases of up to 8 percent per fiscal year in recognition of performance and learning new skills or new tasks. Student employees can also receive promotional increases with the addition of job responsibilities. We encourage supervisors to speak with student team members about these opportunities for potential increases. 
Competitive starting wage – Our team at the Wisconsin Union includes more than 1,700 student team members all of which have starting wages of at least $15 per hour in addition to enjoying many Wisconsin Union employment-specific benefits. It pays to work at the Wisconsin Union. 
Mission-driven – By working at the Wisconsin Union, students make a BIG difference. We are a mission-driven, non-profit organization that aims to welcome, engage and connect the campus community. We host more than 1,000 low-cost and free events annually in addition to providing hundreds of student leadership opportunities. Philanthropy is built into every day of work at the Union. 
Work-life balance – Students do not need to work tons of hours. We believe in balance, in creating schedules that encourage students to prioritize their academics and leave time for recreation. We work with each student to create the schedule that works for them. 
Walking the talk of teamwork – Each year consistently includes busy times of the year. How do we succeed during these times when traffic can double or triple? Our more than 400 full-time staff volunteers to work alongside students in dining, event coordination, customer service and custodial services. It's our pleasure and honor to work with these talented students, and each volunteer time gives us even stronger appreciation for all of our students' work. The Wisconsin Union would not be what it is without them.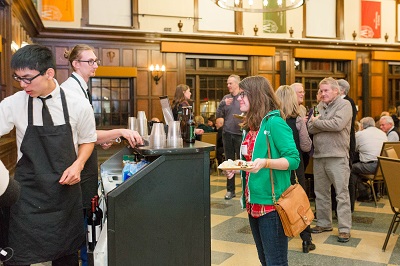 Students 16 and over registered at any high school, trade schools or college can apply to join our team. Students can work seasonally or all year long. We can help connect students with work-study jobs and are grateful to have employees who call places all around the world home when they are not attending school. In each position, we help students identify the transferable skills that they are gaining that can help them with their future career pursuits. We are dedicated to their success here at the Union and beyond. Students can learn more at union.wisc.edu/jobs.