Announcing our 2020-21 Student Officers, Directors
For you, a Wisconsin Union event is an experience for a lifetime; for the students behind our events, it's an opportunity of a lifetime.

Behind the scenes are students who plan, promote and implement more than 1,000 events each year. They are part of the Wisconsin Union Directorate, which includes 10 committees and six Wisconsin Hoofers clubs. The committees plan everything from art gallery exhibitions to live music at the Memorial Union Terrace, and the Hoofers clubs help members learn outdoor skills and provide opportunities to enjoy outdoor activities.

Within these clubs and committees are dozens of student leaders, and guiding them are our officers, committee directors and club presidents. They learn from one another and from Union staff and faculty members, who advise them along their leadership paths.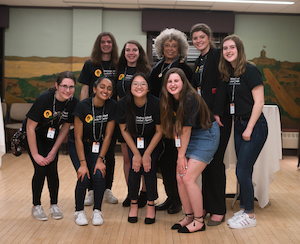 On an almost daily basis, we, at the Wisconsin Union receive kind words about our programming. Every time that we do, we think of our incredible students who, for more than 100 years, have helped make what we do possible.

We are honored to share with you our 2020-21 Wisconsin Union officer team for 20-21:
Union President Lily Miller
Vice President of Internal Relations Kari Fischer
Vice President of External Relations Pradyumna Rao
We are also happy to share with you our Wisconsin Union Directorate committees' directors and summer coordinators for 2020-21:
Alternative Breaks Director Regina Golding
Art Director Natalia Lugovskaya
Cuisine Director Katie Koppen
Distinguished Lecture Series Director Sydney Tang
Film Director Barbara Rasmussen
Games Director Liam Grandlund
Global Connections Director Albiona Sabana
Music Director Jack Snedger
Performing Arts Director Steven Beda
Publications Director Evanka Annyapu
Society and Politics Director David Lummis
Lakeside Cinema Coordinator Ethan Dickler
Summer Music Managers Nathan Haimowitz and Teddy Larson
Thanks, in part, to your donations and purchases at Memorial Union, Union South and our markets and cafes, these officers receive academic stipends of up to 80 percent of annual in-state tuition or renumeration and hands-on leadership experiences.

Students can still apply to lead through the Hoofers. Hoofers leadership nominations are due March 29. Click here for more information. 

For more information about the Wisconsin Union Directorate, visit union.wisc.edu/wud.