Wisconsin Union's Adam Remus Guides Students through Leadership, Learning Experiences
Wisconsin Union team member Adam Remus holds many roles in his life. As a father, he is teaching his 3-year-old daughter to snowboard. As an advisor to University of Wisconsin-Madison students, he guides students in the Hoofer Outing Club and the Hoofer Ski and Snowboard Club. And as a Union staff member, he serves the community wherever and whenever he can. Adam Remus, an avid rock climber, snowboarder, and all-around nature-lover, is quite the outdoorsman of the Wisconsin Union.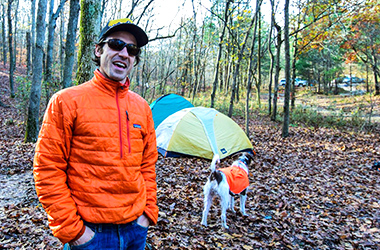 There is nothing about which Adam Remus is more passionate than the outdoors and teaching, so it seems only natural that his position, his "dream job", combines those very things. As an advisor for the Wisconsin Hoofers, the premier outdoors club at UW-Madison, Remus works directly with executive student board members to help organize, plan, and manage their outing trips. He says his philosophy has always been "guide not decide." His role, then, is to help students consider all the options, help them develop and grow, but never to make the decisions for them. He gives them guidance when necessary but lets them function independently so that each student has the opportunity to gain leadership and development experience that can only be learned through hands-on experiences.
Though this year has looked quite different from previous years, Remus says that students have been more determined than ever to continue creating programming. The students, along with Remus, continue to plan virtual events and outdoor activities, such as trail runs and bike rides, in which Clubs' members can participate while following physical distancing and other public health guidance. They've even created a basic leader training program for members to complete with online modules.
Shifting to virtual and outdoor events hasn't been the only change in Remus' role. When staffing needs arose in the Dean of Students Office, Remus shifted his time to supporting the Office with the quarantine and isolation housing project, similar to many of the Union staff currently helping out with a new campus effort, called Safer Badgers. Not only did Remus help meet a critical campus staffing need, but his work also helped offset a financial deficit brought on by COVID-19. In Remus' case, he served as a support system for students in isolation, connecting with them through emails and phone calls to make sure that they were doing okay, both physically and mentally. He says it was really rewarding to connect students with the resources they needed. In fact, he says the student interaction is the most rewarding part of his temporary reassignment and his usual job.
"Working with highly engaged student leaders, helping them troubleshoot issues and realize their goals, seeing them find not only success within the club but also outside of the club are what makes this job so special," he said.
His favorite memory of his time at the Wisconsin Union involves going with three of Hoofer Outing Club leaders to an outdoor recreation conference in Spokane, Washington. Remus recalls the fun they had networking and the enjoyment he had in the ability to share the outdoor event learning opportunity.
What began as a simple canoe trip taken by students, staff and faculty, has grown into Outdoor UW, the outdoor recreation home of Hoofers and a source for outdoor recreation, as well as the Wisconsin Hoofers, one of the largest organizations on campus.
Hoofers celebrates its 90th anniversary this year. Despite having to curb in-person celebration plans, Remus says that the Wisconsin Union, including Outdoor UW, and the Hoofers are still here for the community.
"Meeting people, finding community, making friendships. That's what we're all about," he said.
To learn more about Outdoor UW and the Hoofers clubs, click here. To continue supporting Union and Hoofers programming, consider donating today!