Wisconsin Union Spaces for Registered Student Organizations to Lead
Fellow students, it can often be difficult for your registered student organizations (RSOs) to find spaces to gather on campus. Of course, you could meet in a coffee shop, but seating is not guaranteed and noise levels can be, well, unpredictable. Your solution to meeting spaces is not far, though. In fact, it's right in Union South and Memorial Union, the campus living rooms where you likely already study, socialize and gather.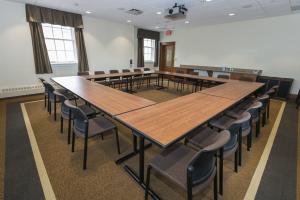 Registered student organizations can reserve space in Memorial Union and Union South for organization events and meetings with the help of the Union's Campus Event Services Office (CESO). And with more than 50 gathering spaces from which to choose, there's probably a space that can meet your needs, whether you're holding a 2,000-person social or a five-person meeting.
TIP: Make sure your group is an RSO. Questions about how to register your group? Visit https://guide.cfli.wisc.edu/registration/.
Once becoming an RSO, room reservations at Memorial Union and Union South are free, unless your organization is charging admission, collecting donations or open to individuals outside of the university community. You can also reserve campus classrooms and rooms in the Student Activity Center. The Wisconsin Union team includes the use of basic audiovisual equipment for free in the rental, as well, such as extension cords, a projector screen, and sound amplification.
Looking to reserve one of Memorial Union's or Union South's large spaces, like Tripp Commons, Varsity Hall or Great Hall? You can have the chance to have gatherings in these incredible spaces by entering the Union's once-a-semester "Large Space Lottery" for the chance to reserve a large room in the Union.
TIP: Think in advance about how many people you are expecting, the type of room layout you would like, whether you need a computer or a conference phone, your desired begin and end times, and the building in which you would like your meeting to take place.
In Memorial Union and Union South, your meeting guests will have an easy time finding your room, thanks to digital displays, called Today In the Union or T.I.T.U., that provide a list of all the meetings and other gatherings taking place at the building.
Sometimes, making a difference through your RSO can make you hungry. Before those stomachs start grumbling during your meeting, consider whether you'd like to place a catering order with Wisconsin Union Catering.
TIP: Carry-in food is not permitted, so make sure that, if you would like food or beverages during your gathering, you make your catering request at least two weeks before your event.
While not free, catering items are competitively priced and your CESO representative can help you plan a menu to meet your budget needs. Ask your CESO meeting planner about catering discounts for RSOs.
Ready to get started? Visit https://union.wisc.edu/host-your-event/event-reservation-request/to make your reservation or call the CESO team at (608) 262-2511.