Mark Your Calendars: Winter Carnival is Almost Here!
Fast forward to a cold and blustery day two months from now. It's February, which means the holiday season has come to a close, and the winter blues have started to settle in. Never fear! We, at the Wisconsin Union, have just the thing to raise your spirits and get you excited for all your favorite cold weather activities: that's right, Winter Carnival is back and better than ever!
Winter Carnival will take place Feb. 7-12 at Memorial Union. We spoke with Outdoor UW Director Dave Elsmo to learn about the events and activities you can expect to see this year and the importance of this long-standing Union tradition.
What events will be part of this year's Winter Carnival?
Not everything is set in stone yet, but we always end Winter Carnival week with Rail Jam on Saturday, which draws a couple thousand people to the Memorial Union Terrace to watch. We will also have Snow Ball, which is a formal dance with a live band. Der Rathskeller will sell $1 cheese curds for those participating in our Flannel Day tradition, and we'll work together with University Recreation & Wellbeing (Rec Well) for broomball and hockey on the lake, if the conditions are viable. I've heard that the Hoofer Mountaineering Club hopes to build a large ice sculpture so that people can learn to ice pick and put on crampons to climb ice floes. We've done things like turkey bowling and ice golf tournaments in the past, and there will definitely be music and art activities. Everyone at the Union will do something to showcase their area. The Wisconsin Alumni Association (WFAA) will also host family-friendly games, treats and a visit from Bucky Badger. 
Big question: will Lady Liberty be returning to Lake Mendota this year?
Yes, hopefully for multiple days. Lady Liberty is a bit weather-specific, because it can get dangerous if it's too windy. We have to make sure the lake is strong enough to withstand the number of people walking on it, and the weather has to cooperate, but if the conditions are right, Lady Liberty is certainly a draw for many people.
What has been your favorite part of Winter Carnival in the past?
I enjoy the frontloading, helping students create these programs. Then, afterwards, it's fun to hear things like, "I didn't think that this event would be such a hit."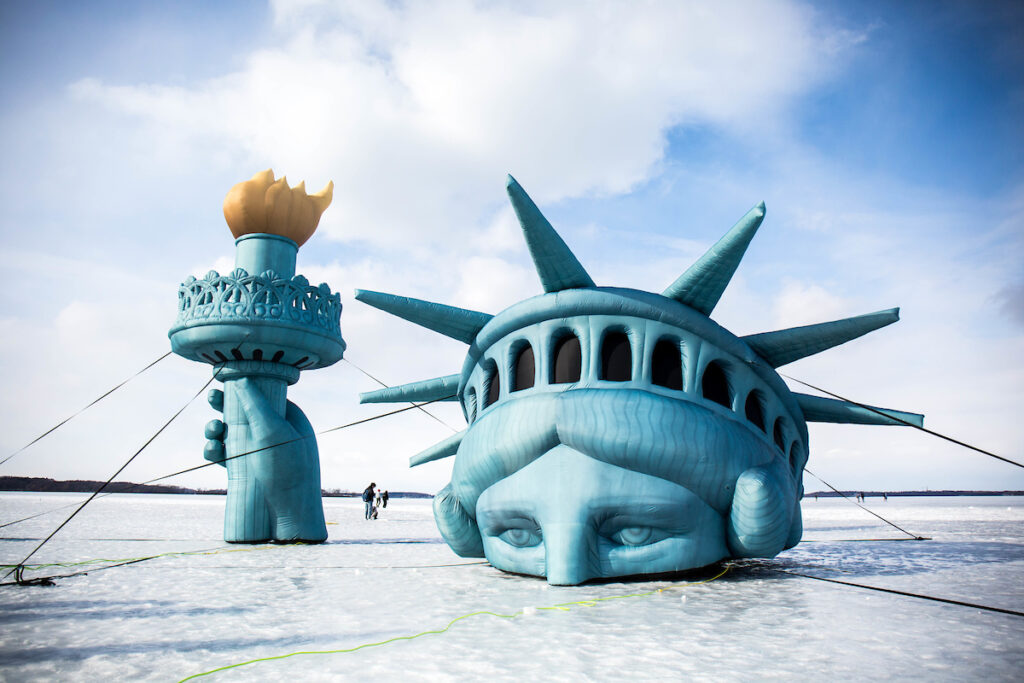 The days of Winter Carnival are always a lot of work, especially setting up Lady Liberty. When it's dark and Lady Liberty is up and glowing, it's really cool. It's iconic. Winter Carnival is a marker of the year that's passed, and it's like the start of the new year from a campus perspective.
What are you most looking forward to this year?
One of the things I forgot to mention that I'm particularly excited about is ice fishing education on the lake. We tried to do this in years past and had a lot of interest: all the lessons and waitlists filled up quickly. But due to unsafe ice conditions two years ago and the COVID-19 pandemic last year, we had to cancel the event, which was disappointing. I'm excited to see this actually happen this year, because we know that so many people have interest in it.
How does Winter Carnival help promote student leadership opportunities?
A lot of Wisconsin Hoofers clubs and Wisconsin Union Directorate committees cross-promote and cross-program for Winter Carnival events, so students find ways to collaborate in unique ways. The students in each club choose an event and get creative with it, and then budget for it, program it and review what they did. From top to bottom, the committees and clubs center around student-led opportunities. There are challenges, though; for example, our Scuba Club might not be able to do anything scuba-specific in the middle of winter, but they can do something else and market it as Scuba. That's where ice golf or turkey bowling might come in. Events like Rail Jam are mostly run by student volunteers. We set up a Rail Jam on the busiest front porch in the state of Wisconsin—it's a really cool thing, and it's all done by students.
Who is involved in planning and executing Winter Carnival events? How far in advance do you have to plan ahead?
Wisconsin Union Associate Director for Social Education Heidi Lang and I get the conversation rolling, but by no means would I say that we plan Winter Carnival, because it's a joint effort. Everyone plans an event, and then we make the schedule based on everything that's been planned. Heidi and I then work with marketing to make sure that the word gets out there. We know the general dates for larger events like Snow Ball and Rail Jam a year ahead, since we already know they'll happen. About three or four months before Winter Carnival, we look at campus calendars for dates of events like home games, festivals or triathlons, to make sure that the Carnival won't overlap with those events. After that, we provide students and staff with the dates of the Carnival and a format for them to provide us with a description of their program.
How would you describe the importance of Winter Carnival to the campus and greater Madison community?
We want Winter Carnival to be one of the markers of the year. February can be a dark part of the year, and sometimes we all need to remotivate right around mid-February. For us, and for campus participants, we hope the Carnival is one of those things that they look forward to and want to be on campus for. We would love for it to be at the same level of interest as Badger Bash or the music series on the lakefront. We want people to come to the Union and know that, in addition to being a place to find great food, it is also a center for winter activity. We believe that campus looks at Winter Carnival as one of those markers of the year: there's football season, then basketball season, then hockey season, then Winter Carnival season. We would love to see more cross-programming opportunities with other organizations on campus, and that's where we hope to grow: we want the event to keep getting bigger.
---
We can't wait to see you Feb. 7-12 for Winter Carnival, one of our favorite events of the year. Please note that events are subject to change. While you wait for February to roll around, get a head start on outdoor activities with Outdoor UW, where you can rent winter equipment or learn a new skill. The possibilities for adventure with the Wisconsin Union are endless, so what are you waiting for?
We want to give a huge thank you to Dave Elsmo for previewing the exciting Winter Carnival events coming up. To learn more about Dave and his journey with the Union, click here.
Note: Some responses have been edited for length and clarity.