Show Your Badger Pride at Wheelhouse Studios
Hours of research, testing, formulation and staff input gathering led to a brand-new glaze available exclusively at Wheelhouse Studios at Memorial Union: Bucky's Bucket. It joins a lineup of Wheelhouse exclusive, house-made glazes.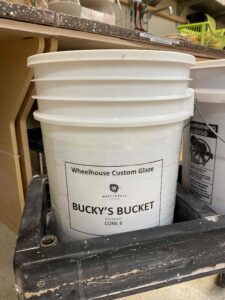 For years, Wheelhouse used commercially made red glazes, but this came with a host of problems. Commercial glazes weren't food safe and they came in small bottles not suitable for dipping larger pieces into. Not to mention, the red was never quite right. Given Wheelhouse's location right on the University of Wisconsin-Madison campus, artists that love UW's Badger sports teams frequent its spaces. These Badger fans often wanted a red glaze as close to UW's Cardinal Red as possible and commercial glazes just weren't cutting it. It would take the work of Wheelhouse Studio staff and Head Ceramicist Gloria Van Dixhorn to finally get it right. 
To match Cardinal Red, Van Dixhorn created a triaxial glaze blend. This process begins with a base glaze and three different stains. For Wheelhouse's experimental new glaze, three unique red stains were used. Different ratios of the three red stains were combined with the base glaze, creating 15 individual varieties of red. To see how the clay would take to the different reds, gray and red clay test bodies were dipped into each of the 15 varieties. All 15 pairs of bodies were then aligned like toy soldiers in a triangle formation, showing off their individual differences. In some cases, cadets' uniforms were starkly different, and in others only minor variations were visible, depending on the light.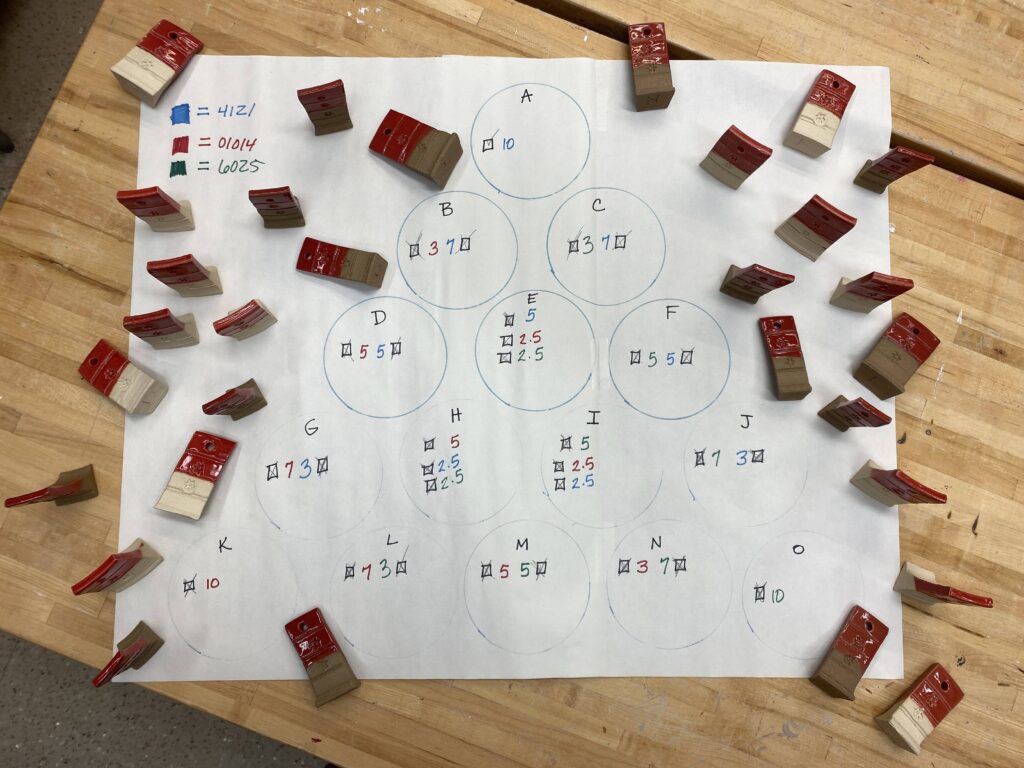 In the end, one cadet stood out from the rest of the troops. It was a match! Thanks to the effort and ingenuity of Gloria Van Dixhorn and Wheelhouse Studios, a Cardinal Red stain is now available for all Badger fanatics looking to get creative at Wheelhouse. For those who are looking to get creative in other ways, Wheelhouse has plenty of options.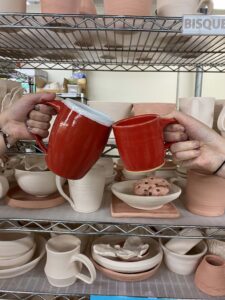 Do you have a passion for painting? Do you find joy in jewelry making? Are you a ceramics fanatic? No matter your outlet, Wheelhouse Studios is your creative hub. Wheelhouse offers artists three unique studio spaces where they can craft rings, laser cut a design, throw on a pottery wheel, silk-screen a shirt and so much more!  
Artists are free to explore their preferred art form during Open Studio time from noon to 10pm Monday through Sunday. Day, month and yearlong studio passes are available for purchase at Wheelhouse's Welcome Desk for non-students, and give artists access to all of the studio's equipment.
New artists are encouraged to work with an experienced friend or enroll in one of Wheelhouse's many classes, including the popular Intro to Wheel Pottery course. Wheelhouse's course catalog is extensive and always growing. At Wheelhouse, art means anything from ceramics to the martial and culinary arts. Courses are taught by instructors who are committed to creating a welcoming and engaging experience that fosters creativity and creation.
No matter what kind of artist you are, Wheelhouse should be the first place on your list when you get that creative itch.
Learn more about Wheelhouse Studios and its classes here.