Previewing Wheelhouse's Spring Courses: Old Favorites Return Alongside Exciting New Offerings
Wheelhouse Studios releases its spring courses at 10am on Dec. 15, proving that warmer weather isn't the only reason to look forward to the changing of the seasons. The spring course selection showcases exciting new offerings plus tried-and-true favorites and offers something for everyone – and we really mean everyone.
Finally learn how to cook without a microwave this spring! Wheelhouse's upcoming culinary classes range from an introductory offering on baking to a class on cooking breakfast. Or, if you're sick of frozen pizza, learn how to cook a real pie and calzone. For those seasoned chefs looking for a palette-elevating experience, take Wheelhouse's introductory course on Vietnamese cuisine.
Luckily, spring offerings do not stop there.
Get outside and enjoy the beautiful weather with an intro to landscape photography class. Or, if you're looking to improve your digital camera chops, take Wheelhouse's class on DSLR photography. For those who don't own a digital camera, you're certainly not excluded from learning about photography with Wheelhouse. After all, you've already got a camera in your pocket. Learn about snapping photos on your phone and how to edit them so they look great on your feed in the smartphone photography class.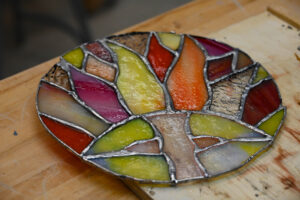 Wheelhouse favorites are also returning, like wheel pottery! Learn how to throw on a wheel – you won't regret it. The extremely popular stained glass course is also making a return, along with wine and canvas nights, which make for a fun Friday outing with friends.
Spring promises warm weather, beautiful flowers and chirping birds. With Wheelhouse Studios, spring also promises creativity. Look out for Wheelhouse's spring courses on Dec. 15, and sign up for something that you'll look forward to all winter long.