What's new at Badger Bash
By Francesca Bonifacio '13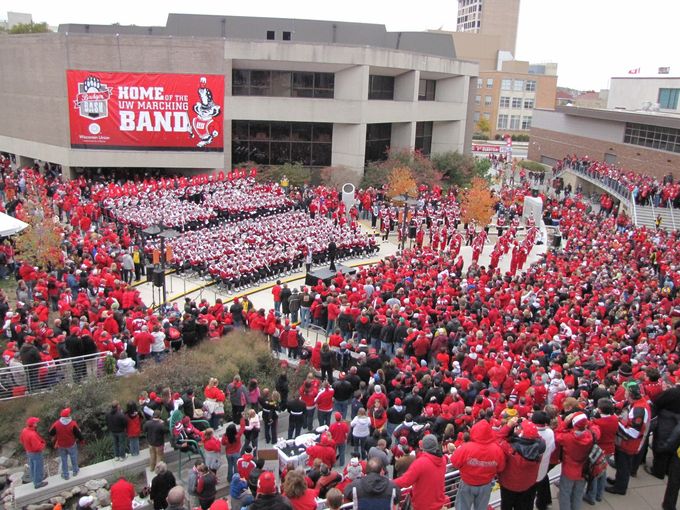 The annual Badger Bash kicked off its 41st year just two weeks ago, celebrating the first home game against the University of Massachusetts by welcoming new additions to the game day experience.
Traditionally held at Union South, Badger Bash has expanded beyond the familiar feeling of camaraderie among fans keeping a close watch on the Badger game televised at The Sett. Outside in Union South Plaza, fans will find an additional large screen, broadcasting both home and away games to anyone looking to cheer on the Badgers outdoors. Even without a ticket, or in inclement weather, football fans can still catch all the at-home or away game action without missing a beat at Game Watch.
http://youtu.be/L9rE2Z1WYDk
Meanwhile, Madison-based folk band, The Northern Hooks, performs on Johnson St. at the start of each home game enticing those passing by to stop and grab some food and drink before kick-off.
"We want to get everyone in the football mood by turning Badger Bash into a larger event and by starting a little earlier in the day," said Marc Kennedy, communications director at the Wisconsin Union. "The live music, games, activities, and big TV screen outside create a more festive tailgate atmosphere."
The food scene at Badger Bash hasn't been immune to any changes, either. With more food stations cropping up around Union South, hungry fans don't have to wait as long before wolfing down brats, sandwiches, signature appetizers, and limited edition craft beers.
"Forty-one years ago during the first Badger Bash at the old Union South, someone decided to put a grill out there and sell brats and beverages. We want to keep that tradition going by doing it bigger," said Marc. "We wanted to do something a little different to make sure fans keep enjoying the atmosphere and the football experience."
Check out a short time lapse video of Badger Bash below:
Want to know how you can catch the next game at Badger Bash? Visit the site here.
———-
Francesca Bonifacio is a UW-Madison senior double majoring in Journalism and Communication Arts. She occasionally uses game days as an excuse to eat one brat too many and wear a little too much red.