Virtual Finals Frenzy
Finals season is just around the corner, and, in some much needed good news this year, the Wisconsin Union's Finals Frenzy is still on! Stay tuned for Union deals and freebies you will love. (Hints: Check our social media accounts frequently. Also, if you stop by Memorial Union or Union South, you just never know what fun, free surprises might await you at your dining or study area.)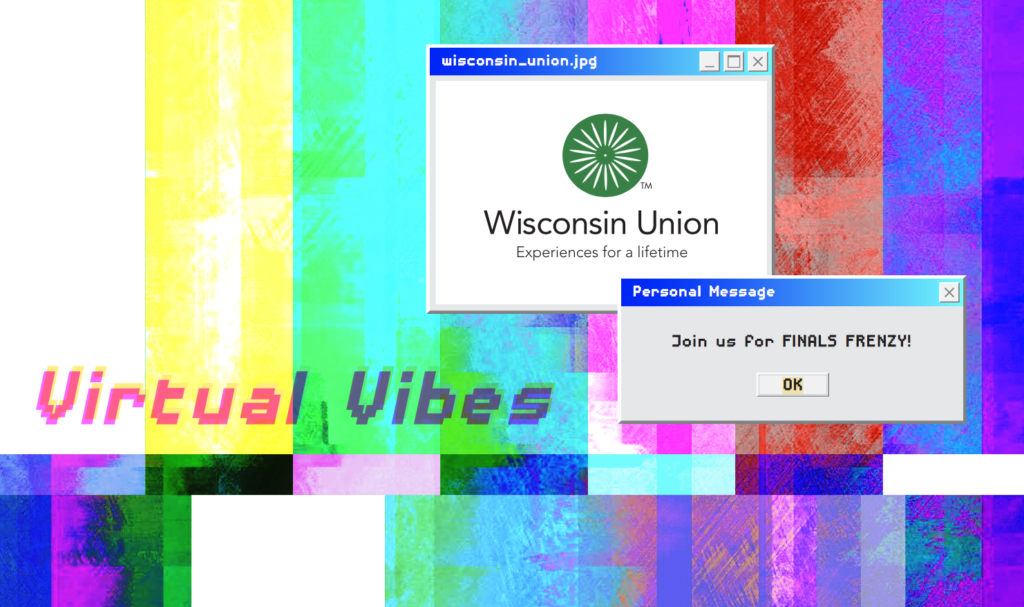 We've embraced our computer-filled lives this year, with the help of Wisconsin Union Marketing Intern Sophie Meranda. Sophie and other members of the Union team began planning Finals Frenzy with the mindset of transforming this Union classic for this unique year. The theme? Virtual Vibes. Think early 2000s, Windows '95, I just logged onto my enormous desktop monitor to browse Internet Explorer. We are embracing our virtual lives, but sending some throwback nostalgia vibes as well. Our other theme? Gratitude. This has been a tough year. Your smiles, continued support, patience and understanding have served as constant reminders of how incredible our campus community is and what an honor it is to be part of it.
We want you to know that we are here for you at the Union, even if how we serve you has to look different. We hope you've been practicing abundant self-care and that we helped you do that with our food, events, activities, spaces and services. We always want to support many ways for you to take care of yourself.
"It's all about what we can do to make this easier on students. We understand that this is an extremely difficult time, and you're dealing with a lot right now," Wisconsin Union Marketing Coordinator Lauren Isley Ziegler said.
On our website, we will compile resources for self-care. From University Health Services resources to Spotify playlists, you will find these resources here. It's basically a one-stop-shop to get all those campus resources in one place! You don't need to work even more than you already do.
And in-person, if needed, you can find peace and quiet in our Reflection Room on the third floor of Union South. This is a space for, you guessed it, reflection! Treat it as a retreat to promote your well-being.

During finals week, Memorial Union and Union South will remain open as study spaces as well as places to come and chill, get some food, and escape the studying-life for a bit! Wheelhouse Studios, our art studio located on the lower level of Memorial Union, is also open by reservation for students, staff, and faculty. And access is free for students, so come paint, draw or throw a pot with us!
Another idea? Rent outdoor recreation equipment through Outdoor UW or go bowling at Sett Recreation.
Need some events to break up your studying? Our calendar is filled with opportunities, such as a virtual painting experience on Dec. 4, a showing of the film "Emma" on Dec. 5, and a performance by pianist Jeremy Denk on Dec. 11.
It may sound as cheesy as a Strada pizza, but we are sending you a virtual hug this finals season! We are so grateful for our students who make all that we do at the Union possible. Our students, staff, and faculty have been so gracious these past few months as we've adjusted operations. Your patience as we've figured everything out has been so appreciated. To be part of a community like this is more than we could have asked for. Thank you for sticking with us this semester.
For more information about Finals Frenzy, click here.