Valentine's Day or Galentine's Day, We've Got You Covered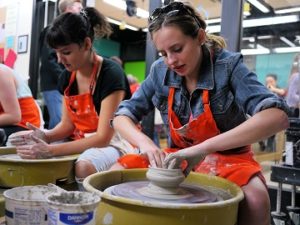 Whether you are spending time with your special someone, just want to try something new, or are taking a page out of Leslie Knope's book and celebrating with friends, the Wisconsin Union has you covered. With crafting events, musical guests and great films, you can make the days ahead ones to remember.
If you're looking to just relax, our stress relieving pottery may be exactly what you need. Or, if you enjoy getting lost in a great film, "When Harry Met Sally" may be your perfect Valentine's week escape.
Check out the list of some of the events below, or click here to see the full Union event calendar.
Friday Feb. 10 and Sunday Feb. 12
"When Harry Met Sally" showing
Saturday Feb. 11
Wheel pottery relaxation
Monday Feb. 13
Bead-wrapped statement earrings crafting
Tuesday, Feb. 14
Snowshoe & cross-country ski to Picnic Point