UW-Madison Student Veterans' Stories
Memorial Union's honoring of service members began in 1928 with the dedication of the building as a memorial to UW-Madison's service members. In addition, the names of more than 200 Badgers who died in active duty are inscribed on wooden plaques on the walls of the Memorial Union's Memorial Hall, outside of Main Lounge.
We, at the Wisconsin Union, recognize and honor our UW-Madison service members and veterans each and every day. Below, we highlight two of our current student veterans' stories.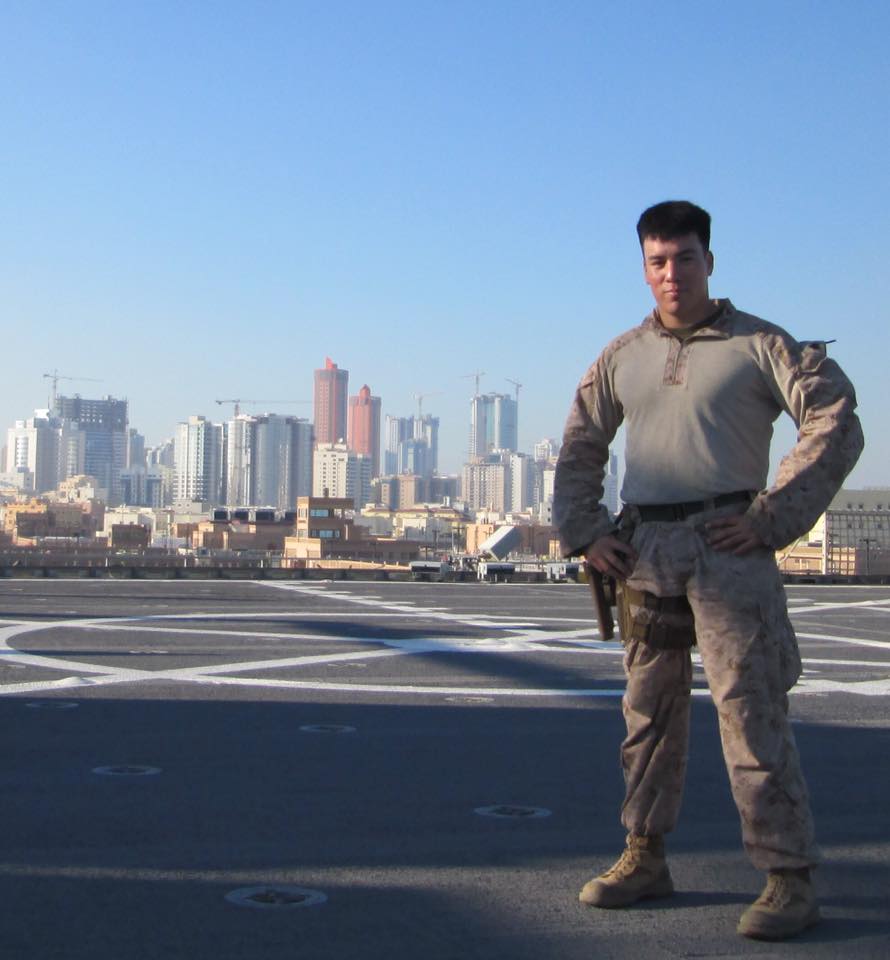 Sergeant Enrique Peña
Current Status at UW-Madison: Undergraduate student
Rank: Marine Corps sergeant
Hometown: Muskegon, Mich.
Profile of Military Service:

In 2011, just a few days after my 21st birthday, I graduated boot camp from Marine Corps Recruit Depot San Diego. I was then trained as a Military Police, and, upon completion of my training, I was sent to Okinawa, Japan. I lived on the island of Okinawa for two years. This experience exposed me to Japanese culture. One of my favorite hobbies is disc golf (frisbee golf), and while I was in Okinawa I played in a disc golf tournament. Among many experiences there, this was one of my favorites!
On one occasion, my unit spent over 30 days in South Korea. While there, I was promoted to corporal. After leaving Okinawa, I was stationed at Camp Pendleton, Calif. While there, I deployed to the Middle East for six months where I was the detachment leader. I took care of planning and day-to-day operations. I also helped train other units in various skills and tactics.
In July of 2016, I got out of the Marines. I thought I was completely done, but,in January 2017, I joined a reserve unit. I continue to serve as a reservist. Once a month, I drive to Chicago for training. I am also required to complete two weeks of annual training. Last March, during the spring semester, I had to go to the Philippines for training. Luckily, since it was during spring break, I only missed a week of school. I was fortunate to have outstanding professors who worked with me to stay on track with the course work.
What is one thing you wish more people knew about your experiences as a student veteran?
I believe the military is one of the few places where you TRULY get people from all different backgrounds and walks of life. You get kids from rural Wisconsin and first-generation Americans from Bakersfield, Calif. People in the military come from big cities like Las Vegas and New York [City], but also from tiny places no one has ever heard of.
Describe your experience at UW-Madison.
I love being a Badger! This is a great institution with a great atmosphere!
Corporal Brooke Villella
Current Status at UW-Madison: Undergraduate student, staff
Rank: Wisconsin Army National Guard (HHB 1-121 FA – deployed) (HHC 1-147th AV – current), E-4 corporal
Hometown: Kenosha, Wis.
Profile of Military Service:
I trained as a chemical, biological, radiological and nuclear (CBRN) defense specialist, maintained a part of HHB 1-121 Field Artillery's operations section and deployed on the 2018-2019 tour across the Middle East. There I served as the readiness non-commissioned officer (NCO), CBRN, suicide prevention NCO and journalist. I have just taken a new position as the CBRN NCO at an aviation unit.
What is one thing you wish more people knew about your experiences as a student veteran?
The balance between school and the military. Student-athletes get a platform to speak and showcase their talents, however, student veterans sacrifice a whole lot more than just a few days of school. I think my military background has educated most of my experiences within the rehabilitative psychology as well as overall professionalism and knowledge of different groups of people.
Describe your experience at UW-Madison.
Reflective.
Every year we hold Veterans Day events in honor of service members like Sergeant Peña and Corporal Villella with a free breakfast and program.
Additionally, the Gold Star Honor Roll, a tradition that started with the dedication of the plaques in 1928, tells the stories of more than 900 alumni who have passed away during active duty. You can learn about other service members here.