Union weddings have a new home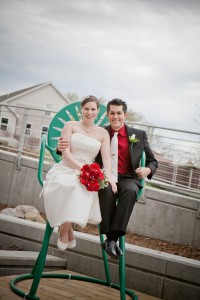 Summer has finally arrived at the Wisconsin Union, bringing with it all the sights and sounds so familiar to the UW Madison community. The brat stand is open, the pitchers are plenty and the Terrace comes alive every night with the rhythms of the season. And just as usual, less visible but perhaps just as important to summertime at the Union, wedding bells are chiming.
This year the Union will host approximately 120 weddings, making it one of the most popular places in Madison for couples looking to tie the knot. There's no secret to its success; waterfront views, beautiful reception halls and a location at the heart of campus are some of the attractions that place it at the top of the list. Now, the Union boasts something that will open up even more possibilities: a second building.
Just ask Louie and Kathryn Mingione. This spring the Mingiones made history as the first couple to say "I do" at Union South.
It only took a few hours for the newly-engaged couple, both Madison-area natives and UW Madison alumni, to decide they wanted to be married on campus.  But to secure Varsity Hall just a few weeks after the building's opening, well, they just got a little lucky.
"After we'd gotten engaged, I said let's just email the Union and see if any where in Memorial Union is available. We knew it was a long shot, but the worst they could say was no," explained Kathryn. "And they did…but followed up with, 'Well, Union South will be open in mid-April, and there are lots of openings for this spring there since it's brand new.' After seeing the rendering of Varsity Hall, we booked it."
Because of the extreme popularity at peak times of the year, luck is always a big player in the reservation process for Union weddings. Though the Mingiones managed to avoid this process, summer and early autumn weddings are booked up to eighteen months in advance through a lottery system that requires a little bit of flexibility.
Couples wanting to be married in June 2012 would have lined up at the Union's Campus Event Services office by 9 a.m. on the first working day of December 2010. Everyone in line is assigned a number, which are then drawn at random to determine the order in which they will reserve their date. If your heart is really set on a certain date, you better hope to be drawn first, otherwise couples are encouraged to have a number of options in case they don't get so lucky.
Once you're in, the real fun begins. Couples meet with Stephen Lucas and Kerry Hillebrand, the Union's wedding coordinators, several times to discuss decorations, delicacies and other details that make each wedding unique. For instance, previous weddings have included a Bart Simpson ice sculpture and a Wisconsin theme where guests were served an array of brats, cheese and microbrews.
Check out the Union's in-depth wedding planning guide. 
Varsity Hall in Union South is already proving to be a popular destination for more than just the novelty factor. In addition to being the new kid on campus, the venue also boasts an elegant barn-wood floor, modern furniture and larger capacity and greater flexibility than either of Memorial Union's venues. Plus, the Union Hotel is located just a few floors above, making for great wedding night accommodations for guests or the couple themselves.
"I don't think I would have been nearly as relaxed during the few days leading up to our wedding if I hadn't had the Union Hotel to make life easy and comfortable," said Kathryn. Louie was impressed with the hotel staff's willingness to go above and beyond. "We had brought homemade Bucky cookies as favors for our guests staying at the hotel. The Union South Hotel staff were kind enough to just take the box, promised to not eat them and make sure they were waiting for our guests when they arrived." Read Louie's review of theWisconsin Union Hotel.
With the extra venue on campus, it is hoped that the number of weddings held each year will continue to grow. "We get inquiries for weddings everyday and have to turn people away," said Whitney Swance, an event planner for the Wisconsin Union. "Now with Varsity Hall we have additional options to offer in the future."
But has the Union staff experienced any growing pains? It would be normal, as the first event at a brand-new venue, to expect a few bumps along the way. But the Mingiones said they never had a thing to worry about. "Everything was smooth and it was like they had done it a million times before. I think it helped that many of the staff had worked at Memorial Union too," said Louie. Kathryn also could find no complaints, despite bringing in a crowd of over 300 people.
It may not be your typical "destination wedding," but for Mr. and Mrs. Mingione, it was the location that made their special day perfect. "We didn't have a theme besides 'Ooh look at the new Union South… Go Badgers!'  We didn't decorate at all except for a few red rose petals on the tables – we really counted on people taking in the sights of the new space," said Kathryn. "It was beautiful."
All photos courtesy of Sarah Jayne photography.
By Lydia Statz