Be Our Guest: Wisconsin Union Club Suites Open House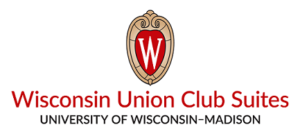 The Wisconsin Union is already known as the "living room of campus," and soon we'll have more bedrooms too—renovations to hotel rooms in Memorial Union, to be known as the Wisconsin Union Club Suites, are almost complete! Join us from 2-4 p.m. Sun. Feb. 18 for an open house to get a sneak peek and tour a couple of the brand new suites.
During construction at Memorial Union, the 60 boutique-style guest rooms in Union South continued to accept guests, just steps away from Camp Randall. We're excited to show our members the renovated hotel rooms in Memorial Union, which look right over the Terrace.
With lakeside views, multiple restaurants, a coffee shop, the Wisconsin Union Theater, Wheelhouse Studios and more right below the hotel, you don't want to miss out on these rooms.
Membership Manager Dawn Dever will be your host on Sunday – stop by and say "hi" at the open house, and learn more about the special discounts you receive on hotel rooms as a member.