Wisconsin Union Team Brings Union Experiences to Chicago
Ever wish that you could relive your times at Memorial Union and Union South and make new memories but haven't had the chance to visit recently? For one day, some lucky Wisconsin Union members and other supporters in Chicago had their favorite Union spots and times come right to them in the Windy City during an event called, "Union on the Road."
On June 29, more than 140 people attended Union on the Road and enjoyed Union culinary classics, such as brats, popcorn, and, of course, Babcock Ice Cream. The event also included live music by alternative folk singer and song-writer Joe Shadid; Wisconsin Union trivia; virtual reality tours of the Terrace; and a Wisconsin Union update from Union Director Mark Guthier.
Plus, the Union team gave participants the chance to win tons of Union merchandise. The most talked about giveaway was a full-sized, red Terrace chair, won by Steven Shutt, a member since 2013. While not everyone won a chair, all attendees walked away with new memories and had the chance to connect with fellow Terrace-lovers.
Union on the Road began in 2018, with three events taking place in Appleton, Wis., Minneapolis and Milwaukee. More than 400 total people attended the 2018 Union on the Road event series.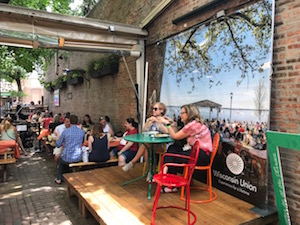 This year, Union on the Road will include a stop in Denver Sept. 14. Those who attend will feel as though they are stepping into Memorial Union's Rathskeller; the venue, Rhein Haus, has a German-like feel, much like the famous der Rath. The restaurant is also connected to Wally's Wisconsin Tavern, a Wisconsin lake tavern-inspired destination that is the perfect place for former Badgers to celebrate their love for the state.
No matter the time of year or place, this series brings the magic of the Terrace, der Rath and so many other beloved Union spots to members.
"These Union on the Road events are so much fun. The opportunity to reconnect and bring some of the Union to our non-local members is great," said Dawn Dever, Union membership manager. "With cool music, trivia, virtual reality tours and Terrace food faves, each event starts with the makings of something special. It's the folks who attend who put it over the top."
In addition to invitations to events like this, Union members receive many other benefits, including discounts on many events and services and access to Union buildings. Becoming a member also means helping support student leaders, who create thousands of experiences for a lifetime each year. (Did you know some of your favorite Union events, such as Terrace After Dark live music and film showings are selected, planned and executed by University of Wisconsin-Madison students?)
To learn more about becoming a member of the Union and its perks, visit union.wisc.edu/membership.