Union 101: Wisconsin Union Welcomes Student Members to Campus
Hey, fellow students, did you know that, while you are a University of Wisconsin-Madison student, you are also a member of the Wisconsin Union? Being a member gives you many benefits, such as being able to attend awesome Union events.
And the Union team is starting off the fall semester right with events created with students, in mind.
The Union's Welcome Week begins Aug. 31 with an evening of comedy by Jaboukie Young-White and Jon Rudnitsky at Memorial Union's Shannon Hall. This is the perfect opportunity for you to have a good laugh before the semester starts. You may have enjoyed Jaboukie's comedy before, if you watch "The Tonight Show with Jimmy Fallon."
Welcome Week, then, continues the next day with the annual, can't-miss Sunburst Festival at Union South. From 7 p.m. to 10 p.m., UW students can enjoy free glow-in-the-dark bowling, billiards, indoor rock climbing, board games and Xbox games.
For those craving some relaxation before the school year truly kicks off, the Sunburst Festival's Zen Zone will include free massages, aromatherapy and relaxing music. Also, at Sunburst, the Union team will give away LOTS of free food samples and soda at a soda bar. You can even get a free Union t-shirt created for this event. This event is exclusively for Wisconsin Union student members.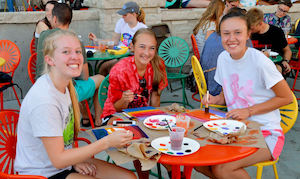 Then, on Sept. 2, the Union student membership fun continues with Labor Day on the Terrace. At this event, try a climbing wall, enjoy live music and sail with the Hoofer Sailing Club. Later on, you can join Madison's largest group paint night, called Paintacular. It's totally free and happens right on the Memorial Union Terrace. Team members from the Union's Wheelhouse Studios will help you create a painting of a Terrace sunset or something of your choosing. The night of celebration will end with a showing of the funny, touching film "Up" on the Terrace.
The celebration will continue at the Wisconsin Union's Union South with Badger Fest Sept. 4 at 11 a.m. If you like giveaways and samples (Who doesn't?), this is an event you won't want to miss. Orchard Street Plaza will be filled with Madison's fashion, tastes and technology, including Toppers, Bernatello's and Fjallraven.
Later that night, join the Union for a Terrace summer class, Terrace After Dark: Open Mic Night. It's a night during which the unexpected is expected, as the community is invited to display their poetry, music or comedy for hundreds of Terrace-goers. Take in the performances as an audience member or sign-up for the chance to perform!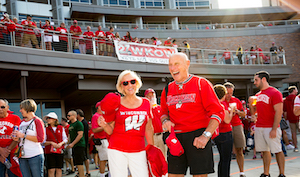 The Welcome Week will wrap up with game day's best tailgate Badger Bash. Before Wisconsin takes on Central Michigan, head to Union South for a performance by the UW Marching Band and great food.
Some of these activities, such as the film showing, are actually planned by students, who are part of the Wisconsin Union Directorate (WUD), the Union's student programming board. Throughout the week, there will be opportunities for you to learn more about WUD, including how to get involved. Joining WUD is an awesome way to gain hands-on experience in a lot of areas, make friends, and, with some leadership positions, receive scholarships.
In addition to this, there will be many performances and other fun events coming up throughout the year. And being a member gives you access to the fun.
Welcome (back), fellow students, and welcome to the Wisconsin Union!
Check out what the all that the Union has to offer to welcome students to campus: http://union.wisc.edu/welcome-back-students.