Summer Film Coordinator's Top 3 Film Picks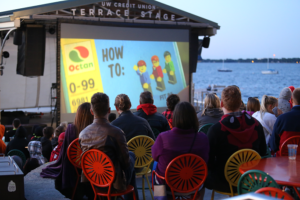 If you haven't been to a Lakeview Cinema film at the Memorial Union Terrace yet this summer, you're missing out. But not to fear, your chances to watch films at the best place on Earth are from over. The Wisconsin Union Directorate (WUD) Film Committee's Summer Film Coordinator Taylor Pritzl gave us his top three picks for upcoming, must-see films.
"Kingsman: The Secret Service", July 24 – "Kingsman is one of my favorites in terms of action movies. It's super fun, very funny, aware of what it is as a movie; it doesn't take itself too seriously, which I think is very important. And we have the sequel coming out in September, so that will be perfect right after the showing of the first one on the Terrace."
"Spy Kids", Aug. 21 – "This one is more of a personal favorite, but my family used to watch Spy Kids all the time when we were younger, so I'm super excited to show it on the Terrace. That one hit me as a little bit more bizarre, but as a movie from my childhood it's very nostalgic."
"Coach Carter", Sept. 4 – "My last must-see would be Coach Carter, which is the last film of the summer film series. Very emotional. It's an emotional movie that has a lot of heart to it, too, and sports, which you can't go wrong with."
If these three great films aren't enough to draw you to Lakeview Cinema, perhaps one of the other benefits of a movie on the Terrace will.
"Getting to watch a movie outside, on the lake…there's really nothing like it," said Pritzl. "And you get dollar hotdogs, sodas and chips during the screenings, which isn't too shabby."
For a full listing of the remaining summer series films, click here.
Taylor Pritzl graduated from the University of Wisconsin-Madison in spring 2017 with a bachelor's degree in biochemistry. This is his first summer as WUD Film's summer film coordinator.