Time to Shine: Kendra Ramthun's Role in the Wisconsin Theater
"Break a leg"
"Toi Toi Toi"
"Encore"
"Brava"
My fellow readers, it is time to brush up on your theater lingo because in-person events are officially back at the Wisconsin Union Theater for the 2021-22 season!
People are buying their tickets, finding their seats, and getting ready to once again bask in the glory of live shows. For some this is a return to normalcy, and for others, like Kendra Ramthun, the return to in-person events calls for new explorations and experiences. 
---
Kendra Ramthun, the new Arts Administrator/General Manager of the Wisconsin Union Theater, began her new role in August 2020 amidst the pandemic. For her, it has been about learning the ins and outs of not only the virtual theater, but also, now, becoming acquainted with the in-person theater events as well.
"It has been super exciting," said Ramthun. "One of the most exciting parts has been getting to meet colleagues who, originally, had only been introduced virtually to me."
Ramthun reflects on her role as she is amidst her very first in-person Wisconsin Union Theater season.
"For me, being a part of an arts organization, and doing so in a University setting, is new," said Ramthun. "So here I get to really be a part of the arts and help make an impact on, and work with, students."
As Arts Administrator, Ramthun supports artists and student groups, helping them utilize the Union spaces. She assists in the booking of all events within the theater, excluding seasonal programming.
"My favorite part is being able to provide resources to different groups and enable them to use the space and create the events they wish to create," said Ramthun.
This theater season, Ramthun has many exciting events on her list.
Earlier this November, Ramthun was able to watch her first live audience show at the Wisconsin Union, seeing Terence Blanchard, an artist who performed in Shannon Hall as part of the Wisconsin Union Theater Series.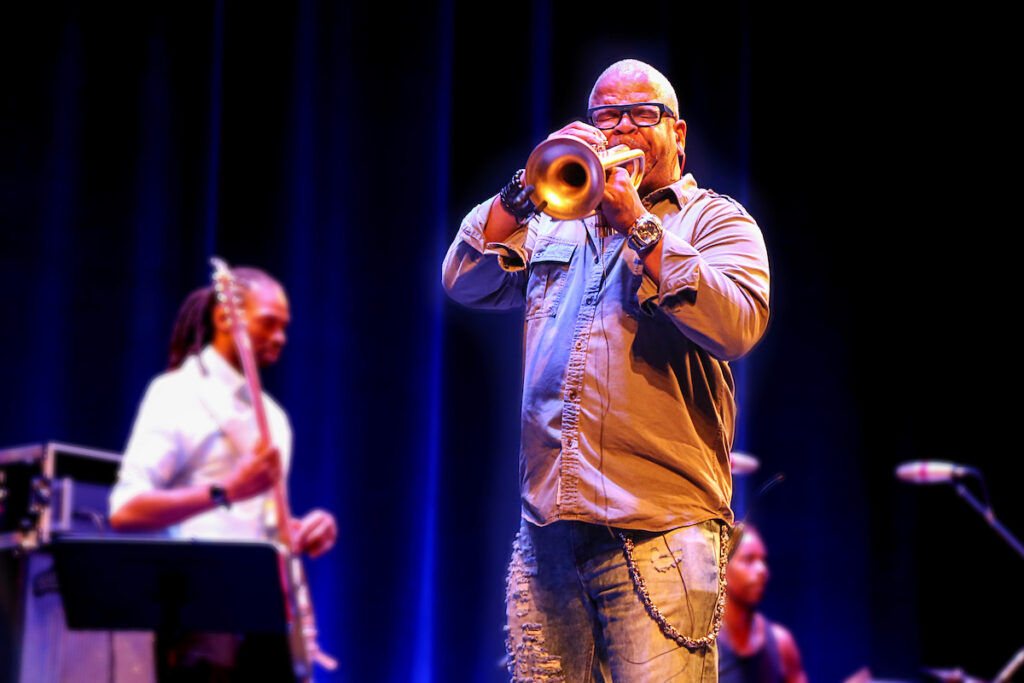 "Phenomenal. That's how I would describe Terence Blanchard's electrifying performance," said Ramthun. "It was my first in-person experience as an audience member in Shannon Hall. The collaboration between Terrence, the E-Collective, and the Turtle Island String Quartet was unexpected and sublime."
Upcoming events recommended by Ramthun to Union visitors include, violinist Gil Shaham who is performing on Dec. 11 in Shannon Hall and the Black Arts Matter Festival, taking place March 23-26, which is an interdisciplinary arts festival celebrating and promoting Black art (artist line-up and full schedule to be announced).
If you still are uncertain of which events you wish to see, "Try something new," said Ramthun. "The theater and performing arts committee is focused on bringing top talent and a wide swath of performances to the stage, so try something you might normally not have considered before." And if you're still unsure, Ramthun recommends simply asking a student.
The Wisconsin Union Theater is taking the necessary precautions against Covid-19, including requiring masks and maintaining distance between the audience and performers, so that people can come in and enjoy the shows and events being offered.
To learn more about the Covid-19 safety precautions and other frequently asked questions, see here.
The Wisconsin Union Theater is basking in creativity, new performers, and exciting events.
Buy your tickets here and we hope to see you in the audience soon!