The Wisconsin Union: A Year in Review
With summer in full swing, it's the perfect time to pause and revisit some of our favorite memories from this past year. So, kick back and relax, and relive some of the Wisconsin Union's best moments of 2017-2018 with us at the Wisconsin Union:
Badger Bash: Aug. 31 – Nov. 24, 2017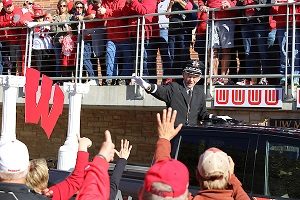 Before each home Badger football game, fans gathered to celebrate and cheer on our Badgers at game day's best tailgate. We have hosted Badger Bash for more than 40 years at Union South, which is right outside the gates of Camp Randall.
Sunburst Festival: Sept. 1, 2017
Each fall, students gather for a warm introduction to all that we, at the Wisconsin Union, offer and to Union South, a classic study spot and favorite hangout destination  for students, other Union members, and visitors. The Festival provided students with activities that showcase what the Union is all about, from the best jobs on campus to more than a dozen dining options!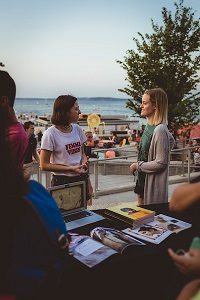 Sunset Slam: Sept. 3, 2017
Located on the Memorial Union Terrace, the annual Sunset Slam is a can't-miss opportunity for students to engage with Wisconsin Union Directorate (WUD), the Union's student programming and leadership board, and Hoofer student leaders. This past year's event was nothing short of an extravaganza with A cappella performances, sailing, dance lessons, a performance by DJ knowsthetime, and more. Plus, WUD was on hand to answer students' questions about our events and leadership opportunities.
Memorial Union Event Spaces Showcase: Oct. 10, 2017
The Wisconsin Union team  took time to celebrate the reopening of Memorial Union's east wing with an event that showcased available gathering spaces.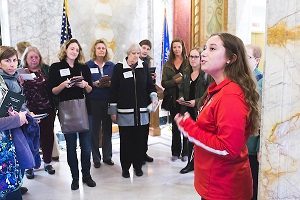 Guests were provided with a special tour of some of our most cherished rooms, including Great Hall, Tripp Commons and Main Lounge. Dozens attended the event and learned about how they can have private gatherings, registered student organization meetings and more in our recently reopened spaces.
Winter Carnival: Feb. 5 – 9, 2018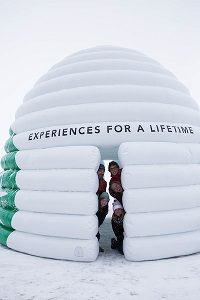 People from across the community donned their mittens, gloves, and hats for the annual Hoofers Winter Carnival. This year's event included plenty of ways to enjoy a Wisconsin winter, such as a coffee bar, a snowshoe hike, and Rec Sports Broomball and Hockey Tournaments. Most events took place on the Memorial Union Terrace and Lake Mendota. Didn't go last year? We hope you bundle up and come outside for Winter Carnival with us in 2019.
Lena Waithe, WUD Distinguished Lecture Series: Feb. 13, 2018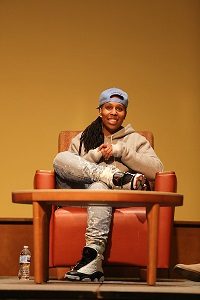 The WUD Distinguished Lecture Series (DLS)  brings influential speakers to campus to spark conversation and ideas among students, other Union members and visitors throughout the year. On Feb. 13, in collaboration with multiple campus partners,  DLS student leaders welcomed Lena Waithe for a keynote address at Union South. Waithe is an American actress, producer, and screenwriter, who is known for co-writing and acting in the Netflix series, "Master of None". Waithe promotes diversity, charisma, and comedy in her work. Tapping into cultural sensibilities, she shared her unique perspective on breaking conventional norms.
Mardi Gras at the Sett: Feb. 13, 2018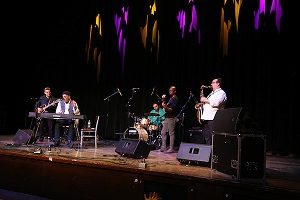 For those who couldn't make it to New Orleans in February for Mardi Gras, we brought a bit of the annual celebration to the Sett at Union South. And we celebrated right with special NOLA food by Guest Chef Lisa Garsee, free mask-making, and live music by the Cajun Strangers.  So, in 2019, if a road trip to N'awlins in not in your plans, come by for our annual celebration (Madison-style).
The return of the Terrace chairs: April 24, 2018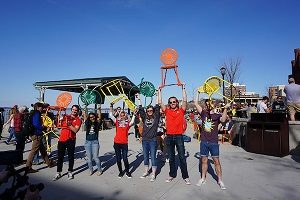 If you've ever been to the Terrace, you know how important our sunburst chairs are. To put it simply, they symbolize summer in Madison. Each fall, they leave the Terrace for a cold weather slumber, and the community misses them the moment they leave. So, when they come back in late spring, it's a time to celebrate the return of the Terrace and a return of warm weather! For the past few years, our community has helped bring the chairs back, and this year was no exception. Dozens gathered for the chance to be one of the first to sit on a sunburst chair in 2018. With the return of the chairs come can't-miss events, seasonal dining offerings and plenty of ways to enjoy summer's rays.
Terrace After Dark: May 11 – Sept. 3, 2018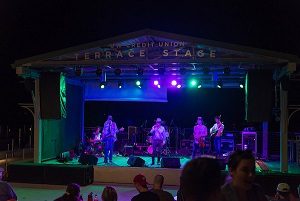 With the return of the chairs come seasonal dining offerings, plenty of ways to enjoy summer's rays and can't-miss events, such as Terrace After Dark's free live music and film showings. We've had incredible performances so far, including live music by the world's first gay country band Lavender Country as part of WUD's WUDStock, a free multi-stage music event. While our programming may be imitated, it is never duplicated. It simply can't be. You just can't Terrace anywhere else. Bonus, when you purchase anything at Memorial Union during Terrace season and all year long, you're helping support thousands of Union student leadership positions. In fact, Terrace After Dark is 100 percent planned by the student leaders you're helping support. Did you need another reason to take in a Terrace sunsets?
A Year to Remember
Filled with celebration and fun, this academic year was one to remember. Thanks for taking a walk down memory lane with us. Now, it's time to make some new memories. With so many events and activities going on at both Union South and Memorial Union, you won't have to look very long for an event that's perfect for you and your friends or family. Even without an event, our lakeside retreat and activity-filled Union South are the perfect settings for a relaxing day of studying, playing or relaxing.
We hope you'll join us this summer and throughout the whole year. Click here to see upcoming events.