Dairy Science Grad Performs in Blues Band on the Terrace
There's nothing quite like sitting at the Memorial Union Terrace in the summer, eating a brat and listening to a live performance with your friends. It's a very magical feeling that most of us in the Madison community and many across the world have enjoyed. For Jimmy Voegeli, leader of the blues band The Jimmys, the magic of the Union that he feels while performing on the Terrace is a familiar one, dating back to this time as a student.
Voegeli is a University of Wisconsin-Madison alumnus; he graduated with a bachelor's degree in dairy science in 1986 and was a part of the agriculture fraternity Alpha Gamma Rho.
It is safe to say that Madison has had quite an impact on Voegeli and his music. After spending two years in the University of Wisconsin Marching Band, he started playing music and writing songs with three other UW students. While earning his degree, he was surrounded by people from all over the world, who had various tastes in music. During that transformative part of his musical journey he deepened his love for the blues.
Voegeli lived close to the Terrace during his time as a student and said it was there that he experienced an "eclectic collection of different cultures and ideas and people that you would never ever meet anywhere else."
Since graduating, Voegeli has performed in many blues bands. Currently, he sings, writes songs and plays the keyboard for The Jimmys, a Madison-based band that describes their music as blues mixed with a touch of R&B and New Orleans funk. The band formed around 10 years ago and have since received numerous awards and praise from around the world.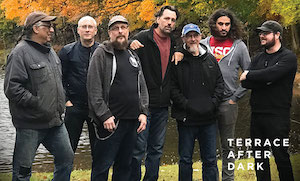 On July 12 at 9pm, The Jimmys performed at the Terrace as part of the Terrace After Dark Series. This series is presented by the Wisconsin Union student programming board committee, known as the Wisconsin Union Directorate, every summer. Events include free live music and free filming showings at the Terrace. The Jimmys is one of many bands set to perform in the upcoming months. UW-Madison students, other Wisconsin Union members and members' guests are invited to check out these amazing acts.
The Jimmys' performance at the Union was not their first. Voegeli and his band love performing on the Terrace because of its fun and welcoming atmosphere that is "unmatched to any other venue."
"There is nothing more rewarding than seeing a packed UW Terrace on a hot steamy summer night, with friends and fans singing along to your tunes, seeing a wave of heads and bodies movin' and groovin'," Voegeli said.
Whether you're a current UW student, alum or just a lover of music, the Terrace After Dark is sure to keep you entertained this summer!
Visit terracesummer.com for a full list of upcoming Terrace season events.