Eat the Best for Less When You Pay With Your Wiscard
As a college student, you have enough on your plate between juggling classes, work shifts, study sessions and social outings. Figuring out what to eat on top of all your other responsibilities can sometimes seem like an impossible feat. Luckily for you, fitting meals into a busy school schedule doesn't have to be stressful. In fact, the Wisconsin Union has a wide variety of dining options that are not only convenient but also cost-effective—not to mention delicious! And, if you're a UW-Madison student, when you pay with your Wiscard account, you receive a 10% discount on most food and beverages! (Need a refresher on what your Wiscard is? It is both your University ID and a multipurpose debit card. Learn more about your Wiscard here.)
The Union has more than 30 dining options, providing you with food choices for just about any need, want, or craving you may have, from on-the-go lunches between classes to made-to-order meals at the end of a long day.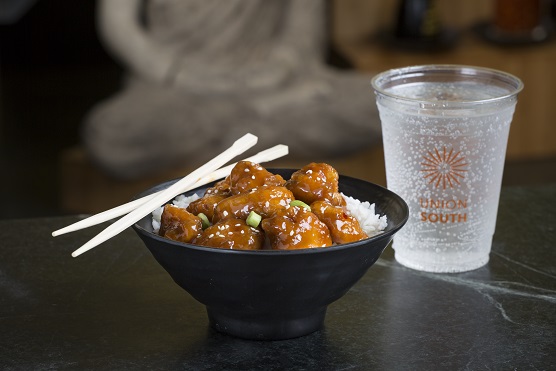 Automatic Discount with your Wiscard Account
It couldn't be easier for you to use your Wiscard dollars as payment for all your food and beverage needs. Simply swipe your Wiscard at any Union dining option, and we will apply your discount automatically.
You or your family can add funds to your Wiscard account as often as you like, so there's never a fear of you using up your student discount. Any UW-Madison student, regardless of whether they are on a meal plan, may add and use dollars from a Wiscard account. Plus, your newly added funds are available for immediate use, so if you realize your balance is low while you're waiting in line to order food, don't sweat! You can deposit funds into your account online while you wait and still get that discounted meal. You can also add Wiscard dollars to your account in-person at the Wiscard Office at Union South.
Pay Only for What You Want at Campus-Wide Dining Options that Fit your Dietary Needs
One of the best parts is that you only pay for what you buy, meaning that if all you want is a granola bar, you only pay for the granola bar. If you want to buy a full, competitively priced meal, go ahead, and buy a beautiful salad or a gourmet burger with a side of freshly fried cheese curds.
Fan-favorite Union dining options include but are far from limited to pub food at der Rathskeller; Asian fusion cuisine at Ginger Root; pastries, breakfast sandwiches and beverages at Peet's Coffee; and delightful desserts at the Daily Scoop. Here are some of the tasty treats that you can enjoy at a discounted price when you pay with your Wiscard:
Crispy, beautifully seasoned tater tots (vegan) with signature Rath sauce from der Rath | Memorial Union
Classic Margherita pizza (vegetarian) from Strada | Memorial Union
Cobb salad piled high with fresh veggies and protein from Carte | Memorial Union
Cold brew black tie – an iced coffee beverage made with sweetened condensed milk, chicory and half and half – from Peet's Coffee | Memorial Union
Customizable burrito bowl with chips and queso from South Cantina | Union South
Melt-in-your-mouth sesame chicken from Ginger Root | Union South
Signature Wisconsin burger from The Sett, topped with brick cheese, gooey fried cheese curds and parmesan garlic sauce | Union South
Strong cappuccino with the perfect amount of foam from Prairie Fire | Union South
Root beer float with smooth vanilla Babcock Ice Cream from Daily Scoop | Memorial Union and Union South
Grab-n-go turkey cranberry panini from most Wisconsin Union markets and cafes
Meat-lovers will be pleased with the variety of savory, chef-crafted burgers, sandwiches and more available at Wisconsin Union dining locations, but our restaurants, markets and cafes also offer a wide variety of delectable vegetarian, vegan and gluten-free options that will leave you wanting more.
Have specific dietary needs? Each restaurant has a binder of menu items' ingredients for which you can ask on-site, and most Union-made grab-n-go items have nutrition and ingredients information on the packages. Questions? Just ask one of our team members, and they will be more than happy to help you find your new favorite meal.
A 30% Discount Opportunity
Thought it couldn't get any better? Think again! When you work for us at the Wisconsin Union, you save 30% on most Wisconsin Union food and beverages when paying with your Wiscard. The Union is the largest student employer on campus, and for good reason. Not only do student employees earn that 30% discount, but they also enjoy flexible scheduling, a starting wage of at least $15/hour and incredible leadership opportunities. You can learn more about the benefits of joining the Union team at union.wisc.edu/jobs.
Swipe and Save Dining Deals
Dining with your Wiscard gets even sweeter for you as a UW-Madison student at the Wisconsin Union's dining locations with our limited time dining deals, called Swipe and Save Dining Deals. Announced here, we're dishing out special dining deals from discounts on coffee to cheese curds on various dates throughout September 2022. You must use your Wiscard to be eligible for these specials, so keep that account ready for the delicious deals ahead! And stay tuned to the Wisconsin Union's social media channels for other dining deals throughout the year.
Your Dollars Go Further at the Union
So, what are you waiting for? Go get that discounted burger, coffee, salad or scoop of ice cream that's calling your name! Our dining team colleagues work year-round to create innovative, inclusive dining experiences. We make our own soups and dressings and source dozens of local products and ingredients. We have been fueling campus with delicious food since 1928. UW-Madison students, we look forward to serving you discounted deliciousness soon.
Click here for the full list of dining options.