Terrific tailgating: 4 tips for throwing the best Badger-themed party around
By Andrew Heisler '13
To truly make the UW game day experience special, why not throw a legendary tailgate? With the right approach and ample preparation time, you'll not only throw up the "W," but also throw an epic UW tailgate that your friends won't soon forget.
1. Create a festive atmosphere.
Putting your guests in the Badger mindset is one of the most important things you can do to ensure they have a memorable time.
First things first, consider your decorations. This is your first chance to set the mood and tone of your event and your guests' first impression. Scatter UW related trinkets, face tattoos, beads or mini-Buckys on top of tables where your guests sit, or near the food. Not only are they decorative, but they also double as party favors. Instead of flowers, place pom poms in vases for centerpieces.
No tailgate is complete without festive music as well. Listening to music like the UW fight song, "Sweet Caroline," or even student-created favorites such as "Teach Me How To Bucky" will get your guests excited and ready to show their school spirit. These simple, yet tasteful additions to your tailgate can make all the difference.
2. Ditch the trunk. 
Wisconsin Union event planner Stephanie Diaz de Leon says that one of the biggest misconceptions about tailgating is that they have to be reserved to the trunk of your car. However, when you're grilling burgers and socializing out of the back of your car, you're severely limiting yourself and your guests with the lack of elbowroom. The most impressive tailgates start with the perfect location. If you're hoping to throw an incredible tailgate, consider more spacious alternatives that encourage guests to mingle or play games, and start planning far in advance.
According to Timeka Rumph, member relations coordinator at the Wisconsin Union, the ideal time to begin planning is up to a year in advance. In need of a big space to host your guests? Venues like the Union South Pavilion overlook Union South's plaza, thus making it the perfect place to eat, socialize, and watch the UW Marching Band in all its glory.  That venue in particular goes quickly because "that's where everybody wants to be," says Timeka.
3. Have enough delicious food.
"Having enough food is always one of the top concerns," says Whitney Swance, a Wisconsin Union event coordinator. Inevitably, you'll have to cut some things from your party's budget, but your food budget should not change.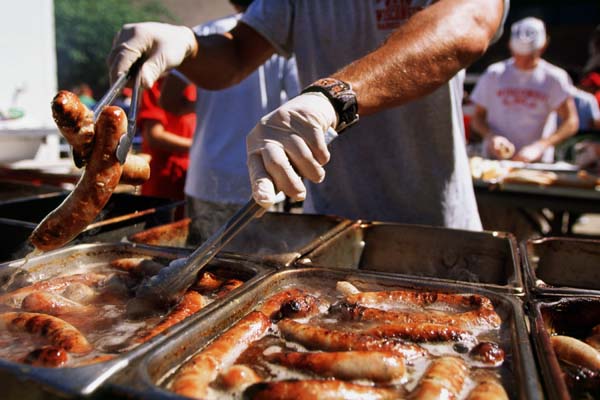 Here are a few ideas to get started on an incredible smorgasbord:
Be sure to consider when the game begins. A morning kickoff will yield a much different spread of food than an afternoon one. For example, for an 11:00 a.m. kickoff, go bold with brats, eggs, cheese and potatoes or make an egg frittata with sliced brats and peppers. Take your guests by surprise; while brats, onions and kraut are delicious, a "Wisconsin-special" scrambler for breakfast may be just what the "Bucky" ordered.
No matter what time of day, have brats available. A good bratwurst is a treat for anybody at any time of day. Grill, sauté, sous vide, steam, boil, pressure cook, bake, fry, poach, broil, braise, do anything you want with them – just make sure they're out on the table by the time your guests arrive.
If you serve brats (which you will), make sure there are plenty of "fixings." That includes traditional fare such as sauerkraut, grilled onions and yellow mustard. Also consider using less common toppings, such as a stone-ground Creole mustard, pickled jalapenos, or sautéed mushrooms. Simmer onions in your favorite beer for a twist on a topping favorite.
Don't forget to have alternatives for your friends who are allergic to certain foods – vegetarian, gluten-free or lactose intolerant.
Feeling especially gourmet? Have a spread of locally produced cheeses, seasonal vegetables and charcuterie meats. Your party will not only ooze class, but people will respect your commitment to the Wisconsin economy as well.
Food is what makes or breaks a tailgate. If you 're impressed with your own food spread, chances are your guests will be, too.
4. Keep your guests entertained.

Beyond the decorations, music, and  food, an array of games and activities will round out your tailgating experience. Here are a few fun favorites to keep you and your guests in competitive, lively spirits:
Cornhole: This simple game requires two rectangular board platforms at opposite ends (27 feet apart), each with a hole near the top, with a prop underneath to tilt the board up on one end. Players toss bean bags from a position next to the board their opponent is aiming for. Players take turns tossing four bean bags each from either end, trying to score by getting their bags into the hole. If the bag goes through the hole (known as a cornhole), the player gets three points; if it lands on the board itself (known as a woodie), the player gets one point. Tally up the score for the round, then switch places. The first player to get 21 points wins.
Ladder Ball: Two golf balls are tied together with a rope to form a "bola." Players take turns tossing three bolas per round at a three-tiered structure resembling a goal post with three horizontal bars going across it. Similar to shuffleboard, ladder ball requires that players get defensive by knocking their opponents' bolas off the ladder to deny them points for that round. They can also try  to get their own bolas to stay on the ladder. Points are awarded according to what wrung of the ladder the bola is on when the round is over  – three points for the topmost, and one for the bottom. The first player to get 21 points wins.
500: This one is a game most of us are familiar with, and it only requires a football. One player stands as far away as possible from the other players, then throws the ball up for grabs. The other players try to catch the ball before anyone else does. Typically, a ball caught in the air is worth 100 points, and a ball caught on only one bounce is worth 50 points. The first player to 500 wins and gets to become the quarterback for the next round.
Tailgates are meant to be fun, even if you're playing the role of the stressed-out party host. Simply put: just relax – it's game day. The only thing to be concerned about is how many points the Badgers will score!
Don't feel like throwing your own party? Campus Events Services Office at the Wisconsin Union can help. Our experienced party planners will make sure you're completely covered on Badger tailgate essentials. Or attend UW's longest running tailgate, Badger Bash, at Union South. Stop by before every home game and if you don't have tickets to the game, catch all the UW game action on the giant TV screen in the Plaza or inside in The Sett.
—–
Andrew Heisler is a senior at the University of Wisconsin-Madison studying strategic communication. To him, the great gameday atmosphere is one of the reasons UW is the best school ever.