Katherine's 2019 Terrace Store Picks
Terrace Season is finally here. While you might not be able to chill out all summer long at our lakeside retreat, some of our Terrace Store items help us all feel a little closer to the those Terrace vibes. Our editors gave me the difficult task of picking my favorite 2019 Terrace Store items. So hard to choose! But I finally narrowed my favorites down to a list to share with you.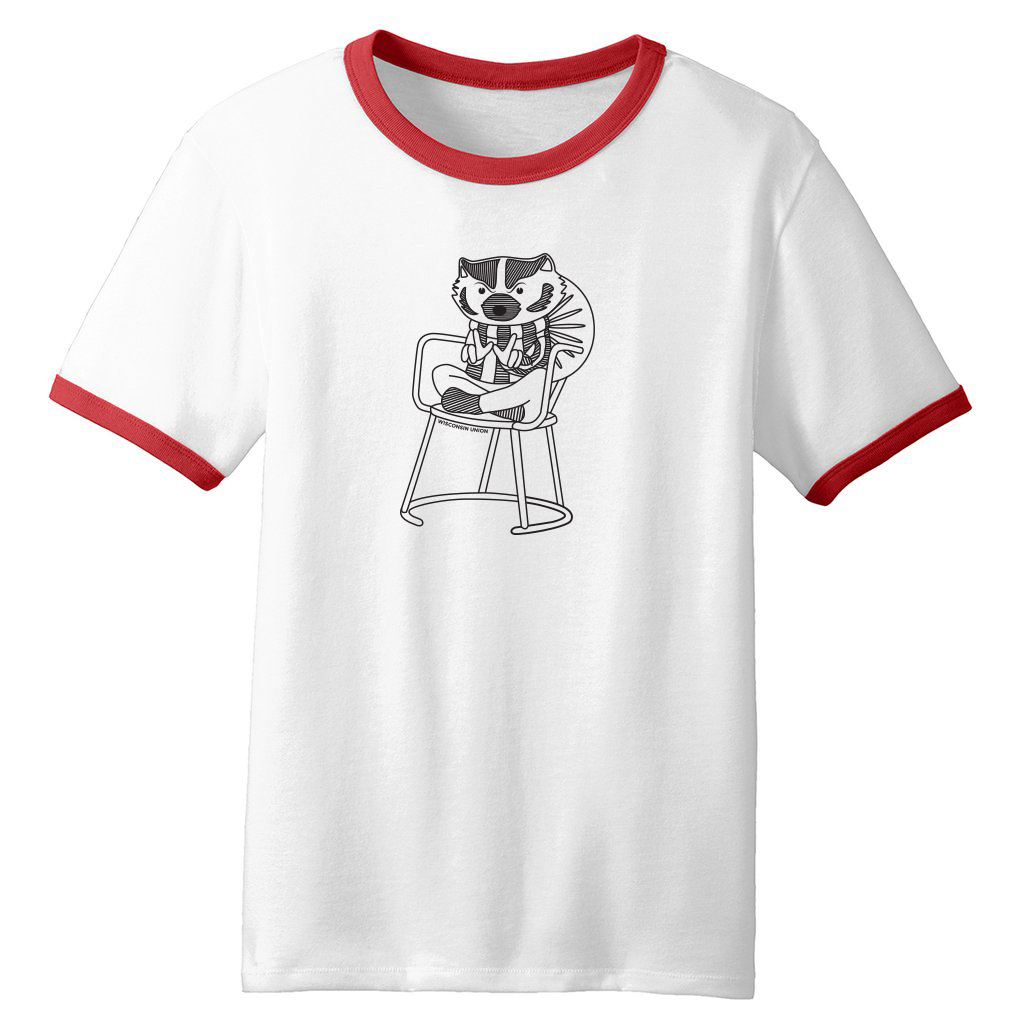 Bucky and Terrace Chair Tee ($19.99)
This white crew neck tee showcases some of UW-Madison's cherished symbols. Bucky sits atop a Terrace chair and signs "W" with his paws. This tee exudes retro vibes, including Badger red ribbing detail around the collar and arms.
Classic Mini Terrace Chair and Cow-Print Mini Terrace Chair ($12.50 – $29.99)
These adorable decor items come in red, orange, yellow, green and for a limited time — cow-print! The cow-print chairs benefit the University of Wisconsin School of Veterinary Medicine's (SVM's) expansion project. You can find more information about the school's expansion project at AnimalsNeedHeroesToo.com.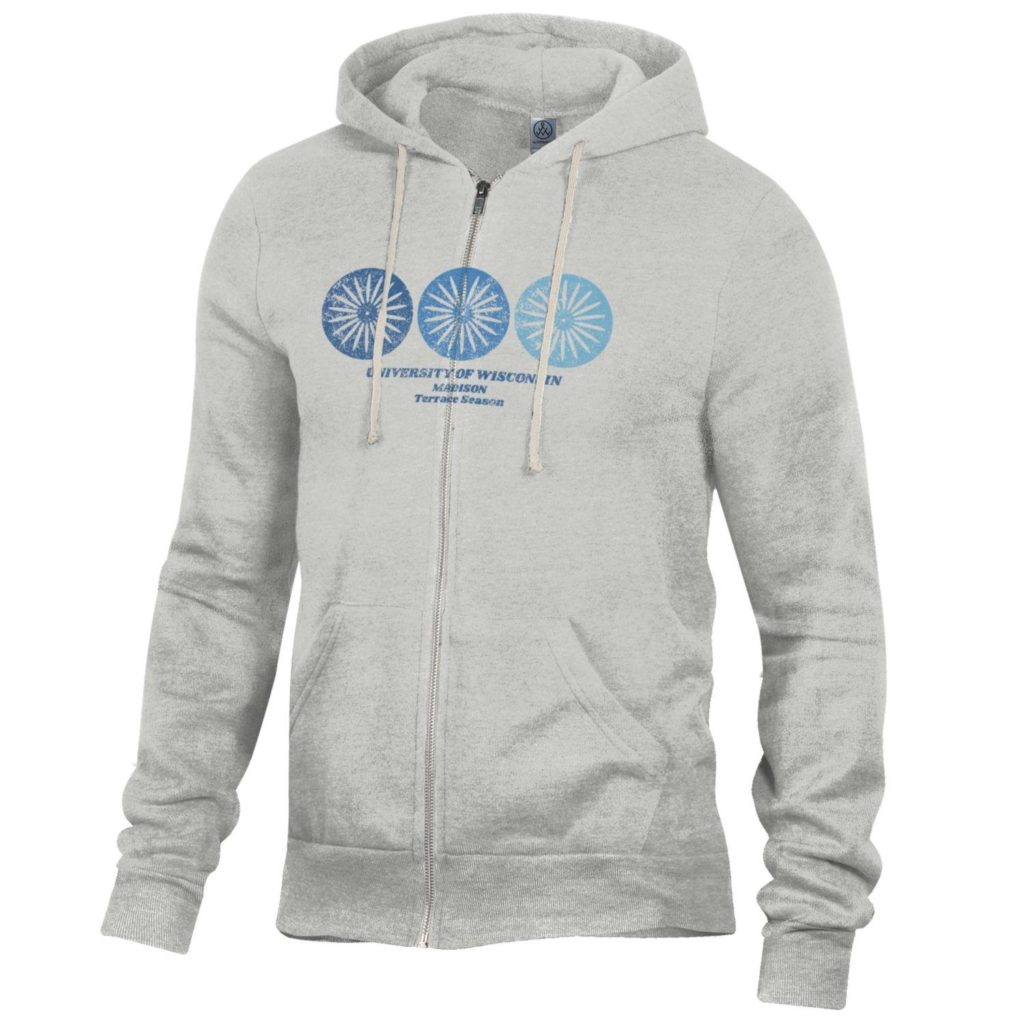 Cool Sunburst Zip-Up Hoodie ($54.99)
Stay warm on those chilly summer nights with this sunburst-printed hoodie you'll never want to take off. Adorned with blue Wisconsin Union sunbursts, you're sure to feel cozy for years to come as you take that awesome Terrace feeling wherever you go.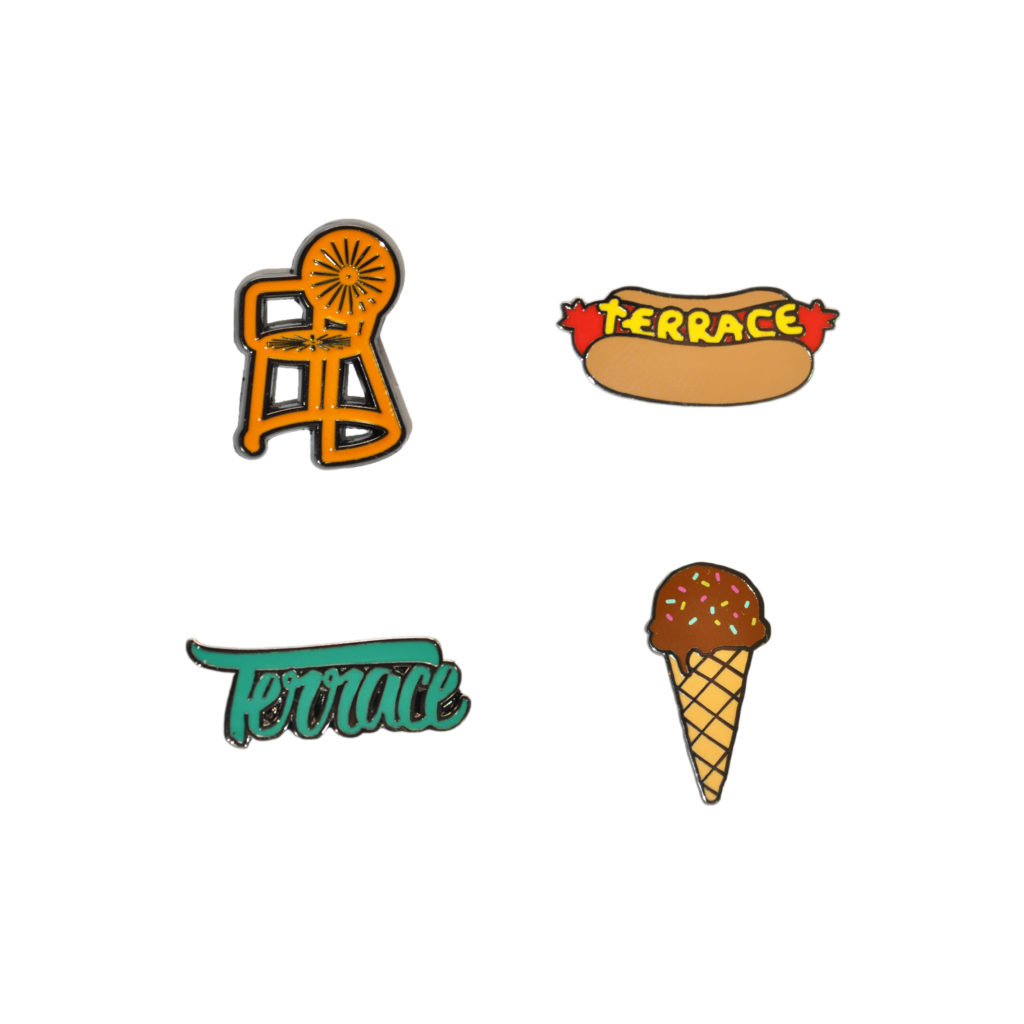 Terrace Lovers Custom Cut Enamel Pins ($5.99)
Your backpack or beach bag could use some flair, and what better to add that pizzazz than Terrace pins? Choose from a "Terrace" script, brat, orange sunburst chair or chocolate ice cream cone. Another cute look— place one of the pins on a jean jacket! You may want to carry an extra pin for that friend who will be jealous of your Terrace accessories.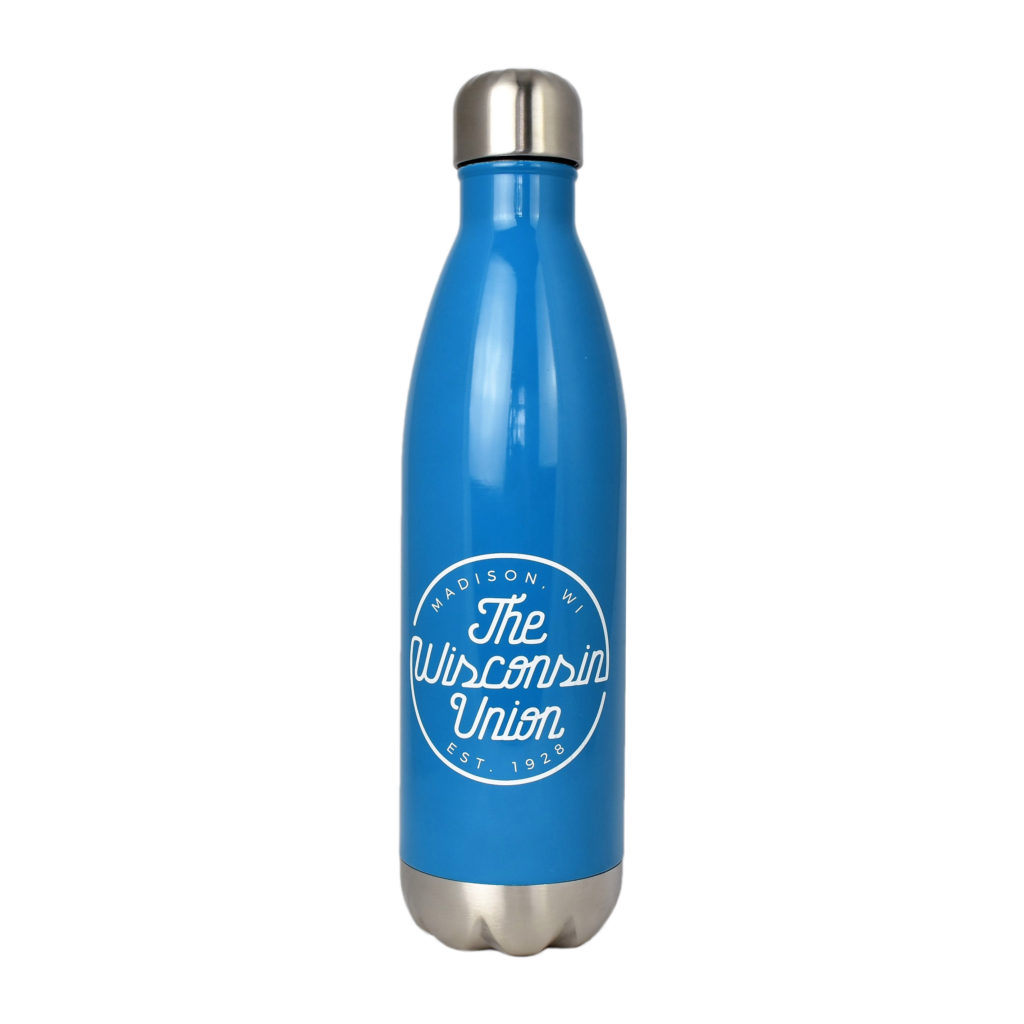 The Wisconsin Union 26-Ounce H2GO Force Bottle ($27.99)

Vacuuming, in the way we usually think of it, may not be something you like, but you'll love it in your new bottle! This royal blue, stainless steel bottle is vacuum-insulated — perfect for hot or cold beverages. If you're interested in carrying a smaller bottle, try the 17-ounce version which comes in baby blue.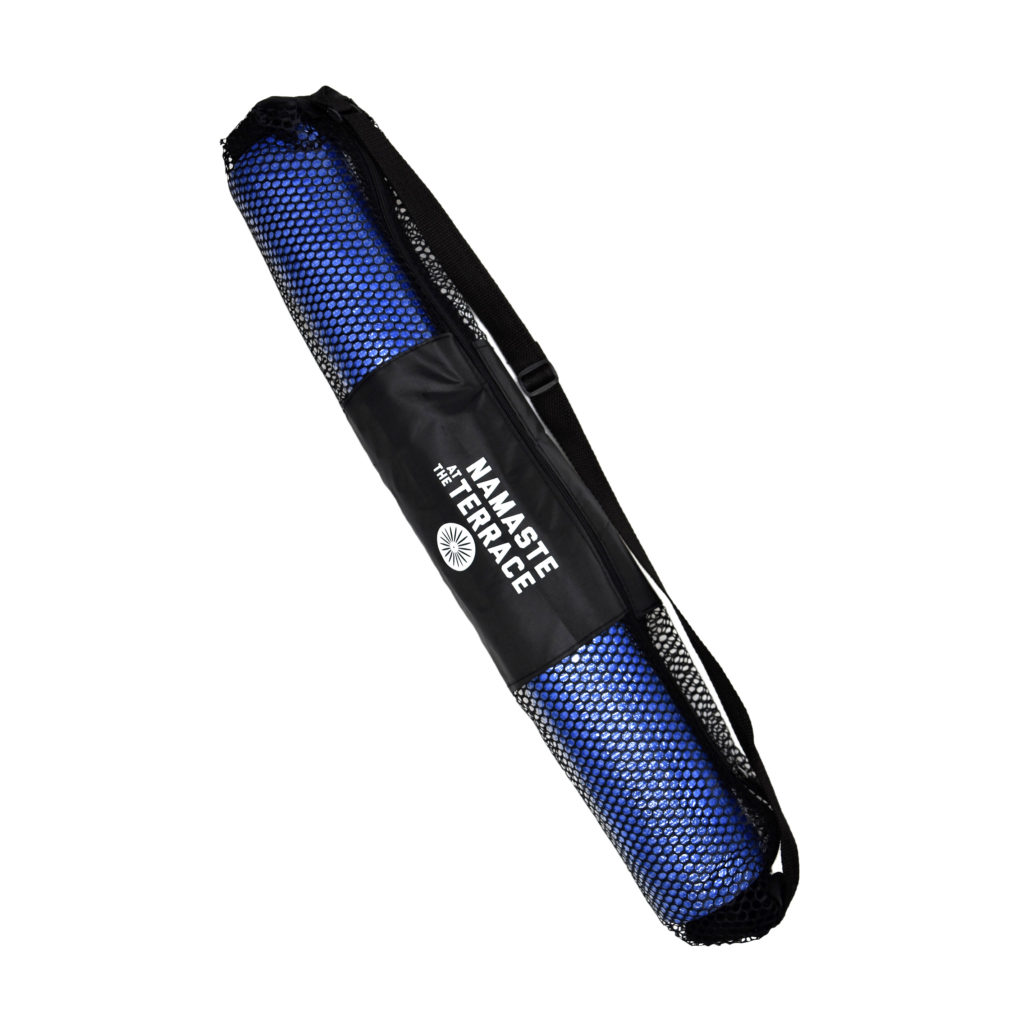 Namaste on the Terrace Yoga Fitness Mat and Carrying Bag ($25.99)
Invest in your own mat and handy carrying bag, and come join us for Yoga on the Terrace this summer. Some may think doing yoga on the Terrace and carrying a Terrace bag is too much Terrace . . . just kidding. Everyone knows there's no such thing as too much Terrace. Plus, you're investing in style and your health at the same time.
Set of Three Sunburst Coasters ($39.00)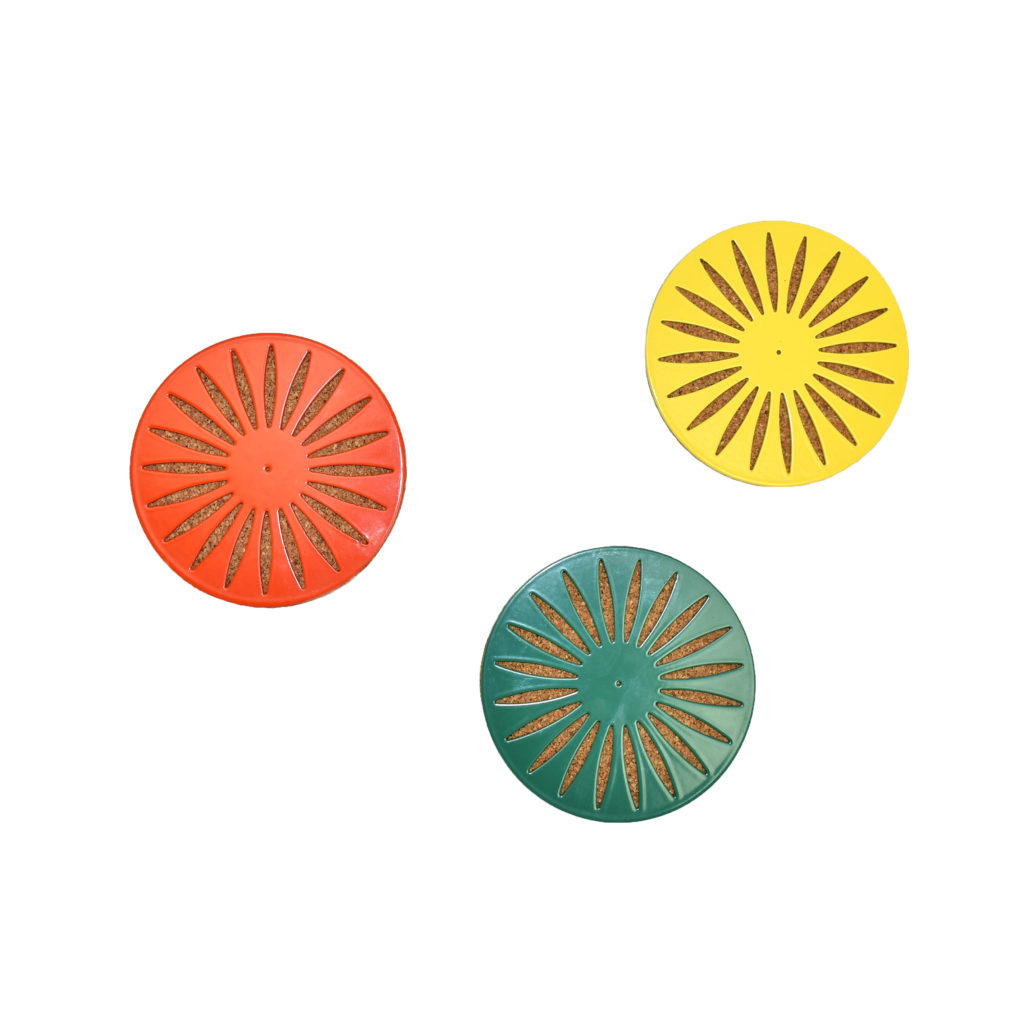 Coast into summer with a set of three sunburst coasters. These coasters come in classic Wisconsin Union colors — orange, yellow and green. Just looking at these puts me in a Terrace state of mind. Need a practical argument for these? Here you go: avoid pesky scratches and stains on your surfaces. That ruined table will probably cost a lot more than these eye-catching coasters.
Wisconsin Union Membership (Starting at $55.00)
Enjoy all that the Wisconsin Union has to offer, including the Terrace, with a Union membership or, better yet, purchase a membership for a friend to enjoy. That will elevate you to favorite friend status, for sure.
Those are my favorites. Now, go pick out yours! This year, we brought back some of the community's favorite store items and dreamt up a bunch of new ones. Shop the Terrace Store here: terracestore.union.wisc.edu. You can also visit our Badger Markets in Memorial Union and Union South and the Terrace Welcome Cart.