Taking the Terrace on the Road
This summer, the Wisconsin Union membership team took the Memorial Union Terrace places it had never been for our members and other supporters. In a series of events called "Terrace on the Road", we recreated the Terrace experience in Minneapolis, Appleton and Milwaukee with some of the elements that make the Terrace so special.
On three different days in three different cities, nearly 400 Wisconsin Union members and guests had the chance to relive the magic of the Terrace.
We know that members who do not live in or around the Madison area may not be able to visit their campus home away from home as often as they would like. This gave our team the opportunity to bring the Terrace to them in events that featured traditional Terrace fare, such as brats, live music, and our brightly colored Terrace chairs. We know the true magic of the Terrace, though, is the people who come and make memories there.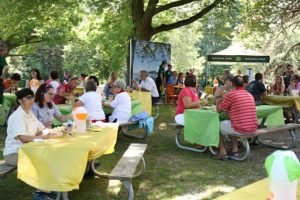 Lou Blasczyk '69 attended the event in Appleton on June 10, during which he and his wife Corine won a red Terrace chair in a drawing. The chair will serve as a lasting reminder of this special event and his time at the University of Wisconsin-Madison.
"When I use the chair at home, I reflect a lot about my time in Madison, how grateful I am for the education that I received from this great university, and what an incredible asset this university is to our state and our nation," Blasczyk said.
Along with the chance to win a Terrace chair, participants enjoyed games, such as giant checkers, and famous Babcock Ice Cream. All of these elements came together to transform a park at each location into a taste of the Terrace.
Conversations among guests frequently centered on fond memories of time spent on the Terrace as students, alumni or community members.
"It was a joy for me to meet each guest, to hear of their love for the Wisconsin Union, and to see them connecting with others over Terrace memories," said Dawn Dever, Union membership manager. "It gave everyone who came an instant connection. The Terrace helps connect people beyond Madison."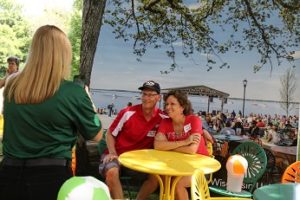 From great food to great music, Terrace on the Road not only helped Terrace-goers relive memories but also create new ones.
Our members are making a difference when they make memories on the Terrace. Membership revenue in addition to food and beverages sales enable students to gain real-world experiences either through involvement in the student programming and leadership board, called the Wisconsin Union Directorate (WUD), or through employment.
2017-18 WUD Music Committee Director Laura Oberwetter '18 said this of her time at the Union, "Everyone is so passionate about what they do here and so grateful that they have the resources to accomplish incredible things. It's a really nice energy to be around and something I don't think many people my age get to experience."
In this past year, almost 3,400 new members were added to the Wisconsin Union membership, which is now more than 120,000 strong. Our membership helps to make experiences like Laura's, along with countless other educational opportunities, possible. Terrace on the Road provided us with a unique, in-person way to say thank you and to celebrate the positive impact members, donors and other supporters have made on thousands of lives this year.
Wisconsin Union membership has its benefits. To learn about becoming a member and membership perks, visit union.wisc.edu/membership.