Technical Feats of the Wisconsin Union Theater
This Wisconsin Union Theater season, beautiful shadows will float in the air during "Pilobolus: Shadowland, The New Adventure" and the Seldoms, a Chicago-based dance company, will take theater-goers on a multi-location journey of music, dance, video, sound and fashion during its show "Floe."
These performances seem like nothing short of magic. And that is thanks, in part, to the Theater team members who work tirelessly behind the scenes to make each performance an experience for a lifetime.
Since 1939, the Wisconsin Union's Wisconsin Union Theater team has provided exceptional entertainment to hundreds of thousands of people, beginning with the Theater's opening performance of William Shakespeare's "The Taming of the Shrew."
From there on, some of the most notable figures of the 20th and 21st centuries have graced the Wisconsin Union Theater's stages, such as Yo Yo Ma, T.S Eliot, Martin Luther King Jr. and Ella Fitzgerald.
While audiences have enjoyed these incredible experiences, before the curtain rose each time and long after it fell, a choreography that is invisible to audiences has helped make it all possible.
Behind the scenes, sound and lighting technicians execute carefully planned and tested lighting and sound, and stagehands set up and take down sets. No matter the role, the Theater's professionals have studied, practiced and prepared, so that they can be ready for the unexpected.
For example, a lighting modification requires that a cue be programmed into a lightboard, which is operated by a lighting technician who is highly skilled in using the Theater's complex hardware and software system. This is only after team members hang and focus lights.
Our team members' talents combine with technology in our performing spaces, called the Play Circle Theater and Shannon Hall, to create seamless, comfortable experiences for Wisconsin Union members and guests.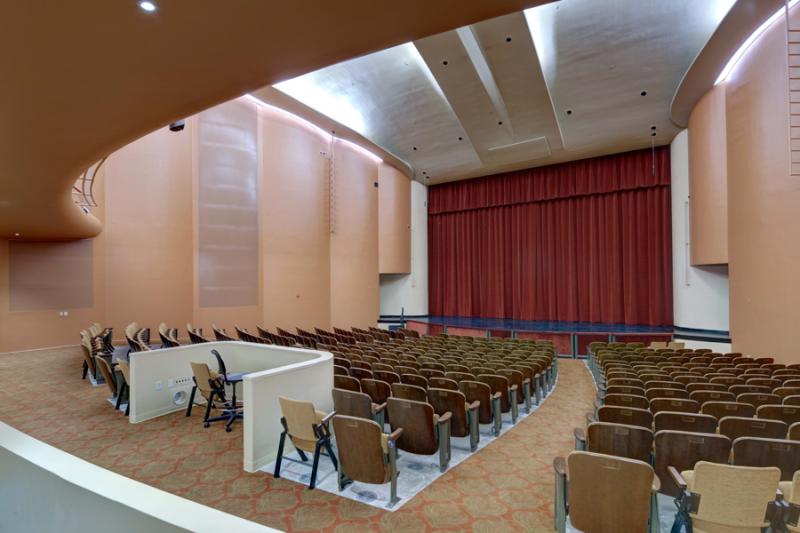 From the beginning, Shannon Hall has been a magnificent, awe-inspiring space and an integral part of social life at the University of Wisconsin-Madison. Today, it offers seating for 1,165 patrons, 1,950 square feet and a custom orchestra shell, and front and rear projection screens.
The Wisconsin Union renovated both the Hall and the Play Circle from 2012 to 2014. During construction, Shannon Hall underwent a full historic restoration and versatile retractable seat for up to 200 were installed in the Play Circle. During renovations, the Union team also added technology that helps us create the best audience experience possible, such as a quiet, efficient heating, ventilation, and air conditioning system.
When it comes to creating incredible, workable performing spaces, all of these details, large and small, matter to the team and audience, from acoustics to ventilation to storage. For example, the Union team incorporated a custom-designed lift in Shannon Hall that hoists the orchestra shell into an empty space for storage.
"The wonderful thing about theater is that, in many instances, it doesn't require amazing whiz-bang technology for our team to create genuine magic during a performance," said Heather Good, Wisconsin Union Theater general manager and interim director.
Heather recalled when the theater celebrated its 75th anniversary during the '14-'15 theater season in which dance company Bandaloop came to the Theater for a truly special show. The dancers specialize in "vertical dancing," in which their harnesses are rigged to the sides of vertical buildings. They performed on the exterior surface of Shannon Hall facing the Memorial Union Terrace.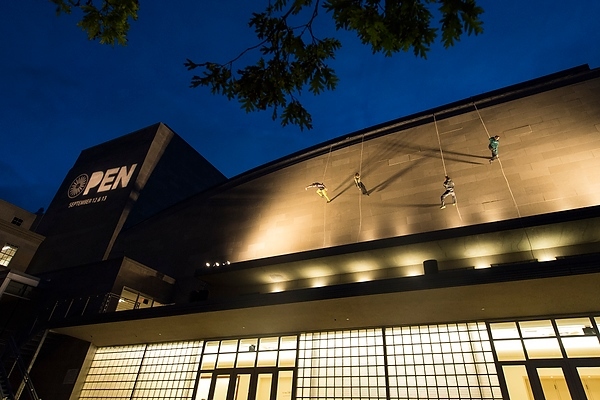 "It was one of the most difficult but also most magical performances that we've ever presented," Heather said.
While audience-goers watched in awe as the dancers effortlessly moved along Memorial Union, Theater staff worked to ensure the safety of the performers and production team. They are alert and prepared to improvise solutions at a moment's notice.
"Theater stagecraft is skilled work, and our stage crew needs to have skill not only with the various technologies that we use, but also in how to communicate with each other and with performers," Heather said.
To make all of this possible, the Wisconsin Union Theater has nine permanent staff members. An additional crew of more than 60 part-time staff work in the box office, front of house, and stage tech teams, all of which also employ student interns. Each team member is essential to the Theater's unforgettable events.
Some larger shows, such as touring companies or shows, require so much stage support that the Theater brings in additional crew from the local International Alliance of Theatrical Stage Employees 251.
"I think that most people don't realize how much work goes into creating that illusion of effortlessness," Heather said. "When we do our jobs well, everything on the stage looks natural, as if it took no work at all. It all sounds great, looks great, and performers and audience alike have a seamless experience that's very focused on the art, itself."
Along with technical capabilities, everything the Wisconsin Union Theater team does off-stage takes an enormous amount of skilled work, from booking to marketing a show. Every step of the way, a well-coordinated team works to create magical theater experiences for a lifetime.
Come see the magic of a Wisconsin Union Theater performance yourself. Information about Theater events and tickets can be found at union.wisc.edu/wisconsin-union-theater.